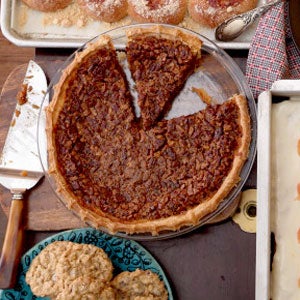 For this pecan pie, using fresh nuts makes a difference.
Yield: serves 8
Ingredients
1 1⁄4 cups flour
1⁄2 tsp. kosher salt
1⁄3 cup vegetable shortening, chilled
1 cup chopped pecans
1 cup light corn syrup
2⁄3 cup sugar
1⁄3 cup unsalted butter, melted
3 eggs, beaten
Instructions
Heat oven to 350°. In a bowl, stir together flour and salt. Add shortening; rub shortening into flour to form pea-size lumps. Add 1⁄4 cup cold water; mix. Gather dough into a ball; transfer to a floured surface; flatten into a disk. Using a rolling pin, roll out dough into a 12″ circle; transfer to a 9″ pie dish. Trim edges and crimp dough; set aside.
In a bowl, stir together pecans, corn syrup, sugar, butter, and eggs. Pour mixture into pie shell; bake until deep golden brown, about 1 hour. Let cool.