Steamed Grouper in Chile Oil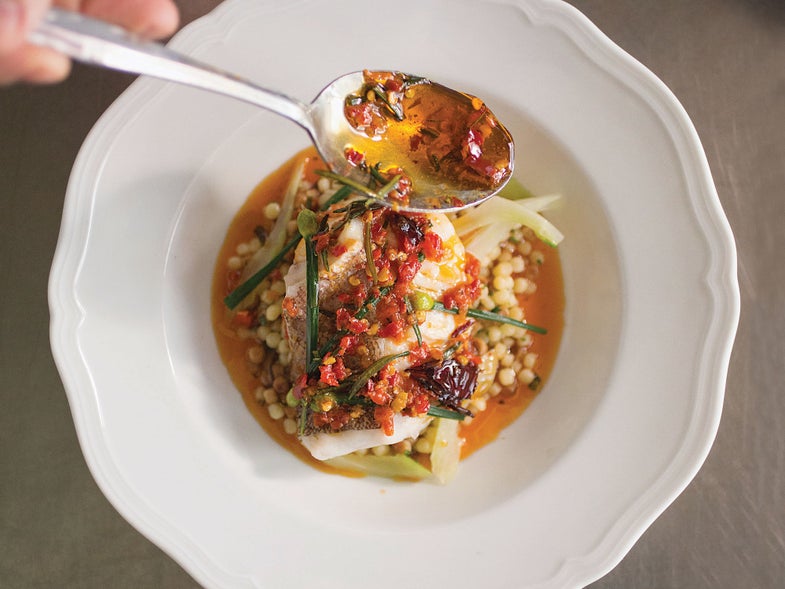 Calabrian chiles and chile paste produce a fiery, brick-red oil that is spooned over delicate steamed fish, crunchy spring vegetables, and fregola, a Sardinian pasta similar to Israeli couscous. Featured in: Hong Kong, Italian Style
Find this recipe in our cookbook, SAVEUR: Italian Comfort Food
Steamed Grouper in Chile Oil
Calabrian chile oil is spooned over steamed fish, crunchy spring vegetables, and fregola.
Ingredients
1 1⁄4 cups olive oil
2 tbsp. dried hot Calabrian chiles (buonitalia.com)
3 sprigs thyme
2 cloves garlic, thinly sliced
1 sprig rosemary
1⁄3 cup Calabrian crushed hot chiles
Kosher salt and freshly ground black pepper, to taste
6 oz. garlic chives or scallions, trimmed and cut into 2″ pieces
3 stalks celery, thinly sliced on the bias, plus 1/2 cup inner celery leaves
2 bulbs fennel, halved and thinly sliced
3 cups toasted fregola
1⁄2 cup packed curly parsley leaves (half the leaves roughly chopped)
1⁄2 cup packed mint leaves (half the leaves roughly chopped)
6 (5-oz.) boneless, skin-on red grouper fillets
Instructions
Bring 1 cup olive oil, the dried chiles, thyme, garlic, and rosemary to a simmer in a 1-qt. saucepan over medium; cook 1 minute and remove from heat. Stir in crushed chiles; let oil steep for 3 hours at room temperature. Alternatively, transfer oil to an airtight container and chill overnight. If chilling, let oil come to room temperature before using.
Bring a large pot of salted water to a boil. Cook 4 oz. of the garlic chives, plus all the celery and fennel until crisp-tender, 30 seconds to 1 minute. Using a slotted spoon, transfer vegetables to an ice bath until chilled. Drain vegetables and set aside. Add fregola to pot and cook until al dente, about 20 minutes; drain and transfer to a serving bowl. Stir in remaining olive oil and the chopped mint and parsley, and season with salt and pepper. Sprinkle the cooked garlic chives, celery, and fennel plus the celery, parsley, and mint leaves over top. Cover with plastic wrap and keep warm.
Bring 1″ water to boil in a 14″ flat-bottomed wok fitted with a two-tiered 11″ bamboo steamer. Divide grouper fillets between two pie plates and season with salt and pepper; place in steamer base and cover. Steam until fillets are cooked through, about 8 minutes. To serve, spoon reserved fregola onto serving plates; top with skin-side-up grouper fillets. Spoon chile oil over the top; garnish with remaining garlic chives.