Recipes
Chicken Schnitzel Sandwich with Horseradish Cream and Radicchio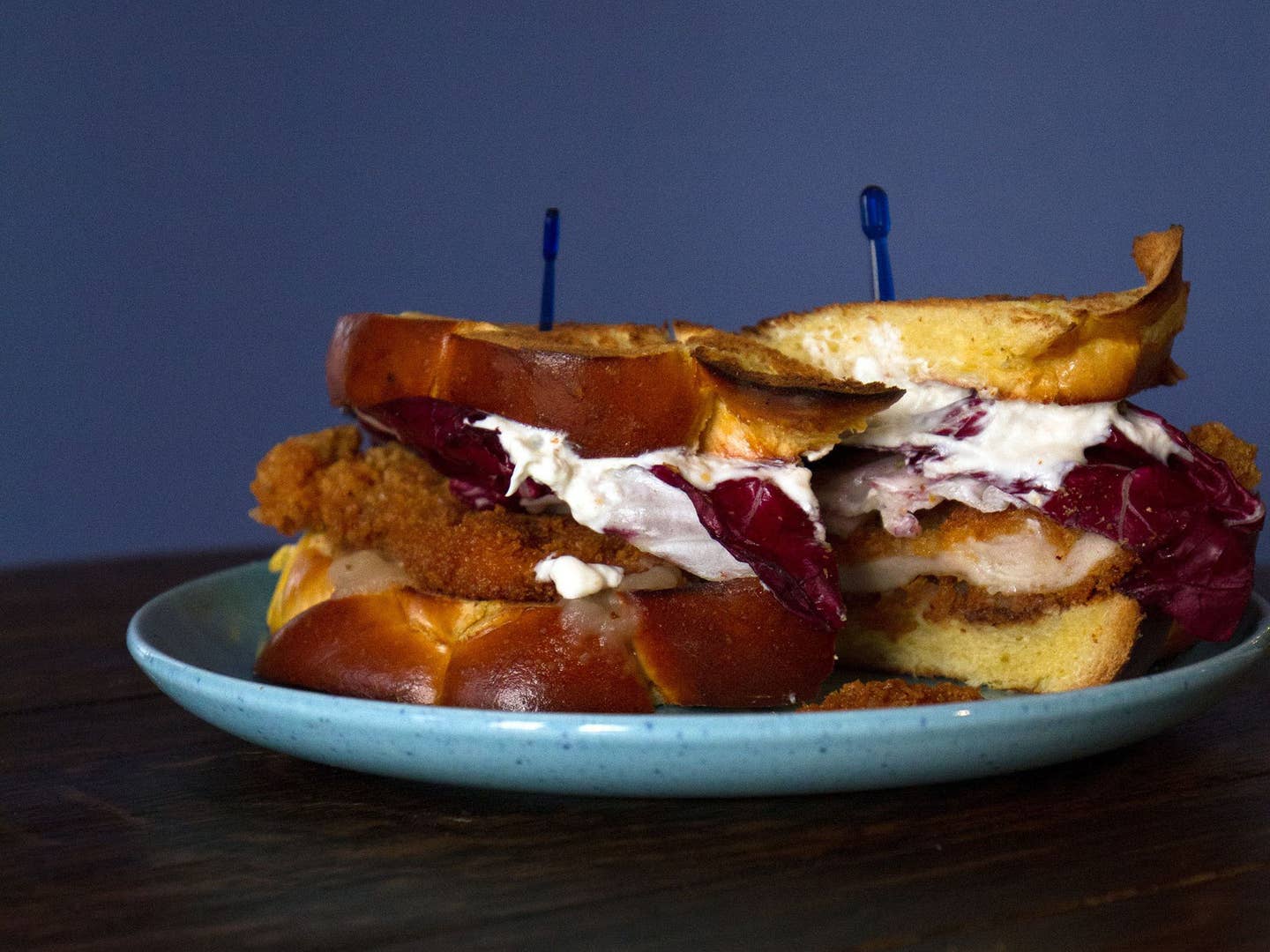 This sandwich is Mile End Deli's Eli Sussman's fun take on the fried chicken classic; the horseradish cream offsets the bitterness of the radicchio and the richness of the schnitzel nicely. His favorite way to eat it? As a late night snack at the end of service.
Ingredients
1 cup sour cream
3 tbsp. fresh grated horseradish
2 tsp. cider vinegar
1 head radicchio, cored and halved, leaves separated
Kosher salt and freshly ground black pepper, to taste
2 cups canola oil
2 cups flour
2 tbsp. Spanish paprika
1 tsp. garlic powder
4 eggs, lightly beaten
2 cups panko bread crumbs
4 boneless, skinless chicken thighs, pounded until ¼" thick
8 tbsp. unsalted butter
1 bunch rosemary
1 bunch thyme
1 loaf challah bread, sliced 1" thick and toasted
Apple sauce, for serving
Instructions
Step 1
Make the horseradish cream: Mix sour cream, horseradish and 1 tsp. vinegar in a bowl; set sauce aside. In another bowl, toss remaining vinegar, the radicchio, salt, and pepper; set aside.
Step 2
Heat oil in a high-sided 14" skillet over medium-high. Whisk flour, paprika, garlic powder, salt, and pepper in a bowl. Place eggs and panko in separate shallow dishes. Working in batches, dredge chicken in flour mixture, then dip in eggs, and coat in panko; fry, flipping once, until chicken is golden, 1-2 minutes. Add butter, rosemary, and thyme; cook, basting chicken with butter, until crisp, 3 minutes. Transfer chicken to paper towels to drain; season with salt.
Step 3
To serve: Spread a thin layer of apple sauce on a piece of bread; top with 1 piece chicken and some of the reserved radicchio. Spread reserved horseradish cream over another piece of bread and place on top; slice sandwich lengthwise.