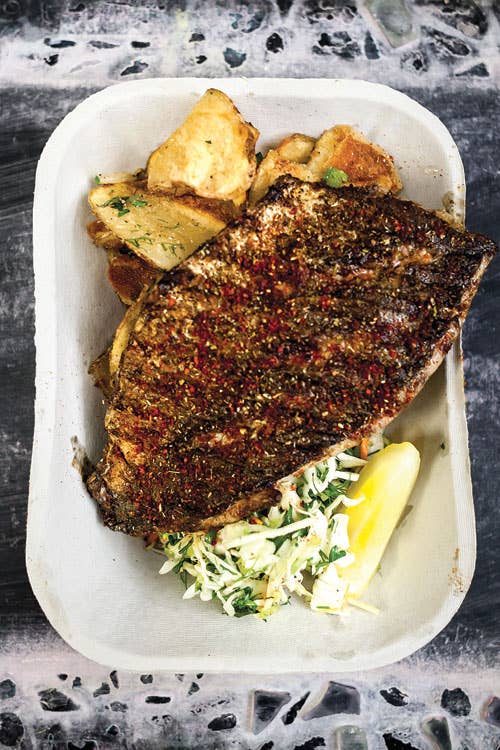 Recipes
Deviled Bluefish with Fried Potatoes & Coleslaw
FOR THE BLUEFISH:
4 boneless, skin-on filets bluefish (about 7-oz. each)
¼ cup olive oil
2 tbsp. Aleppo pepper
1 tbsp. garlic powder
1 tbsp. grated lemon zest, plus wedges for serving
1 tbsp. smoked, sweet paprika
1 tbsp. Worcestershire powder or sauce
2 tsp. Dijon mustard
Kosher salt and freshly ground black pepper, to taste
FOR THE SLAW:
¼ cup olive oil
¼ cup unsweetened shredded coconut
2 tbsp. fresh lemon juice
2 tbsp. honey
2 tbsp. rice vinegar
Kosher salt and freshly ground black pepper, to taste
3 tbsp. thinly sliced preserved lemon rind
2 tbsp. minced chervil
2 tbsp. minced chives
2 tbsp minced dill
2 tbsp. minced parsley
2 tbsp. minced tarragon
2 medium carrots, shredded
1 small head green cabbage, cored and thinly sliced
FOR THE POTATOES:
4 russet potatoes, halved lengthwise and cut crosswise into ¼″ slices
Canola oil, for frying
1 small green bell pepper, stemmed, seeded, and thinly sliced
1 small yellow onion, thinly sliced
1 tbsp. ground coriander
1 tbsp. ground fennel
Kosher salt and freshly ground black pepper, to taste
1. Marinate the fish: Place fish in a 9″ x 13″ baking dish. Stir oil, half the Aleppo pepper and garlic powder, the lemon zest and paprika, half the Worcestershire powder, plus mustard, salt, and pepper in a bowl; rub paste all over fish. Cover with plastic wrap; chill 1 hour.
2. Make the slaw: Whisk oil, coconut, lemon juice, honey, vinegar, salt, and pepper in a bowl. Add lemon rind, chervil, chives, dill, parsley, tarragon, carrots, and cabbage; toss to combine.
3. Make the potatoes: Bring potatoes to a boil in a large pot of salted water; cook until just tender, 8–10 minutes. Drain potatoes and spread on paper towels to dry. Heat 2″ oil in a 6-qt. saucepan until a deep-fry thermometer reads 375°. Working in batches, fry potatoes, bell pepper, and onion until crisp, about 7 minutes for potatoes, 4 minutes for pepper, and 2 minutes for onion. Using a slotted spoon, transfer mixture to paper towels to drain. Place in a bowl and add coriander, fennel, salt, and pepper; toss to combine.
4. Grill the fish: Heat a charcoal grill or set a gas grill to medium-high. (Alternatively, heat a grill pan over medium-high heat.) Uncover fish and, using paper towels, wipe off excess paste. Season fish with salt and pepper; grill, flipping once, until slightly charred and cooked, 3–5 minutes. Divide slaw among 4 serving plates and top with fish; sprinkle with remaining Aleppo pepper, plus garlic and Worcestershire powders. Serve with potatoes and lemon wedges.