Recipes
Five-Spice Roast Duck
A tender and aromatic bird is easier than you think.
Serves

serves 6

Cook

2 hours 15 minutes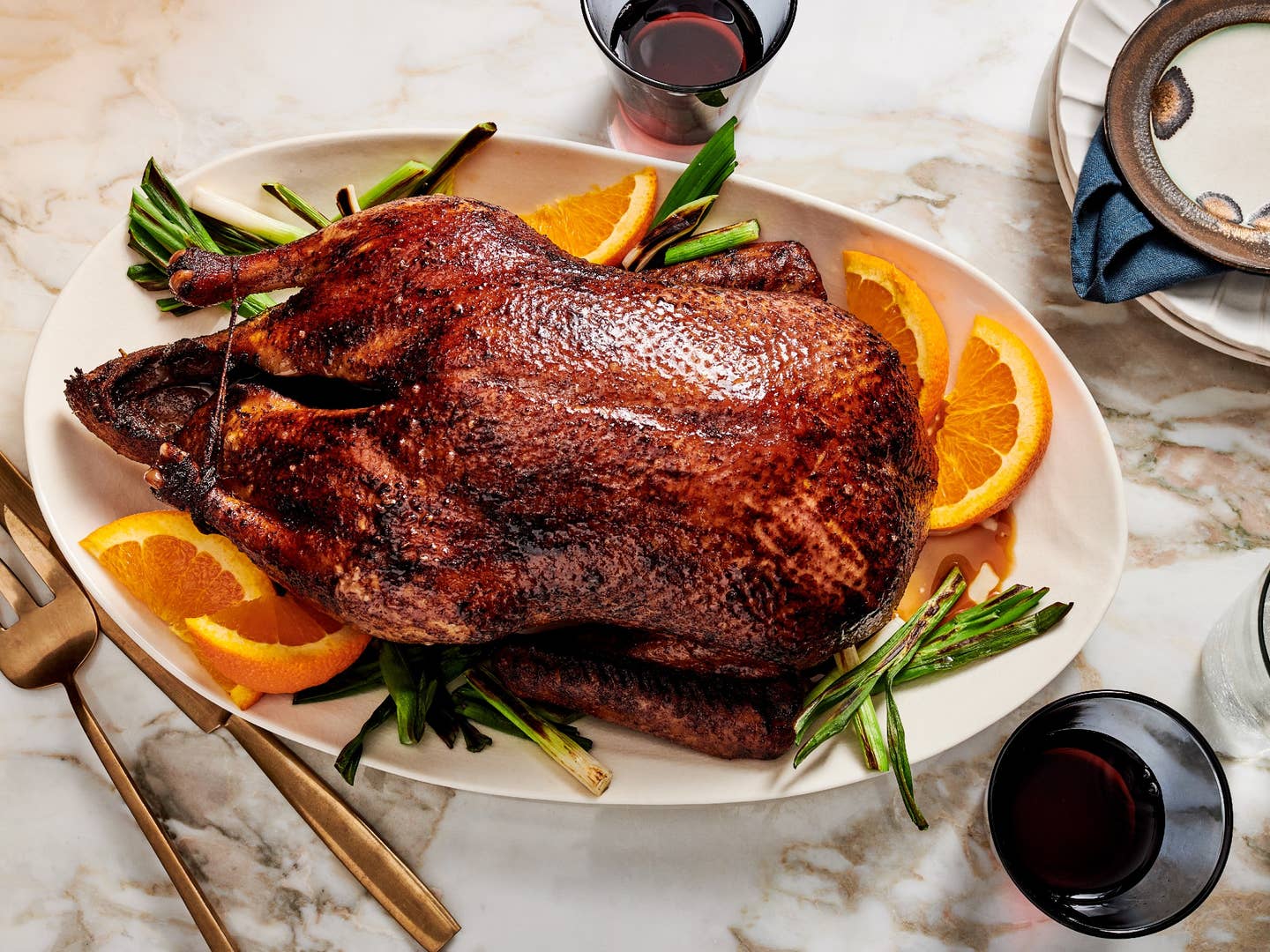 This Chinese-style roast duck, which is quicker and easier to prepare than classic Peking duck, is a family recipe from cookbook author and former SAVEUR producing editor, Corinne Trang. Carve and serve the bird with steamed white rice, or mince the roasted meat and wrap in crisp, chilled lettuce leaves.
Ingredients
One 5¼-lb. Long Island duck
¼ cups light soy sauce
¼ cups dark soy sauce
3 tbsp. sugar
1½ tbsp. five-spice powder
One 4-in. piece ginger, halved and crushed
Instructions
Step 1
Preheat the oven to 375°F. Rinse the duck well, then use paper towels to pat dry, inside and out. Place the bird in a medium roasting pan, breast-side down.
Step 2
In a small bowl, stir together the light and dark soy sauces, sugar, and five-spice powder until the sugar dissolves. Using your fingers, loosen the duck's skin, then pour the soy sauce mixture all over the bird, both over and under skin, and inside the cavity. Place the ginger in the duck's cavity, then truss the legs with kitchen twine. Transfer to the oven and roast, basting regularly, until the skin is tightened and just beginning the brown, about 45 minutes.
Step 3
Carefully remove the roasting pan from the oven and, using sturdy tongs or two forks, turn the duck over in the pan, so it is now breast-side up. Return to the oven and continue roasting, basting occasionally, until the juices run clear and an instant-read thermometer inserted in the thigh reads 135°F, about 45 minutes more (the meat should still be slightly pink). Remove duck from oven and set aside to rest at room temperature for 15 minutes before carving.