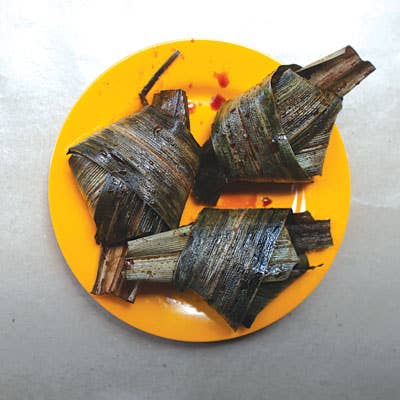 Recipes
Gai Hor Bai Toey (Thai Pandan-Wrapped Chicken)
Pandan, the aromatic leaves of a perennial grass, are wrapped around chunks of coconut-milk-marinated chicken, steamed, and finally deep-fried in this sweet-savory Thai recipe, which first appeared in our June/July 2014 issue with Christopher Tan's story "Blades of Glory." Steaming the chicken in pandan leaves imparts a floral fragrance, while deep-frying caramelizes the sugary marinade and browns the leaves, imbuing the meat with a nutty flavor.
5 tbsp. grated palm sugar or light brown sugar
½ tsp. ground white pepper
¼ tsp. kosher salt
4 cloves garlic, peeled
2 cilantro roots or 4 tender cilantro stems, chopped
1 (1") piece ginger, peeled and thinly sliced
1½ tbsp. coconut milk, preferably UHT from a carton
1 tbsp. toasted sesame oil
1 tbsp. Worcestershire sauce
2½ tsp. oyster sauce
3 tbsp. dark soy sauce
2 tsp. cornstarch
6 boneless, skinless chicken thighs, halved
1 tbsp. light soy sauce
1 tbsp. granulated sugar
1 tbsp. sesame seeds
12 (2" wide) fresh or frozen pandan leaves, rinsed or defrosted
Canola oil, for frying
1. Purée 3 tbsp. palm sugar, the pepper, salt, garlic, cilantro, and ginger in a food processor into a paste. Add coconut milk, sesame oil, Worcestershire, oyster sauce, 1 tbsp. dark soy sauce, and the cornstarch; purée until smooth. Transfer to a bowl, add chicken, and toss; cover with plastic wrap and chill 4 hours. Simmer remaining palm sugar and dark soy sauce, plus the light soy sauce, granulated sugar, and 2 tbsp. water in a 1-qt. saucepan over medium heat until sugars dissolve, 1–2 minutes. Transfer sauce to a bowl; sprinkle with sesame seeds.
2. Lay 1 pandan leaf with stem side facing upward on a work surface; place 1 piece of chicken over center of leaf and tie leaf in a knot. Wrap loose ends of leaf around chicken, flipping package; tie another knot, encasing chicken, and trim ends. Arrange chicken packages in a single layer on a 10" pie plate. Boil 1" water in a 14" flat-bottom wok fitted with an 11" bamboo steamer. Place plate with chicken packages in steamer base and cover; steam until almost cooked through, 10–12 minutes.
3. Heat 2" oil in a 6-qt. saucepan until a deep-fry thermometer reads 350°. Working in batches, fry chicken packages until cooked through, 1–2 minutes; drain on paper towels. Unwrap and serve with reserved sauce.