Recipes
Summer Salmon with Blackberry-Wine Sauce
A sweet-tart sauce brings balance to this weeknight, stovetop dish.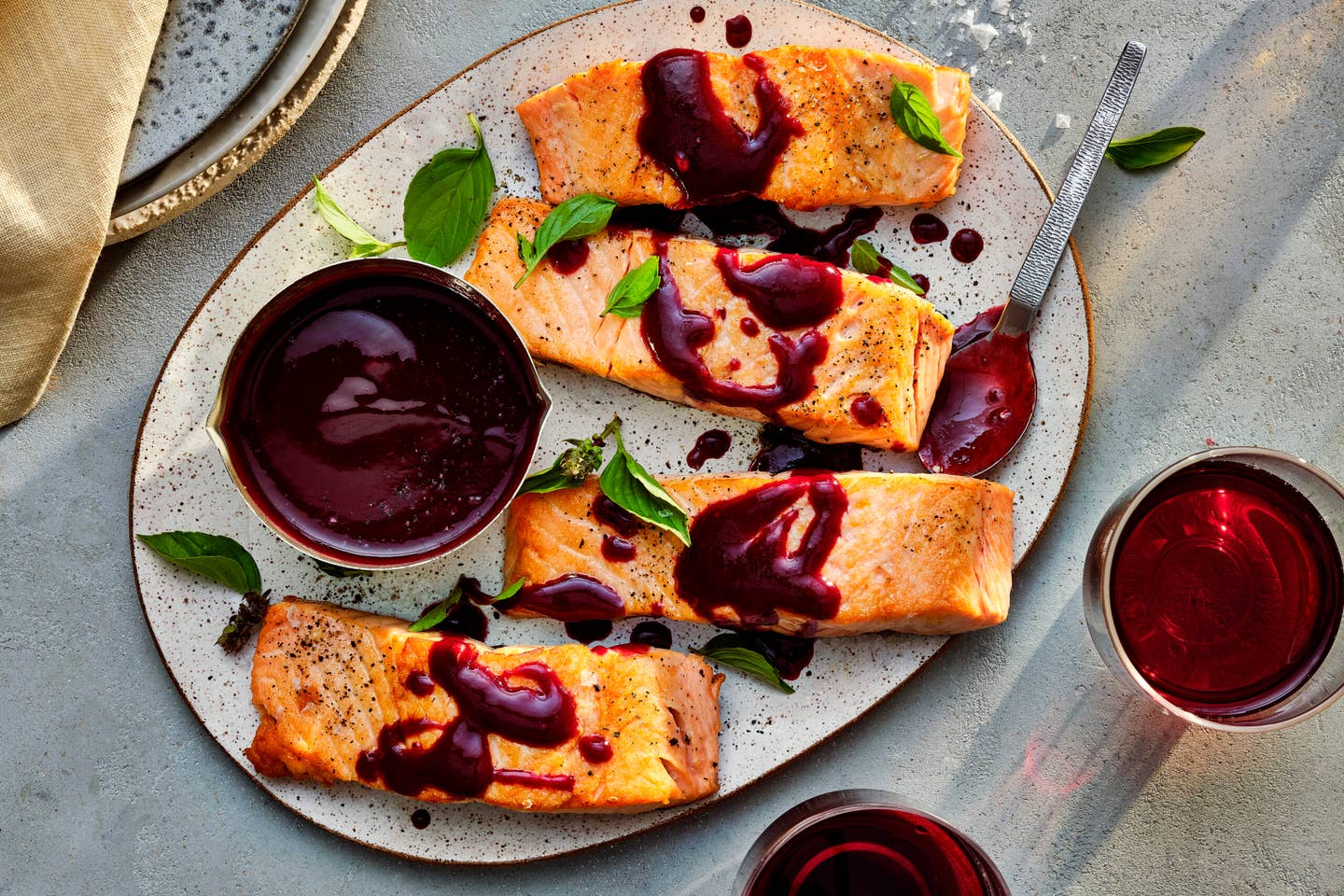 A rich, sweet-tart sauce adorns crispy skin-on salmon fillets in this easy dish from cookbook author Leah Koenig. While to some the combination of fish and fruit may feel like a return to the 1980s, here it offers a warm, summery contrast that's perfectly seasonal.
Ingredients
2 cups fresh or frozen blackberries
¼ cups dry red wine
¼ cups packed light brown sugar
½ tsp. grated lemon zest
1 tbsp. fresh lemon juice
1 2-in. piece fresh ginger, peeled and smashed
1 tbsp. 1 Tbsp. (½ oz.) unsalted butter
Four 6-oz. skin-on salmon fillets, pin bones removed
Kosher salt and freshly ground black pepper
¼ cups canola oil
Instructions
Step 1
In a small pot set over medium heat, bring the blackberries, wine, brown sugar, lemon zest and juice, and ginger to a simmer. Cook, stirring occasionally, until the berries break down, about 15 minutes. Remove from heat and let cool for 10 minutes.
Step 2
Discard the ginger and transfer the berry mixture to a blender; purée until smooth. Set a fine-mesh sieve or strainer over the empty pot, and strain the sauce through it. Return the sauce to low heat, and stir in the butter. Keep warm until ready to serve.
Step 3
Heat half the oil in a large skillet over medium-high heat. Pat the salmon dry and season with salt and black pepper. Working in two batches and adding more oil as needed, add the fish to the skillet and cook, skin side down and flipping once, until the skin is crisp and the salmon is cooked through, 8-10 minutes. Transfer to a platter, spoon the reserved blackberry sauce over top, and serve warm.