Grilled Skirt Steak with Herb Salad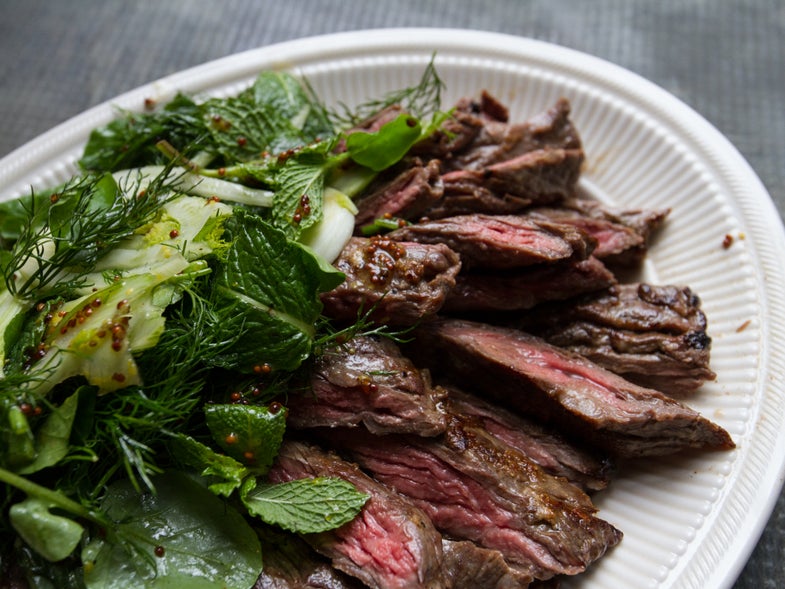 One of my favorite cuts of beef is skirt steak, a long, flat piece of meat found on the cow's breast plate. Because it cooks quickly and has a lot of flavor—I only ever season it with salt and pepper—I turn to it often for weeknight cooking or when I'm in need of a quick main to serve to friends. Here, it pairs perfectly with a light herb salad with a whole grain mustard and honey dressing. —Farideh Sadeghin, test kitchen director
Grilled Skirt Steak with Herb Salad
Quick cooking and flavorful, skirt steak makes a great weeknight main when paired with a light herb salad.
Ingredients
1 lb. skirt steak
1⁄4 cup olive oil
Kosher salt and freshly ground black pepper, to taste
2 tbsp. whole grain mustard
1 tbsp. honey
1⁄2 cup fresh dill sprigs
1⁄2 cup mint leaves
1⁄2 cup watercress
1 bulb fennel, thinly sliced
Instructions
Build a medium-hot fire in a charcoal grill, or heat a gas grill to medium. (Alternatively, heat a cast-iron grill pan over medium-high heat.) Toss steak with 2 tbsp. oil, salt, and pepper and grill, flipping once, until charred on the outside and cooked until desired doneness, about 4 minutes for medium-rare. Transfer steak to a cutting board and let rest 10 minutes before slicing. Meanwhile, whisk remaining oil, mustard, and honey; toss with herbs and fennel and serve with steak.