Recipes
Sho Nuff Noodles (Spicy Lo Mein with Pickled Greens, Bok Choy and Cabbage)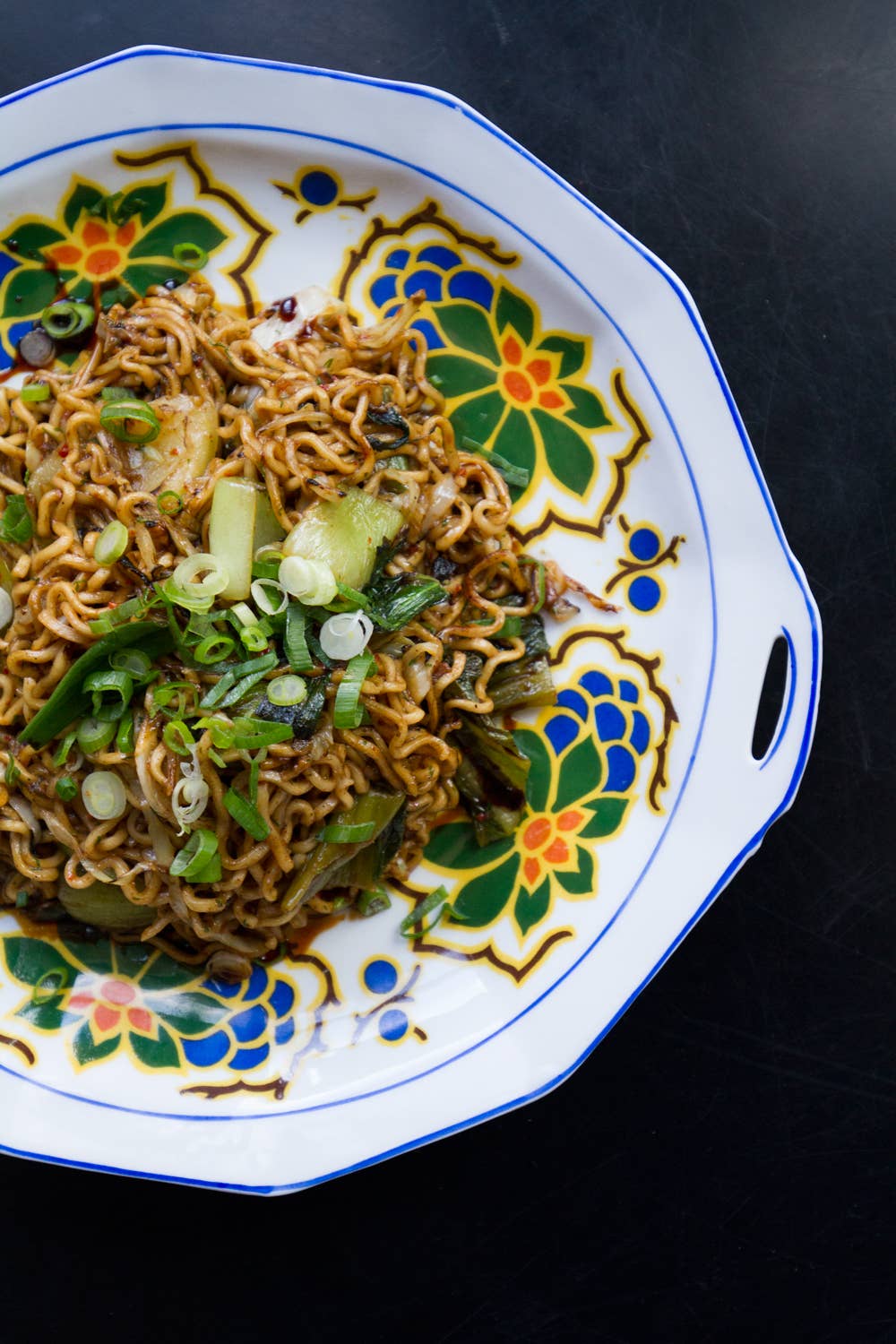 We first fell in love with these lightly spicy lo mein noodles when chef Marcus Samuelsson dropped by our kitchen to test drive some recipes for his Harlem restaurant, Streetbird Rotisserie. Laced with oyster sauce, ginger, and yuzu kosho and tossed with pickled mustard greens, the dish is a medley of sweet, tangy, spicy, and sour. The name, inspired by a character in the 80s-era movie The Last Dragon, is a nod to Harlem's neighborhood culture.
Ingredients
1 tbsp. black bean sauce
1 tbsp. kecap manis
1 tbsp. oyster sauce
1 tbsp. shaoxing wine
2 tsp. soy sauce
1 1⁄2 tsp. cornstarch
1 1⁄2 tsp. rice vinegar
1 1⁄2 tsp. yuzu kosho
1 tsp. minced ginger
1⁄4 tsp. ground caraway seeds
2 tbsp. canola oil
4 oz. shredded cabbage
1 baby bok choy, cut into 1" pieces
1 bunch scallions, 3/4 cut into 2" pieces, 1/4 thinly sliced
8 oz. cooked lo mein noodles
2 oz. pickled mustard greens, cut into 1" pieces and soaked in water for 1 hour
1 tbsp. minced dill
Instructions
Step 1
Mix black bean sauce, kecap manis, oyster sauce, shaoxing wine, soy sauce, cornstarch, rice vinegar, yuzu, ginger, and caraway in a bowl; set sauce aside. Heat oil in a 12" wok or nonstick skillet over high; add cabbage, bok choy, and 2" scallions and cook until browned, about 5 minutes. Add noodles and cook one minute more. Add reserved sauce, mustard greens, and dill; cook 2 minutes. Garnish with sliced scallions.