Recipes
Papaya Thoran (Keralan-Style Stir-Fried Green Papaya)
Spice up your green papaya recipe Keralan style with this stir-fried comfort food.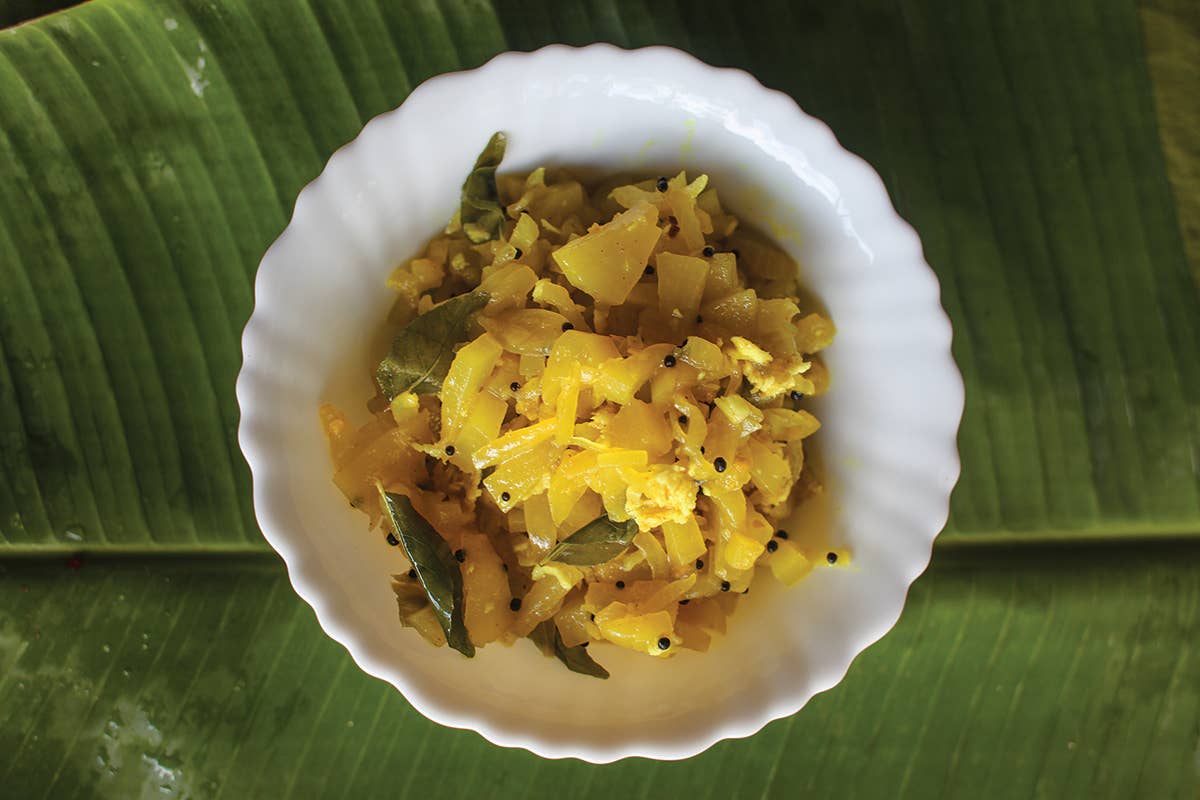 When writer VK Sreelesh visits his in-laws' house in the south Indian state of Kerala, papaya thoran is almost always on the table. Thoran is usually a dried dish that is mixed and eaten with rice; its ingredients can range from cabbage to beans to carrots to beets. For this green papaya recipe, minced green papaya is first steamed and then mixed with robust coconut and chile paste, and spiced with cumin seeds, garlic, and turmeric. This recipe first appeared in the tablet edition of our August/September 2014 special India issue.
Ingredients
3 tbsp. fresh or frozen grated coconut
1 tsp. cumin seeds
2 cloves garlic, peeled
1 small green Thai chile or 1/2 serrano, stemmed
1 medium red onion, minced
Kosher salt, to taste
1⁄4 cup coconut or canola oil
1 tsp. black mustard seeds
2 tsp. ground turmeric
1 small green papaya, peeled, seeded, and minced
1⁄2 tsp. red chile powder, such as cayenne
10 curry leaves
Instructions
Step 1
Purée coconut, cumin seeds, garlic, chile, half the onion, and salt in a small food processor into a paste.
Step 2
Heat oil in a 12" skillet over medium-high. Cook mustard seeds until they pop, 1–2 minutes. Cook remaining onion until golden, 4–6 minutes. Stir in the turmeric, papaya, and salt; cook, covered, until papaya is just tender, about 15 minutes. Stir in reserved coconut paste, the chile powder, and curry leaves; cook, covered and stirring occasionally, until papaya is very tender and mixture is slightly dry, 18–20 minutes more.