Drinks
Pisco Sour
Showcase the iconic Peruvian spirit with this fresh and frothy classic.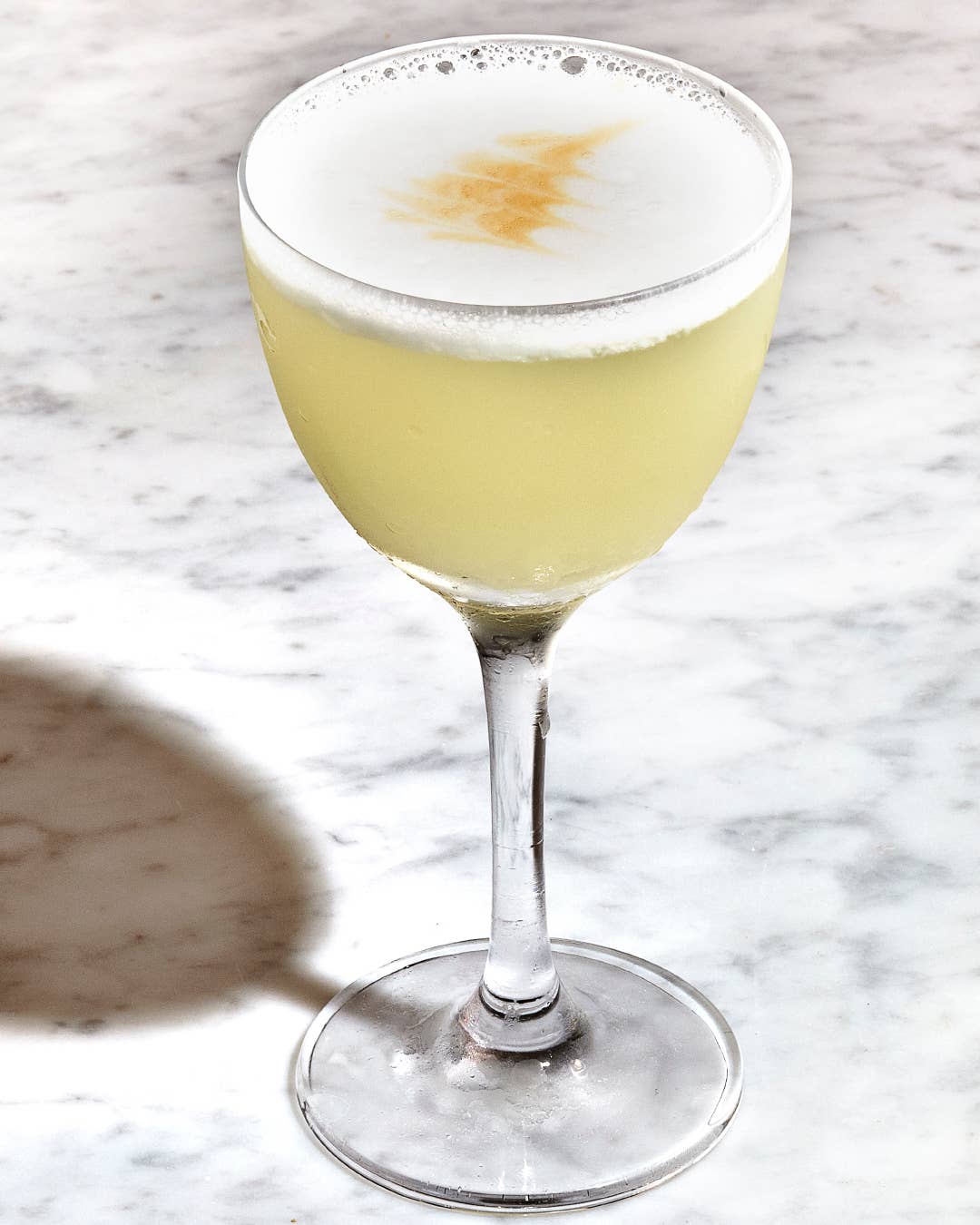 The pisco sour was one of the first drinks to be codified during the "Golden Age of Cocktails." In fact, the recipe emerged as a result of a confluence of factors far from the South American spirit's birthplace.
California boasts a history of wine and brandy production dating back to the 17th century, as well as a deep connection to South and Central American territories once controlled by the Spanish Crown. Gold Rush era San Francisco was a hotbed for cocktail culture, by virtue of the glut of unattached men looking for ways to distract themselves from their arduous work in the mining industry. While the Conquistadors invested in California wine production, spirit distillation was much less widespread; for local high rollers who wished to imbibe, high-quality options were slim.
Pisco—a grape-based distillate whose origins are a topic of debate between Peru and Chile—was suited perfectly to the late 19th century's emerging "fancy drinks" trend. At turns aromatic and dry, the spirit pairs nicely with various fruits and acids, and was a natural choice for the era's elevated serves. San Francisco's Bank Exchange and Billiard Saloon popularized pisco in the 1880s by mixing it with pineapple, lime, and syrup for the enormously popular pisco punch, inspiring imitators throughout the city. Then in the 1920s, the South American liquor garnered its international fame when Victor Vaughn Morris, an American bar owner who'd immigrated to Lima, began serving a pisco-based riff on the whisky sour. Made luxuriously silky via the addition of egg white (like the Ramos gin fizz popularized in New Orleans shortly before), and highly aromatic courtesy of Angostura bitters, a drink this good is virtually impossible to improve upon, which explains why the recipe hasn't changed in over a century.
Ingredients
2 oz. pisco
1 fresh lemon juice
¾ oz. simple syrup
1 large egg white
Angostura bitters, for garnish
Instructions
Step 1
To a cocktail shaker, add the pisco, lemon juice, simple syrup, and egg white. Dry shake for 20 seconds to emulsify, then add the ice and shake well to chill. Strain into a chilled coupe or nick and nora and garnish with 2–3 drops of bitters in a decorative pattern. Serve immediately.
*Note: It is important to point out that Chilean pisco is generally more floral, while Peruvian versions can display more earthy and vegetal notes which I find more suitable for cocktailing. There are four broad styles of Peruvian Pisco: Puro, Aromatico, Acholado, and Mosto Verde. I prefer Acholado for its drier profile, while others may prefer the sweetness of Mosto Verde. The brands Barsol, Porton, and Macchu Pisco will all work nicely in this recipe.