Recipes
Pizza Margherita
The classic Neapolitan pie, adapted for an American home oven.
Serves

makes four 12-inch pizzas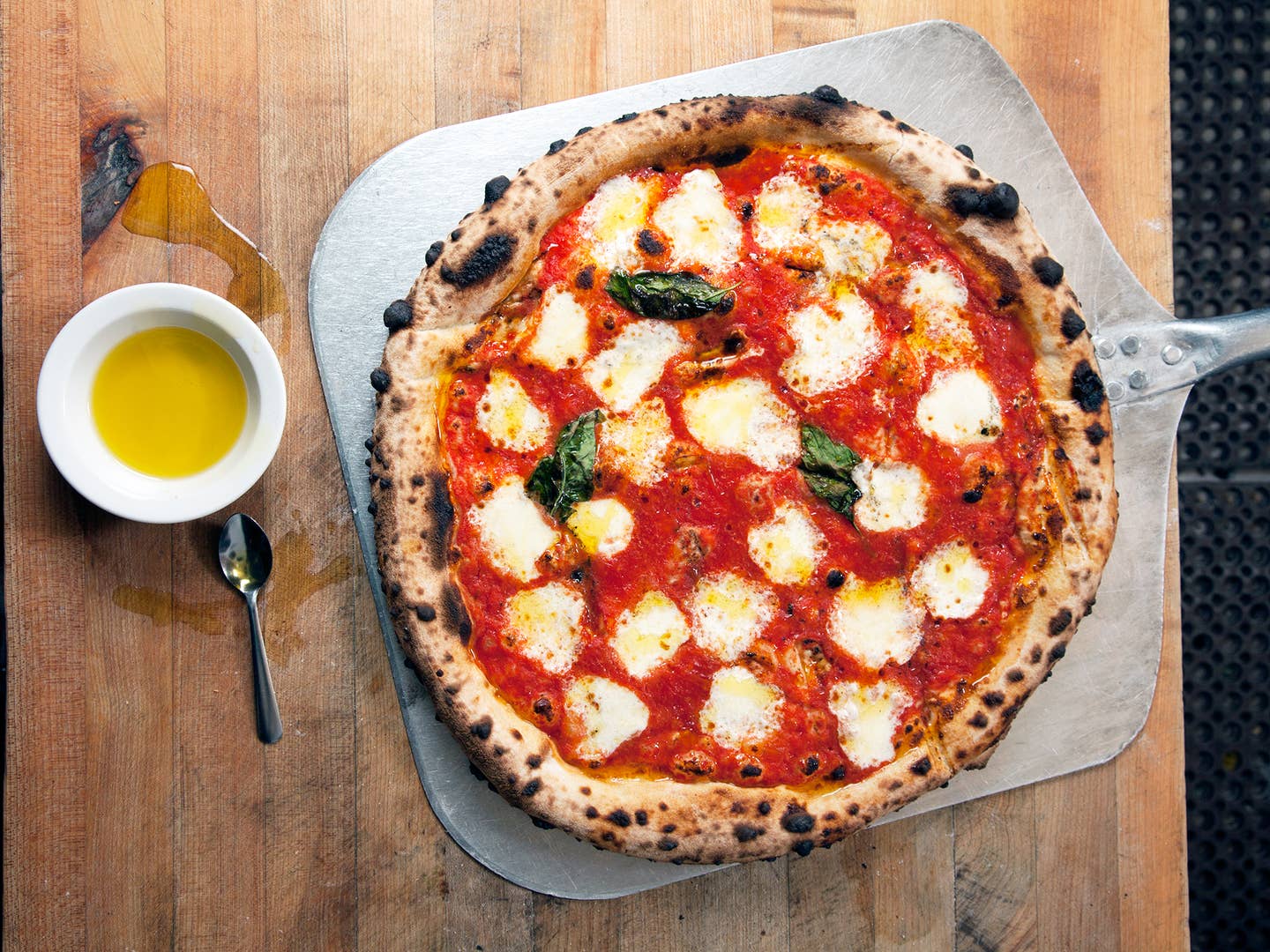 The recipe for this classic pie will work in home ovens; it's our adaptation of a recipe from chef Tony Gemignani, owner of Tony's Pizza Napoletana in San Francisco.
Ingredients
1 1⁄2 tsp. active dry yeast
7 cups 00 flour, preferably Caputo brand, plus more
4 tsp. sugar
4 1⁄2 tsp. kosher salt, plus more to taste
1 tsp. extra-virgin olive oil, preferably Olivestri Siloro brand, plus more for drizzling
1 (28-oz.) can whole peeled San Marzano tomatoes, preferably Cento brand, undrained, passed through a food mill
8 oz. mozzarella fior di latte ovoline or mozzarella di buffala, thinly sliced and patted dry with paper towels
16 basil leaves, torn by hand
Instructions
Step 1
Make the dough: In a small bowl, whisk together yeast and 3⁄4 cup plus 2 tbsp. water heated to 85º. Let sit for 10 minutes. Put flour and sugar into bowl of a stand mixer fitted with a dough hook. Mix on low speed to combine. With mixer on, add yeast mixture, 1 tsp. oil, and 1 1⁄2 cups ice-cold water; knead until smooth and a dough forms around hook, 7 minutes. Add salt and continue kneading for 2 minutes more. (If dough feels dry, add a few tbsp. cold water.) Divide dough into four portions, roll into tight balls, and transfer to a lightly floured baking sheet. Cover with plastic wrap and refrigerate overnight.
Step 2
Remove dough from refrigerator and let come to room temperature. Put a pizza stone on lowest rack in oven and heat oven to 500º; heat for at least 40 minutes.
Step 3
Make the pizzas: Working with one piece of dough at a time, dust with flour; using your hands, stretch and shape dough into a 11–13-inch circle. Transfer dough to a sheet of parchment paper. Drizzle oil around rim of dough. Spoon about 1⁄4 cup tomato sauce onto dough, leaving a 1-inch border. Season with salt. Arrange one quarter of cheese evenly over pizza. Drizzle pizza with more oil; using a pizza paddle or grasping the edges of the parchment paper, transfer pizza to pizza stone. Bake until golden brown, about 13 minutes. Slide parchment paper onto a pizza paddle or the back of a baking sheet and transfer to a work surface. Top with basil, drizzle with more oil, if you like, and slice. Repeat with remaining dough and toppings, and reserve remaining sauce for another use, such as pasta.