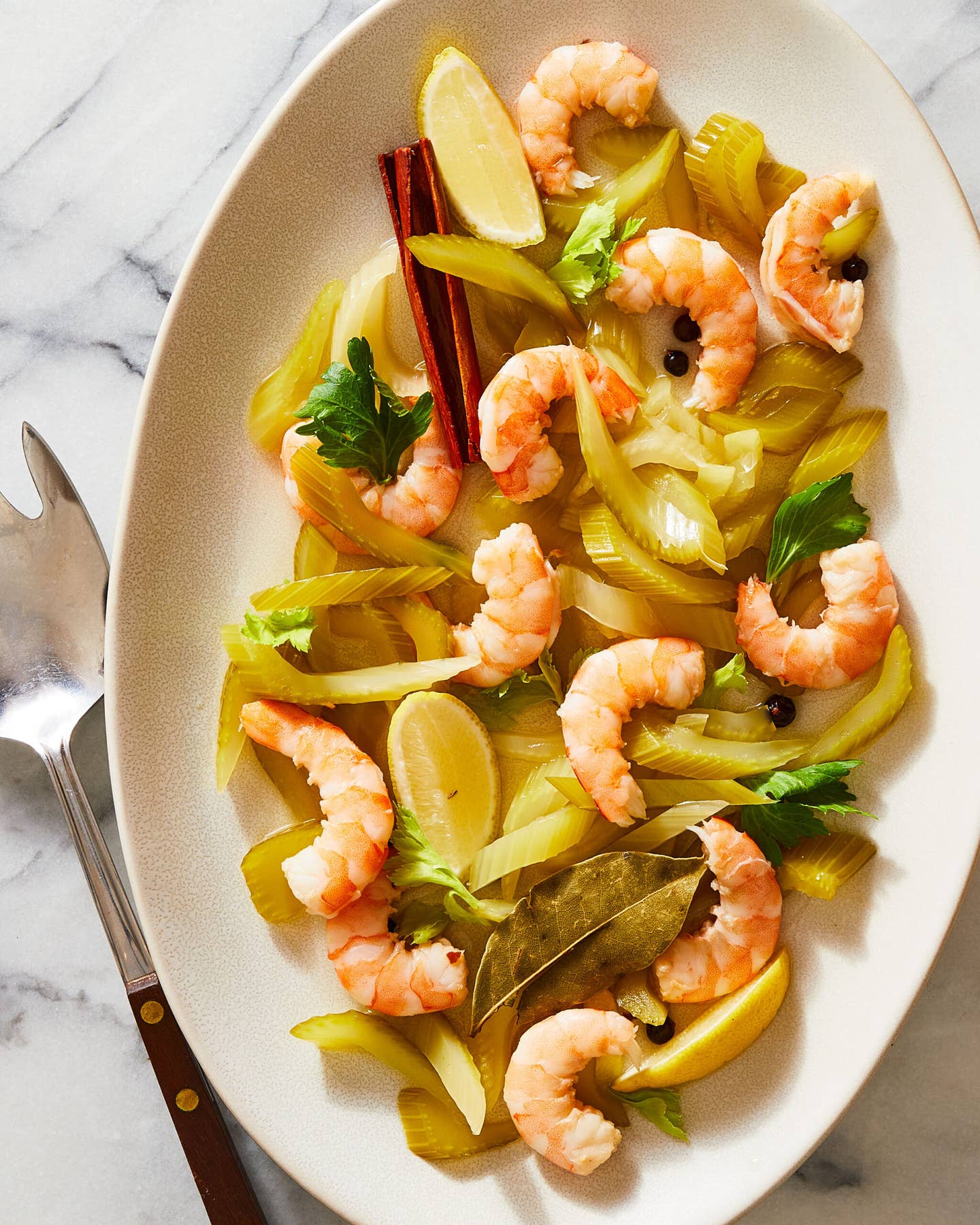 In this flavorful appetizer based on a recipe in Canal House Cooking, volume number two, celery is simmered until tender and then paired with shrimp and lightly pickled.
Ingredients
1 cup rice vinegar
1 cup mirin
1⁄4 cup fresh lemon juice
Kosher salt, to taste
3 tbsp. sugar
1⁄4 tsp. crushed red chile flakes
1 (2") piece ginger, thinly sliced
20 black peppercorns
10 juniper berries
4 bay leaves
2 sticks cinnamon
4 whole celery hearts, leaves reserved for garnish
1 cup white wine
1⁄2 lb. medium unpeeled shrimp
Extra-virgin olive oil, for serving
Lemon wedges, for serving
Instructions
Step 1
Combine vinegar, mirin, lemon juice, salt, sugar, chile flakes, ginger, 12 peppercorns, juniper berries, 2 bay leaves, cinnamon, and 1 cup water in a 2-qt. saucepan over medium heat; cook, stirring often, until salt and sugar have dissolved, 3–5 minutes. Transfer brine to a large bowl; chill brine.
Step 2
Put celery into a 4-qt. saucepan; cover with 8 cups water. Add remaining peppercorns and bay leaves, along with wine; season with salt. Cover and bring to a boil; reduce heat to medium-low and simmer until celery is tender, 18–20 minutes. Using tongs, transfer celery to chilled brine. Add shrimp to the poaching liquid; cook until just pink, 1–2 minutes. Transfer shrimp to a bowl; let cool. Peel and devein shrimp; add to brine. Cover with plastic wrap; refrigerate, turning occasionally, for at least 1 hour or as long as overnight. To serve, slice celery diagonally; divide celery and shrimp between plates. Season with salt, drizzle with oil, and serve with lemon wedges.