TKOs (Chocolate Sandwich Cookies)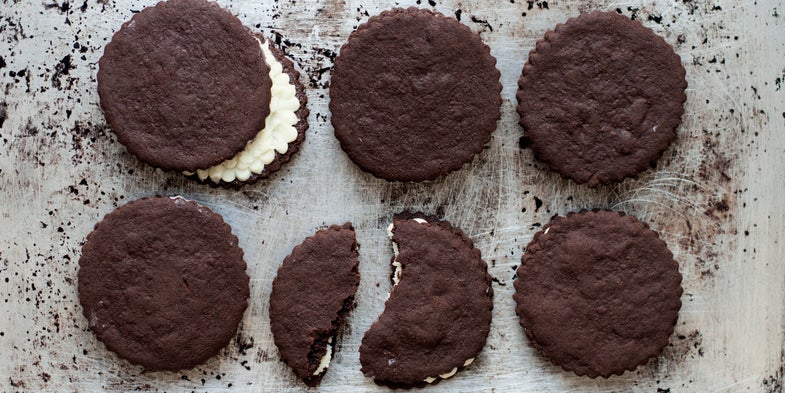 Adapted from Thomas Keller's Bouchon Bakery cookbook, this riff on an Oreo (the name stands for "Thomas Keller Oreos") is filled with a creamy white chocolate ganache. Make sure to use white chocolate with at least 35 percent cocoa butter when making the filling to ensure ultra-smooth melting.
Yield: makes About 15 Cookies
Ingredients
FOR THE FILLING
12 oz. finely chopped white chocolate
1⁄2 cup heavy cream
FOR THE COOKIES
1 3⁄4 cups plus 1 1/2 tbsp. flour, plus more for dusting
1 cup plus 1 1/2 tbsp. unsweetened cocoa powder
1⁄2 tsp. baking soda
16 tbsp. unsalted butter, softened
2 tsp. kosher salt
3⁄4 cup plus 1 tbsp. sugar
Instructions
Make the filling: Place chocolate in a heatproof bowl; set aside. Heat cream in a 1-qt. saucepan over medium heat until bubbling at the edges, about 5 minutes. Pour over chocolate and let sit for 5 minutes; whisk until smooth. Cover with plastic wrap and chill at least 4 hours or up to overnight.
Make the cookies: Whisk 1 3⁄4 cups plus 1 1⁄2 tbsp. flour, cocoa powder, baking soda, and salt in a bowl; set aside. Place butter and sugar in the bowl of a stand mixer fitted with a paddle attachment; mix until fluffy. With the motor running, slowly add dry ingredients until batter forms. Form dough into two disks; wrap disks in plastic wrap and chill 1 hour.
Heat oven to 325°. On a lightly floured surface and using a rolling pin, roll 1 disk of dough into a 12" circle, about 1⁄8" thick. Using a fluted 3" round cutter, cut out cookies and transfer to parchment paper-lined baking sheets. Roll and reuse scraps. Bake, rotating cookies once, until golden, 10 minutes. Let cookies cool completely.
Assemble the cookies: Transfer filling to the bowl of a stand mixer fitted with a paddle attachment; beat until smooth, then transfer to a piping bag fitted with a plain 3⁄16" tip and pipe about 1 tbsp. filling on half the cookies; top with remaining cookies.