Recipes
Veal Chops with Morels, Wilted Lettuce, Oysters, and Garlic-Parmesan Sauce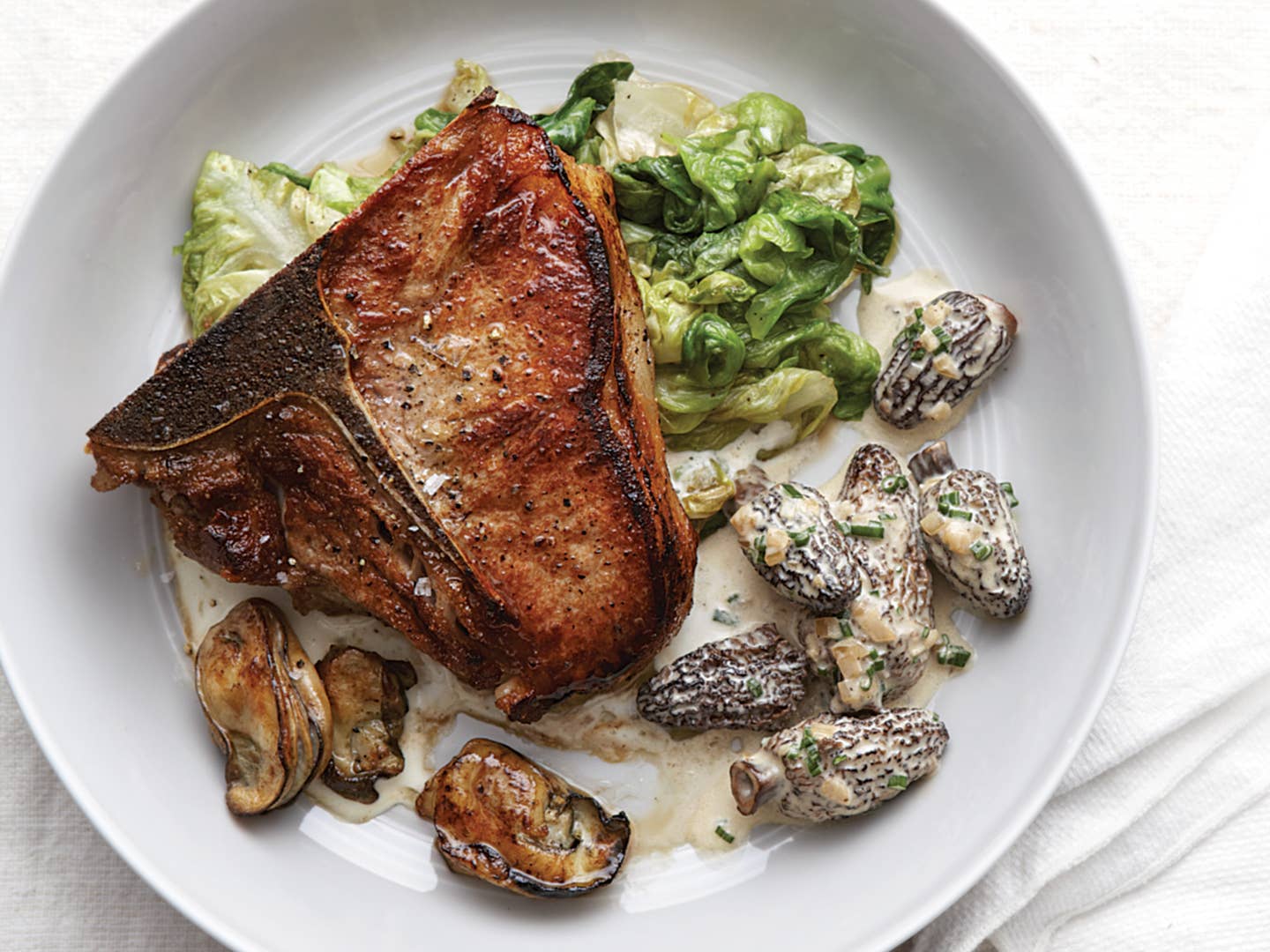 Los Angeles-based Ludo Lefebvre, chef of restaurants Ludo Bird, Trois Mec, and Petit Trois, uses vin jaune, a semisweet wine from the Jura region of France, to enliven the creamy morel ragù for this elegant veal and oyster dish. Marsala is a fine substitute.
Ingredients
5 tbsp. olive oil
4 oz. fresh morels, cleaned and trimmed
Kosher salt and freshly ground black pepper, to taste
1⁄2 shallot, minced
2 cups heavy cream
1⁄3 cup vin jaune
1⁄2 cup finely grated parmesan
1⁄3 cup whole milk
2 cloves garlic, grated
4 (10-oz.) bone-in veal chops
12 Kumamoto or other oysters, shucked
2 tbsp. unsalted butter
2 heads butter lettuce, cored, leaves torn into 2" pieces
1 1⁄2 tbsp. fresh lemon juice
1 1⁄2 tsp. minced chives
Instructions
Step 1
Heat 2 tbsp. oil in a 4-qt. saucepan over medium-high. Add morels and season with salt and pepper; cook until just tender, about 2 minutes. Reduce heat to medium and stir in shallot; cook until shallot is soft, 1–2 minutes. Add 3⁄4 cup cream and 1⁄4 cup wine; simmer until thickened, 4–6 minutes. Stir in remaining wine and cook 1 minute more; keep morels warm. Place remaining cream in a 2-qt. saucepan; simmer over medium, stirring occasionally, until reduced by half, about 10 minutes. Whisk in parmesan, milk, garlic, and salt; keep cheese sauce warm.
Step 2
Heat oven to 375°. Heat a 12" cast-iron skillet over high. Add remaining oil; season veal chops with salt and pepper. Working in batches, cook until chops are browned on one side, 5–7 minutes. Add all chops to skillet and flip onto second side; transfer skillet to oven. Cook until chops are browned on second side and an instant-read thermometer inserted into the thickest part of the veal reads 132°, 8–10 minutes. Divide chops between serving plates; keep warm.
Step 3
Wipe skillet clean and heat over high. Sear oysters, flipping once, until slightly charred, 1–2 minutes; divide between plates. Melt butter in a separate 12" skillet over medium-high; cook lettuce until wilted, 1–2 minutes. Stir in lemon juice, salt, and pepper; divide between plates. Stir chives into morels; spoon them around chops. If you like, use an immersion blender to purée cheese sauce until slightly frothy; spoon sauce around veal chops.