Recipes
Zoomru Tool and Ruwangan Hach (Fried Hard-Boiled Eggs with Oven-Dried Tomatoes)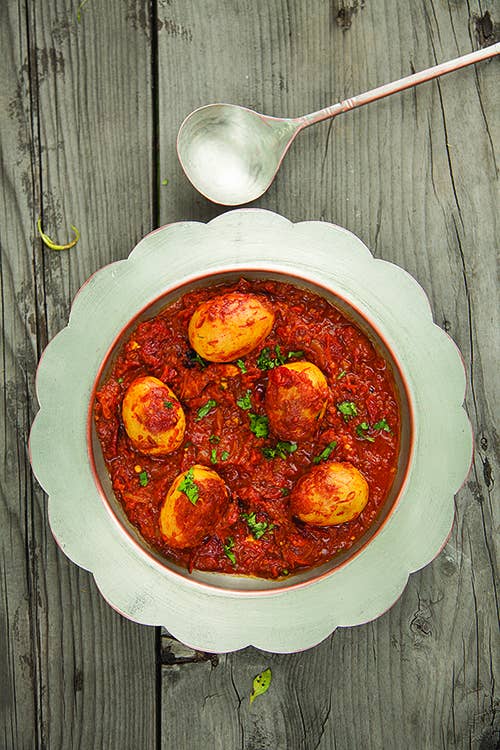 There is one road that connects the Vale of Kashmir to the rest of India, and historically, in wintertime, that road was snowed in. Isolated from the ingredients of southern climes, Kashmiris took to sun-drying the vegetables they grew in the warm months, slicing them and setting them out to dry to preserve them for their cold-weather pantries. The Andrabi family, who live in Srinagar, make a rich, spicy sauce from sun-dried tomatoes, which they use to simmer hard-cooked eggs that have been fried in bright mustard oil. Oven-dried tomatoes work just as well for this dish. This recipe first appeared in the tablet edition of our August/September 2014 special India issue.
Ingredients
6 plum tomatoes, cored and halved lengthwise
2 tbsp. canola oil
Kosher salt, to taste
6 eggs, room temperature
1⁄4 cup mustard or canola oil
1 tsp. ground turmeric
2 small Asian shallots or 1 regular shallot, minced
1 small red onion, minced
1⁄2 tsp. Kashmiri chile paste or 1½ tsp. red chile powder or cayenne
1 tsp. ground fennel
3 cloves garlic, mashed into a paste
1 (1") piece ginger, mashed into a paste
Chapati or naan bread, for serving (optional)
Instructions
Step 1
Heat oven to 300°. Toss tomatoes with canola oil and salt; spread cut side up on a baking sheet. Cook until dried out but still a little juicy, about 2½ hours.
Step 2
Bring 8 cups water to a boil in a 4-qt. saucepan. Add eggs; cook until soft- to medium-boiled (whites should be firm and yolks slightly runny), 6–7 minutes. Using a slotted spoon, transfer eggs to an ice bath until chilled, then gently peel.
Step 3
Heat mustard oil in a 12" skillet over medium-high. Add turmeric and eggs; cook, gently turning eggs until golden in color, 2–3 minutes. Using a slotted spoon; transfer eggs to a bowl.
Step 4
Cook shallots and onion until slightly caramelized, 10–12 minutes. Stir in chile paste, fennel, garlic, and ginger; cook until fragrant, 1–2 minutes. Add reserved tomatoes and ½ cup water; simmer, stirring occasionally, until tomatoes are broken down and sauce is thickened, 8–10 minutes. Add reserved eggs; cook until heated through, 1–2 minutes. Serve with bread, if you like.