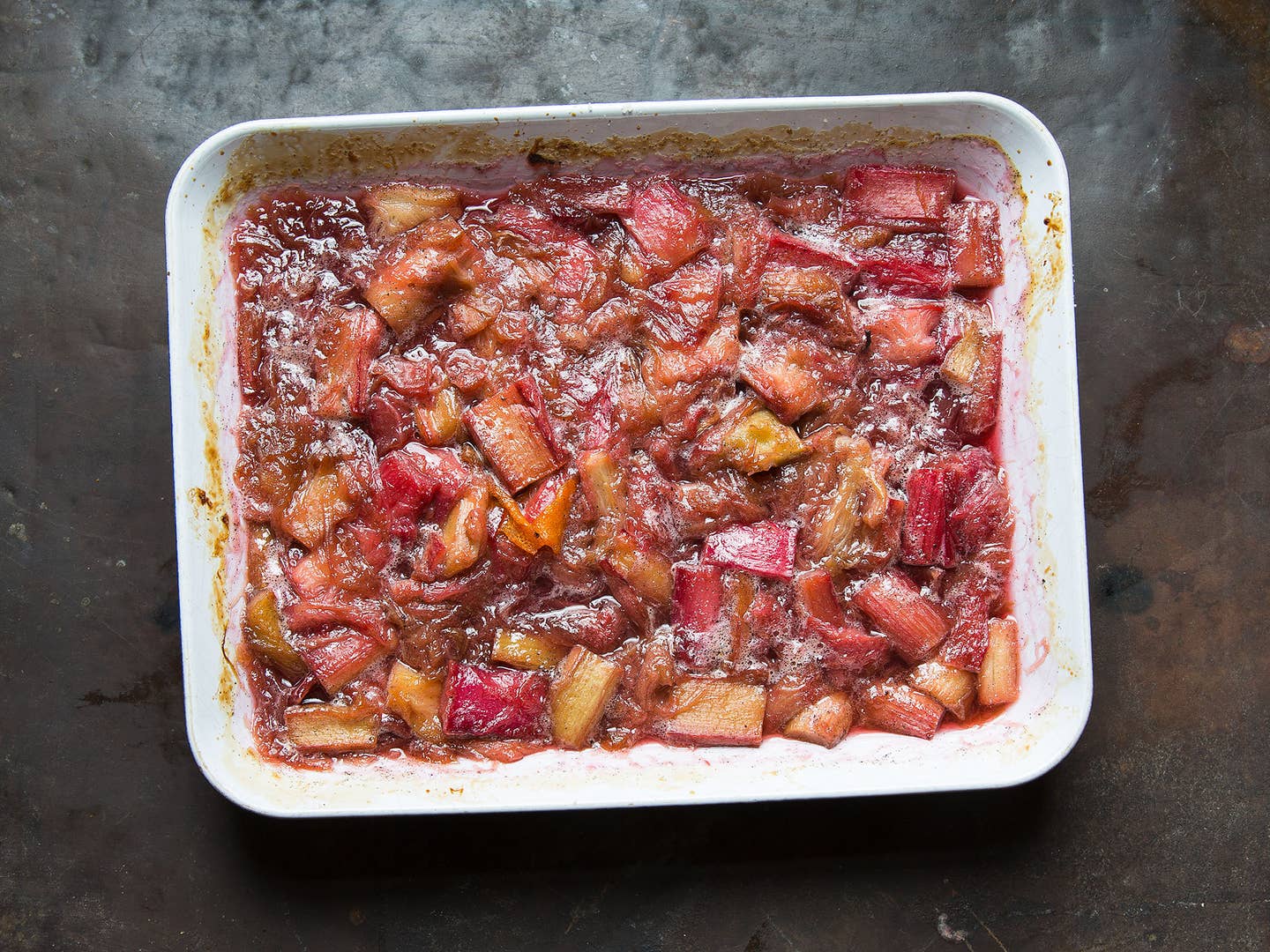 Techniques
Bring This Restaurant Trick Home: Make Your Jam in the Oven
It's low-fuss, splatter-free, and saves you from constant stirring
When your office has a test kitchen, you always have scraps. A couple quarts of trout rillette. Five pounds of grilled peaches. A small mountain of rhubarb. So we make jam.
Okay, not with the trout—at least not today. But let's talk about that rhubarb, and the nugget of knowledge that test kitchen assistant Kat Craddock dropped when whipping up a batch of jam the other day. Namely: Instead of simmering fruit for jam on the stovetop, stirring while dodging the inevitable sputters and splatters, turn on your oven instead. It's an old trick she picked up in restaurants years ago, and it makes the tricky, at-times tedious process of making jam much easier. No splatters. And almost no work; just set and give a quick stir once every 20 minutes.
You may have seen this stovetop-to-oven advice before, from Alton Brown's oven-baked gumbo roux to Pinterest's favorite breakfast, oven-baked oatmeal. And the logic here is the same: An oven's omni-directional heat cooks food more evenly than the direct, bottom-up heat of a stove, which means food that cooks more evenly. The process usually takes longer—this jam will go about an hour—but the tradeoff is far less active time in the kitchen.
The procedure in Kat's rhubarb jam can be applied to any fruit and any recipe. Lay your fruit evenly in a heavy baking dish—glass or glazed earthenware are best for slow, even heating without scorching—and stir in sugar, salt, and other flavorings. Kat adds orange zest and vanilla bean to her jam, along with some rosewater once it's done, but go nuts with your own favorite flavors. Then bake in a moderate oven, 350 degrees or so, for about an hour, until the fruit is very soft and the surrounding juices have turned into a thick syrup. You're looking for bubbles that stack on each other, a sign that you've cooked out enough water, and fruit soft enough that it collapses when prodded with a fork.
Once it's in the oven, you're 90% done. Just give it all a stir every 20 minutes or so, paying special attention to the edges and corners, and turn down the oven if the fruit starts to turn golden and caramelized before it's fully cooked. Nothing wrong with golden and caramelized, but that's its own flavor, not the fresh, direct fruitiness that you're after with jam.
Take note this method isn't precise enough for those looking to can their jam, so eat this stuff up in a week or two and freeze the leftovers. Or put it to use in jam's highest expression: homemade Pop Tarts.
More in Weird Preserves: Hugh Acheson's Ramp Jam