Rhubarb-Rose Oven Jam
Bring this restaurant trick home.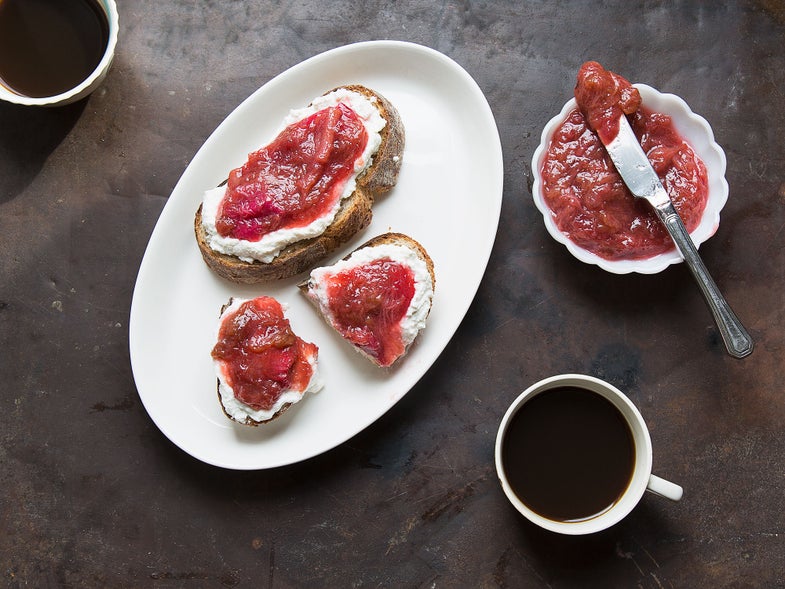 For an easy, splatter-free rhubarb jam, make it in the oven. This version adds floral flavors to sweet-tart rhubarb with vanilla bean and rosewater (we recommend Carlo for its fresh flavor). If you don't care for rosewater, omit it; the vanilla will still bring plenty of fragrance.
Note: This jam is best eaten within a week or two as it's not designed for canning. Leftovers can be stored in the freezer.
Featured in: Bring This Restaurant Trick Home: Make Your Jam in the Oven
Rhubarb-Rose Oven Jam
For an easy, splatter-free jam, make it in the oven.
Time: 1 hour, 20 minutes
Ingredients
2 1⁄2 lb. rhubarb, cleaned and cut in 2-inch pieces
1⁄2 vanilla bean, split and scraped
1 3⁄4 cups sugar
2 2-inch strips orange zest
1⁄4 tsp. kosher salt
1 1⁄2 tbsp. rosewater
1 to 1 1⁄2 tsp. fresh lemon juice, as needed
Instructions
Preheat your oven to 350°F. In a large bowl, combine the rhubarb, vanilla bean and seeds, sugar, orange zest, and salt. Transfer the mixture to a medium (8- by 10-inch) roasting pan and bake for 60 to 70 minutes, stirring gently every 20 minutes or so. The juices should be thick and syrupy and the rhubarb should be very soft.
Remove the roasting pan from the oven and add the rosewater and lemon juice to taste. Transfer jam to an airtight container and serve within 1 to 2 weeks.