11 North African and Middle Eastern Desserts
Drown your problems in palm oil and honey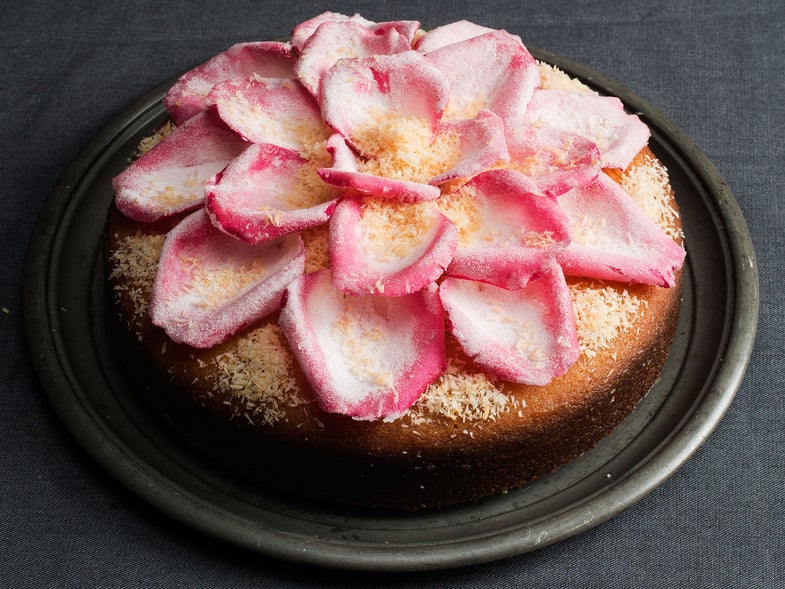 You're likely familiar with famous North African and Middle Eastern dishes like tahini and cous cous. But some of our favorite foods from the region are the sweets.
Often drenched—in a good way—in palm oil, honey, or syrup, these pastries and sweets are perfect accompaniments for the feasts of hearty, zesty fare they typically cap off. They also make use of fragrant, floral ingredients like rose water and orange blossom water to offset the richness.
From fried almond pastries to Lebanese shortbread cookies, here are our best North African and Middle Eastern dessert recipes.
Look for ripe mangoes that yield easily to the touch, because they will have the most vibrant flavor to play off the warming spices in this refreshing sorbet from cookbook author Suzanne Zeidy. Get the recipe for Spiced Mango Sorbet with Pistachio Tuiles »
These Lebanese shortbread cookies feature a buttery pastry scented with rose and orange blossom waters wrapped around a cinnamon and nutmeg–spiced date filling. Get the recipe for Lebanese Date Shortbread (Ma'amoul) »
These crumbly rice flour cookies are made using a sugar syrup infused with rose water, a classic ingredient in Middle Eastern sweets. Get the recipe for Iranian Rice Cookies »
Brown sugar, cinnamon and nutty, rich cashews are rolled into tight baklava cigars in this eminently snackable dessert. Get the recipe for Cashew Baklava »
In this recipe, kataif, a bird's nest-like phyllo dough, is layered with fresh cheese and doused in amber-hued syrup. Get the recipe for Syrup-Soaked Cheese Pastry (Knafeh) »
This elegant cake is soaked in a fragrant lemon syrup, perfumed by flower waters. The garnish is candied rose petals sprinkled with toasted coconut. Get the recipe for Semolina-Coconut Cake with Orange and Rose Waters »
These sticky-sweet fried pastries, drenched in a syrup of honey and orange flower water, are typical of the rustic desserts of Tunisia. Get the recipe for Fried Almond Pastries (Samsa Feuille de Brick)
These crunchy pastry spirals are formed from a simple pasta-like dough, soaked in a light lemon syrup and sprinkled with a shower of mixed nuts. Get the recipe for Syrup-Soaked Pastries with Hazelnuts, Pistachios, and Pine Nuts (Deblah) »
Drizzled with honey–butter, these chewy, yeasted crêpes are cooked only on one side giving them the mottled appearance from which they take their name. Get the recipe for 1,000-Hole Crêpes (Baghrir)»
These crunchy fried sweets stand up to soaking in a fragrant honey syrup, adding moisture and lightening the dense pastry. Get the recipe for Date-Filled Semolina Cookies (Makroud) »