You Don't Need a Grill to Eat Great Steak
Good meat shouldn't end with grilling season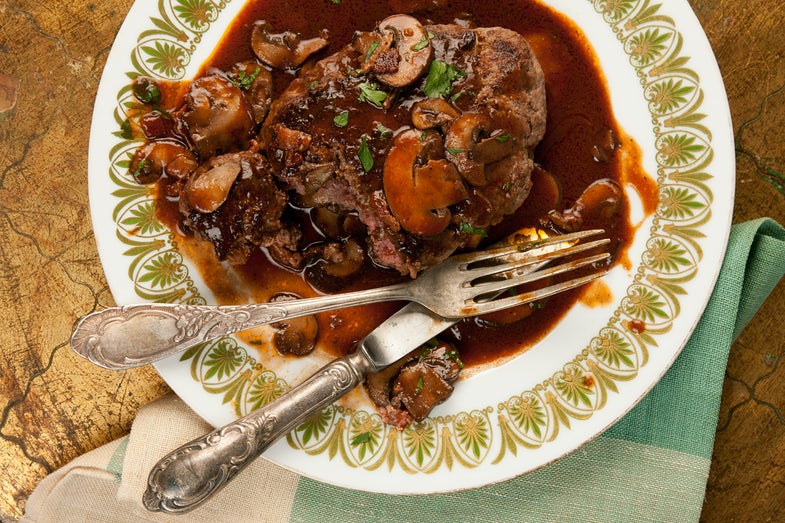 Steak in the summer is easy. Grab some salt and pepper, season your meat, and then throw it on the grill. Remove, let rest, plate, cut, eat. But, there's no reason to give up your favorite cut when it's too cold to cook outside. Here are 11 of our favorite steak recipes to cook indoors to carry you through cooler seasons:
Chicken-Fried Steak with Sausage Gravy
The Midwest knows that the best way to improve a humble cut of beef is to treat it like chicken and pan-fry it. Biscuits and gravy make it a rib-sticking meal. Get the recipe here.
Surf and Turf for Cooler Weather
Some say grilled meat and seafood means summer, but surf-and-turf is too good to lock into one season. This one, with filet mignon, crab, and hollandaise sauce for good measure, is perfect for cooler weather, when crab comes into season. Get the recipe here.
Saucy, Peppery Steak
Few things are better than steak with a peppery pan sauce, and this one-skillet wonder means quick clean up, too. Get the recipe here.
Brazil's "Cheese Steak"
Escape to South America with this hearty, mozzarella-topped regional classic. Get the recipe here.
Bistro-Staple Beef Tartare
The easiest way to cook steak indoors? Don't cook it at all. Steak tartare is always in season. Get the recipe here.
Classic Steak Diane
Steak Diane is dinner and a show: a brandy flambé adds a complex, sweet caramelized note to pan-seared filet. Get the recipe here.
A Hefty Uruguayan Steak Sandwich
This steak, cheese, bacon, and egg sandwich is a classic in Uruguayan cafes and restaurants. Make it your own and double up with lunch for the next day. Get the recipe here.
Show-Stopping, Buttery Porterhouse
Yes, you can make steakhouse-quality steak at home. The finishing touch? A little lemony herb butter also worth slathering on your dinner rolls. Get the recipe here.
Steak by Way of Vietnam
The secret's in the Maggi seasoning. Get the recipe here.
Bonus: Gravy-Drenched Hamburg Steak
Cook your steak in a heavy skillet (which works just as fine as a grill) to warm your bones and your home. This tender burger patty (okay, not a steak, but still delicious) drenched in mushroom gravy is the hat and gloves for your soul. Get the recipe here.