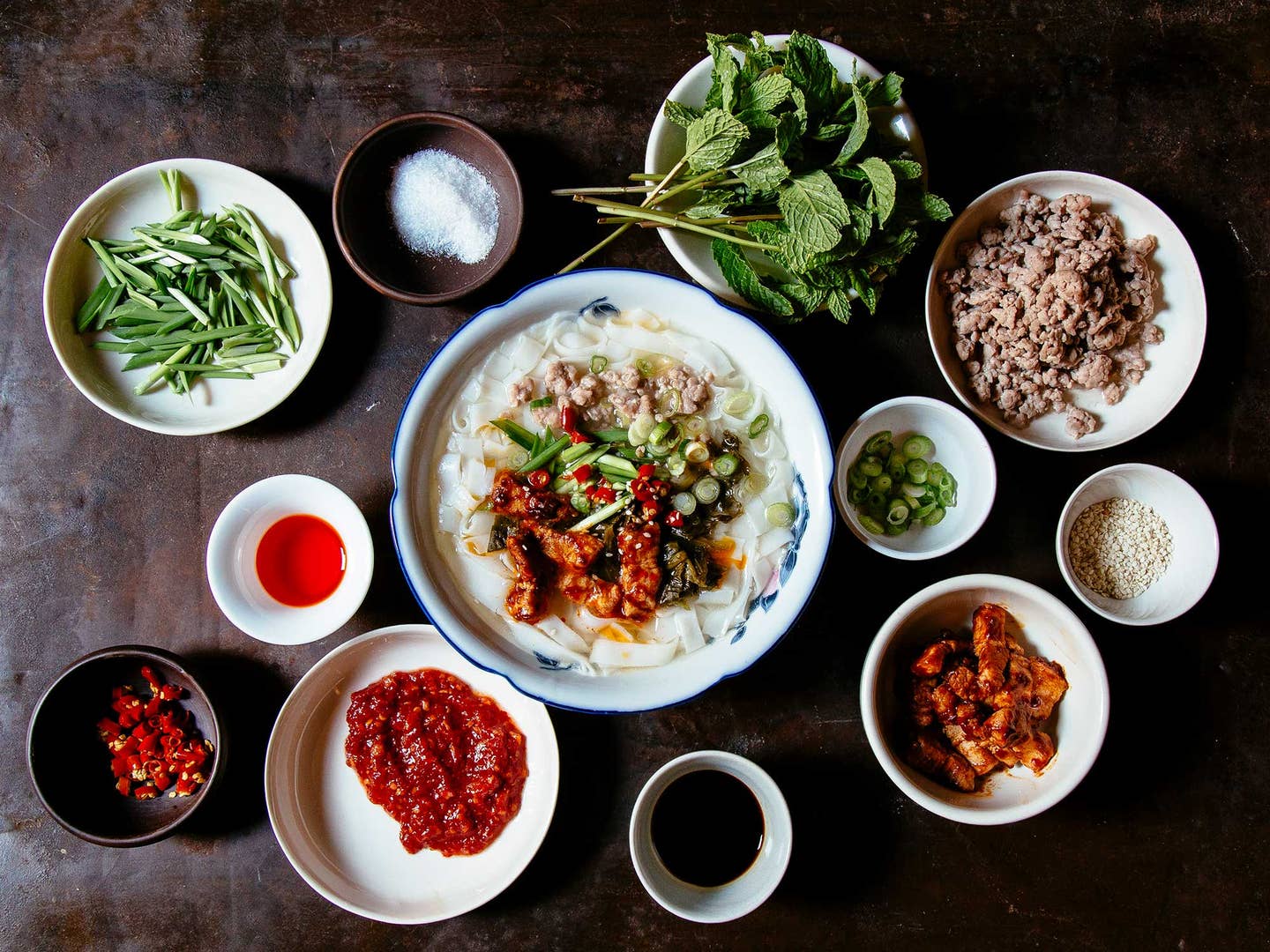 Recipes
Yes, You Want This Spicy Chinese Noodle Soup for Breakfast
Go make mi xian, the savory soup with myriad mix-ins that's the go-to morning meal in China's Yunnan Province
Your mom was right—it's important to eat a good breakfast. And there may be no better breakfast than mi xian.
In Xishuangbanna Prefecture in southern Yunnan, the savory, spicy noodle soup is the typical way to start the day. In big cities and small towns, locals pack bare-bones noodle shops by midmorning, hunching over knee-high tables to slurp tender rice noodles and a rich pork broth fortified with ground pork.
An order of soup arrives with some assembly required: It's up to each customer to season their own bowl to their liking with the dozen-plus condiments at a nearby table. At the best shops, these include homemade roasted chile pastes, local mountain herbs, and an array of pickled vegetables.
Because those condiments take the lead, the broth is intentionally simple; resist the urge to complicate it. Instead, simmer the broth in giant batches, then customize individual bowls with these toppings. Here's how to make the perfect bowl for you.
Pickled chiles: Pickled Thai bird chiles add tanginess to what would otherwise be straight heat.
Garlic chives: Also called Chinese chives, these lend oniony flavor and crunch.
MSG: Monosodium glutamate is as common as table salt in Yunnan, and a little punches up the complexity of the broth.
Mint: Loads and loads of mint add a welcome astringency and note of freshness.
Pork: Boiling ground pork results in meat that is tender and not at all greasy.
Scallions: Thinly sliced raw scallions add bite and a burst of color.
Sesame seeds: Sprinkle on top for texture and a subtle nutty flavor.
Spicy pork: The best-outfitted noodle shops in Yunnan will also slide some chile-spiced fatty pork into your bowl.
Black vinegar: Sour ingredients are essential to Yunnan cuisine, represented here with mild—and mildly sweet—Chinese black vinegar.
Chile paste: Use one with a short ingredient list like sambal oelek, made with chiles, salt, and vinegar for the cleanest flavor.