Recipes
This Cajun Jambalaya Recipe Changed My Mind About Jambalaya
Why it's time to give the southern Louisiana stalwart a second glance
Serves

serves 6-8

Cook

1 hour 30 minutes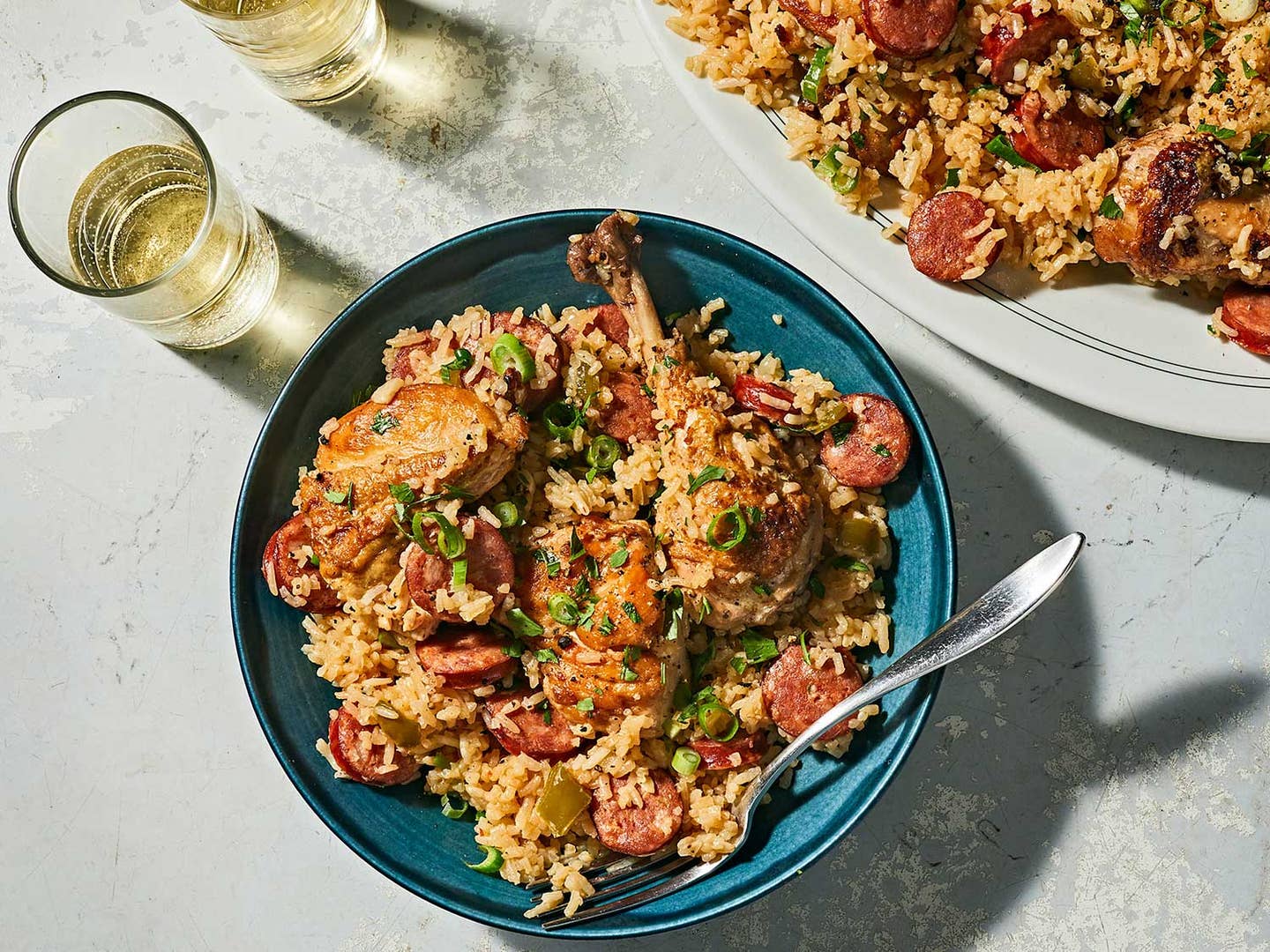 A week ago, if you told me jambalaya was on for dinner, I'd be the last in line. Though universally adored, some of this famed dish's lead components (ahem, green peppers), aren't something I want to eat stewed. Except it turns out a stewy, saucy pot of meat and peppers is not what jambalaya is all about. I had this dish all wrong.
Jambalaya is a one-pot wonder, an Acadian specialty that, unlike most other star dishes from Louisiana, cooks (chicken and vegetables and rice) in one fell swoop. I love a one-pot chicken and rice, but to fall in love with this one, I first needed to understand it.
To begin, I needed to identify where Acadia was, exactly, and how its people came to occupy one of our southernmost states. Acadia, sandwiched between Quebec and Prince Edward Island at the northern tip of America, was colonized by the French (namely from Normandy, Brittany, Poitou, Aquitaine and Île-de-France). After the French and Indian War, Acadians were deported to various American colonies and marginalized, but were later recruited by the Spanish to populate what was then called Luisiana (Louisiana). There, Cajun culture developed, with Acadian French on the tongue and jambalaya at the hearth.
Peeling back the layers of jambalaya's French, Spanish, and West African influence earned my initial buy-in; there are tangible roots in the French jambalaia (from Provence, where stewed peppers would be right at home), Spanish paella (rice, sausage, seafood, and chicken, cooked in an open pan) and West African jollof (which, while often lacking protein, is heavy on tomatoes, onions, and spices). The base for jambalaya's flavor, as in much of Spanish cooking, comes from sofrito, a trinity of finely chopped onion, celery, and bell pepper. Bay leaf, cayenne, and garlic are also commonly seen as base layers. For the protein, chicken, andouille (or other pork sausages), and shrimp or crawfish are all fair game.
Creole jambalaya includes tomatoes—possibly a sub for paella's saffron (a once out-of-reach ingredient for southern Louisianans). Cajun jambalaya, found more frequently further outside of New Orleans, omits tomatoes, yielding distinctly cooked grains, garnished with chicken, sausage, and later, spring onions. Cajun jambalaya has a cleaner umami-forward result, without the soupy bits I'd come to associate with the dish. One taste of a perfectly executed Cajun jambalaya, fat- and flavor-forward (in just the right amounts), and I was in.
I'm definitely a rare late adopter of jambalaya's fandom: New Orleans chefs from Leah Chase to Paul Prudhomme have famed versions, and if the countless covers of country singer Hank Williams's 1952 hit release Jambalaya on the Bayou are any indication, the dish's popularity goes way beyond the food world.
Modern cooks know this: get the recipe right, and you've got a one-pot-repeat winner. Here's how to master this low-work, high-reward classic.
Season the chicken with salt and cayenne instead of black pepper. Rub a couple smashed cloves of garlic all over the chicken skin for even more flavor. Then, sear the skin in vegetable oil over medium heat, taking care to get deep golden browning on all sides—which translates to flavor, and a more appealing finishing look.
Remove the chicken to a plate, and use the fat in the pot to cook the onion, green bell pepper, garlic, and bay leaves. Traditional jambalaya relies on the holy trinity of onion, pepper, and celery—but skipping celery here allows the heat and roasty schmaltz flavor of the cayenne and chicken fat to come forward. Cook until the onions are golden, stirring to avoid deep browning or charred spots, about 8 to 10 minutes.
Unlike many famous New Orleans dishes, which are served over white rice, the beauty of jambalaya is that the rice goes into the pot with the meat and spices. Add the rice and andouille at the same time, stirring to toast the grains in the fat, about 15 minutes, before any liquid goes in.
Pour in the chicken broth and stir well, scraping the bottom of the pot to release the brown bits (which equal flavor) and coax the luscious finish from the dish.
Add the chicken back to the pot along with the stock. Reduce the heat to a low simmer, cover, and cook until the rice has plumped and absorbed all the stock, and the chicken is cooked through, about 30 minutes. At the finish, fluff the rice with a fork and tweak the seasoning. Here is where you could add optional shrimp or crawfish, stirring into the dish for a few minutes, until they are just pink throughout.
This one-pot feast is a great candidate for serving straight from the stove. Garnish the top with fresh scallions and parsley, and bring to the table with a stack of plates; or plate and garnish from the pot to order, NoLa-restaurant-style.
Ingredients
1 whole chicken (3 lb.), cut into pieces
1 tsp. kosher salt, plus more to taste
½ tsp. cayenne
4 large cloves garlic, peeled; 2 whole and 2 minced
4–5 Tbsp. vegetable oil
1 cup finely chopped onion
½ cup finely chopped green bell pepper
2 bay leaves
1½ cups long-grain white rice, uncooked
1 lb. Cajun andouille, sliced ¼ inch thick
3 cups homemade or store-bought chicken stock, hot
¼ cup finely chopped scallions
¼ cup finely chopped flat-leaf parsley
Instructions
Step 1
Season the chicken with salt and cayenne. Smash the whole garlic cloves with the flat side of a knife. Rub onto the chicken, then discard the garlic. In a large, heavy pot over medium heat, add the oil. When the oil is hot, add the chicken in 2 batches and cook until browned, 8 minutes per batch, adding more oil as needed; set aside.
Step 2
In the same pot, add the onion, bell pepper, minced garlic, and bay leaves. Cook over medium heat, stirring occasionally, until the onions are golden brown, about 8–10 minutes. Add the rice and andouille; cook, stirring frequently, until lightly browned, 15–20 minutes. Return the chicken to the pot, add the stock, and bring to a simmer. Reduce the heat to low, cover, and cook until stock is absorbed, about 30 minutes.
Step 3
Fluff rice with a fork and season with salt. Just before serving, stir in the scallions and parsley.