Canned Sardine, Tomato, and Caper Sandwiches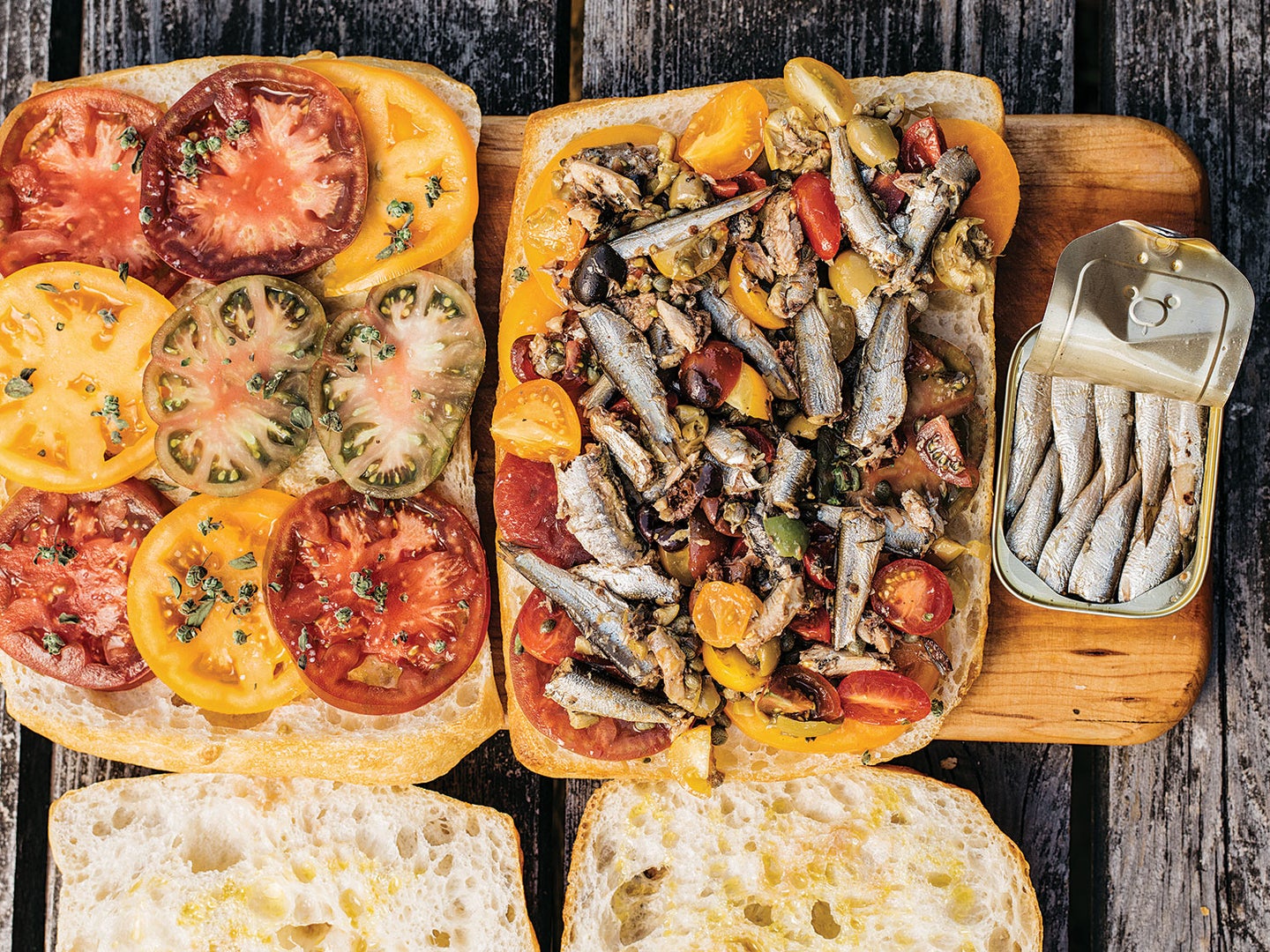 Fresh heirloom tomatoes, rich and oily canned sardines, and briny capers and olives are easy to pack for a picnic and throw together outdoors. Patting the tomatoes dry before assembling prevents the sandwiches from getting soggy.
Featured in: Portland Chef Elias Cairo Is as Serious About Fishing as He Is Eating
Equipment
Canned Sardine, Tomato, and Caper Sandwiches
A few fresh tomatoes turn a slab of foccacia and shelf stable sardines and capers into cheerful and refreshing picnic fare.
Time: 15 minutes
Ingredients
Two 4½-oz. cans oil-packed sardines, drained
½ cups cherry tomatoes (mixed colors), halved or quartered
¼ cups torn fresh oregano leaves
2 Tbsp. coarsely chopped mixed pitted olives
1 Tbsp. capers
2 Tbsp. extra-virgin olive oil
1 Tbsp. red wine vinegar
Kosher salt
One 12×12-inch piece focaccia, preferably day-old or toasted
2 medium, ripe heirloom tomatoes (mixed colors), thinly sliced
Instructions
In a medium bowl, combine the sardines, cherry tomatoes, oregano, olives, and capers. Dress with the olive oil, vinegar, and some salt, and toss to combine.
Using a bread knife, cut off the top of the focaccia, dividing the slab into a thin top and thick bottom. Set the top piece aside. Pat the tomato slices with paper towels if they are very wet. Arrange the slices over the bottom of the bread, overlapping slightly; sprinkle lightly with salt. Distribute the sardine mixture evenly over the tomato slices, then cover with the top slab of focaccia. Cut the ­sandwich into 6 squares and serve.