Recipes
Chamomile-Pickled New Potatoes with Beurre Blanc
Serves

serves 4-6 People

Cook

50 minutes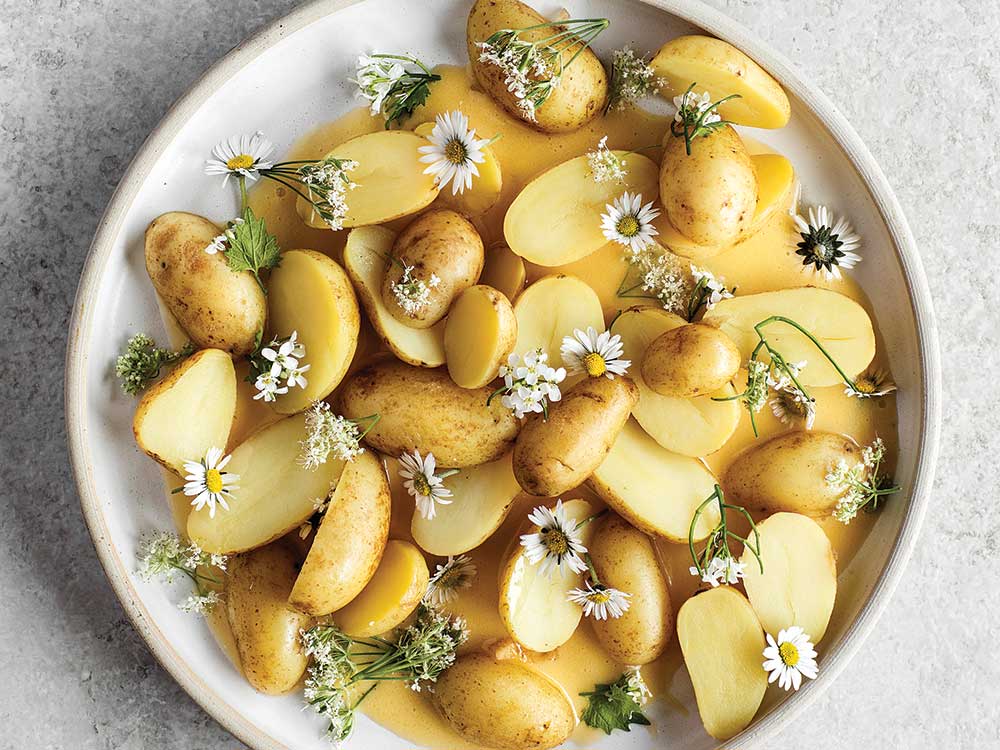 "We have always had a big potatoes-and-gravy culture in Denmark," says Danish chef Niclas Grønhøj Møller. "Once you get into summer and new potatoes start coming into season, white gravies—usually milk thickened and flavored with herbs like parsley—come back in style instead of heavier brown gravies." His fresh spin on the combination uses a bright, high-acid beurre blanc in place of a cream-based gravy, and features lightly crunchy pickled potatoes infused with chamomile, a flower that grows wild even in the city.
Saveur's resident Scandiphile eats and drinks his way through Copenhagen in search of cultural transformation
Ingredients
For the potatoes:
2 1⁄4 lb. new potatoes (as small and round as possible)
Kosher Salt
2 cups plus 2 Tbsp. white wine vinegar
1 cup sugar
1⁄3 cup fresh or 3 Tbsp. dried chamomile flowers. Edible flowers, such as mustard, shepherd's purse, coriander, or chervil, for garnish
For the beurre blanc:
3 tbsp. minced shallot
1⁄2 cup dry white wine
2 tbsp. white wine vinegar
1 stick (4 oz.) very cold unsalted butter, cut into small cubes
Kosher salt and freshly ground black pepper
Instructions
Step 1
Make the potatoes: In a medium pot just large enough to fit them, add the potatoes, a few generous pinches of salt, and enough water just to cover; bring to a boil, then reduce to a simmer and cook for 5 minutes. Remove from the heat but leave the potatoes in the water (they will still be crunchy but will continue to cook).
Step 2
Make the pickling liquid: In a medium pot, add the vinegar and an equal amount of water, the sugar, and a pinch of salt; bring to a boil, then remove from the heat. Add the chamomile and set aside to infuse.
Step 3
In 15–20 minutes, or when a knife inserted into the potatoes can go about a third of the way through with no resistance, drain the potatoes. Rinse with cold water until cool enough to handle.
Step 4
On a cutting board, halve the potatoes. Add them to the still hot pickle brine (leave the chamomile in the brine). Let rest at room temperature for 2 hours or refrigerate up to overnight.
Step 5
About 20 minutes before serving, make the beurre blanc: In a medium pot, add the shallot, wine, and vinegar; boil over high heat until only about ¼ cup of liquid remains, 8–10 minutes. Lower the heat to medium-low, then begin to add the butter a few cubes at a time, whisking as rapidly and thoroughly as possible to incorporate. When all of the butter is added, remove the pot from the heat. Season to taste with kosher salt and freshly ground black pepper. (If the sauce breaks, add about 1 tablespoon cold water to another pot, then slowly drizzle the broken sauce into the pot, whisking rapidly and constantly.)
Step 6
Ladle the beurre blanc onto a rimmed serving dish or shallow bowl. If refrigerated, let the potatoes come to room temperature. Pile the pickled potatoes on top and sprinkle with the edible flowers and more freshly ground black pepper. Serve slightly warm or at room temperature.