Recipes
Chicken Liver Pâté with Blini and Pickled Grapes
Serves

serves 10-12

Cook

1 hour 45 minutes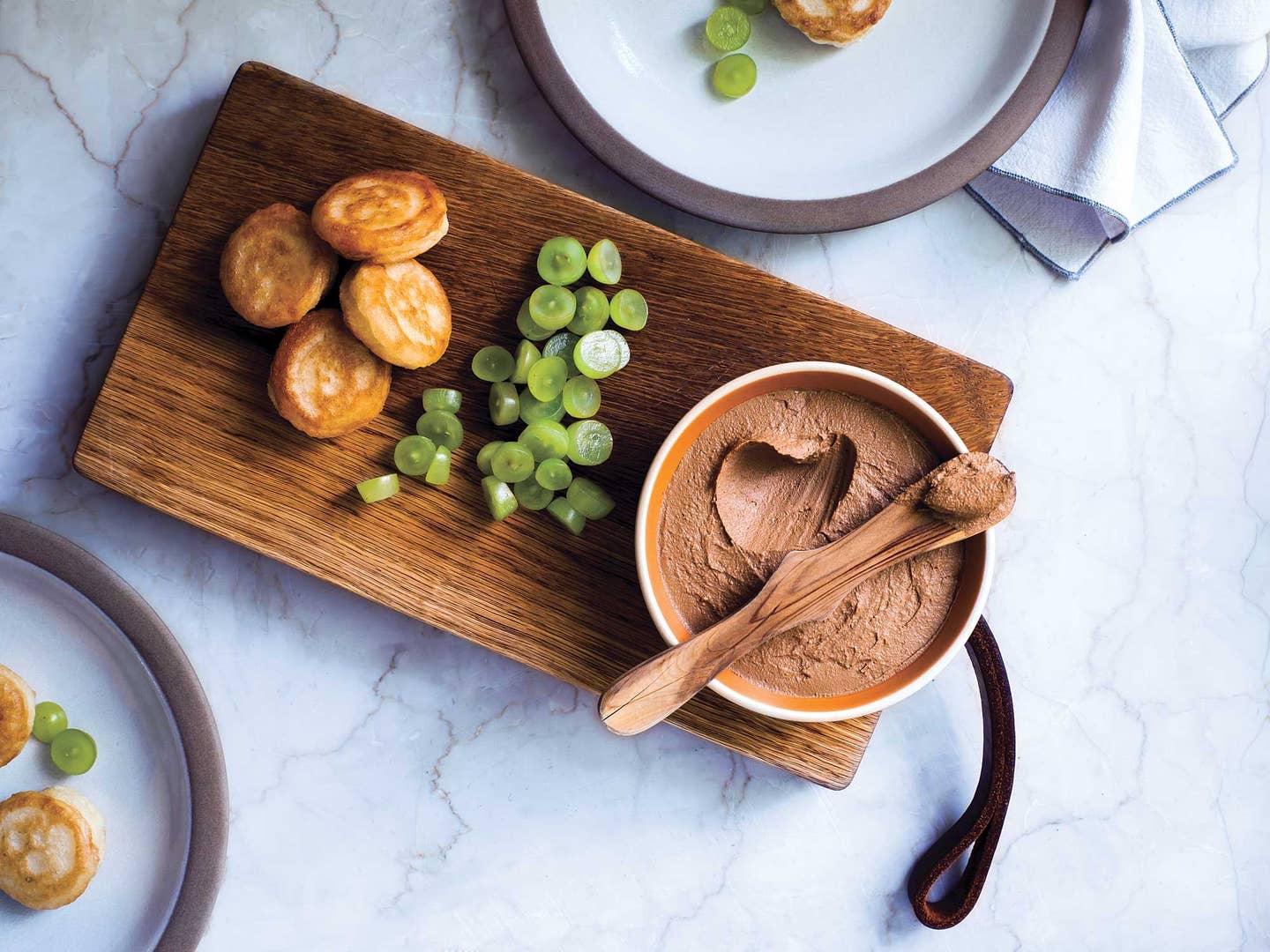 Known as pashtet, this traditional Russian chicken liver pâté gets its gentle sweetness and balanced flavor from being puréed with butter-sautéed carrots and onions. Though not a traditional Russian pairing, the fluffy yeasted blini, known as oladyi, and tart pickled grapes (the chefs use local white sultanas) brighten and soften the liver's flavor.
Ingredients
For the marinated grapes and blini
1 cup muscat or other dry white wine
1 cup white wine vinegar
3⁄4 tsp. sugar
1⁄4 tsp. kosher salt
2 1⁄2 cups green grapes, halved (14 oz.)
3 1⁄4 cups all-purpose flour
1⁄4 cup sunflower or vegetable oil
2 tbsp. fresh yeast
1 1⁄4 tsp. sugar
3⁄4 tsp. kosher salt
2 large eggs
5 tbsp. unsalted butter
For the pâté
6 tbsp. (3 oz.) unsalted butter
1 lb. chicken livers, cleaned
1 1⁄4 tsp. kosher salt, plus more to taste
2 cups diced white onion (8 oz.)
1 cup diced carrots (5 oz.)
3 tbsp. red wine
Instructions
Step 1
Note: The marinated grapes require overnight resting. Marinate the grapes: In a 1-quart jar, combine the white wine, vinegar, sugar, and salt. Shake or stir well, then add the grapes. Cover and refrigerate overnight.
Step 2
An hour before serving, make the blini batter: In a large bowl, whisk the flour, 2 1⁄3 cups water, the oil, yeast, sugar, salt, and eggs until well combined. Let stand at room temperature until risen and bubbly, about 1 hour.
Step 3
Meanwhile, make the pâté: In a large skillet over medium-high heat, melt 4 tablespoons butter. Once hot, add the chicken livers and season with 3⁄4 teaspoon salt; cook, turning occasionally, until just heated through, 10–12 minutes total. Remove to a food processor. In the same skillet over medium-high heat, melt the remaining 2 tablespoons butter. Add the onion, carrot, and remaining 1⁄2 teaspoon salt and cook, stirring occasionally, until lightly browned, about 8 minutes.
Step 4
In a food processor or blender, put the vegetable mixture and the prepared liver. Season generously with salt and add the red wine; blend or process until very smooth. Taste and adjust the seasoning as needed. Press the mixture through a fine-mesh sieve if a smoother consistency is desired. Pâté can be served warm or at room temperature and can be made up to 2 days ahead.
Step 5
When ready to serve, place a paper towel-lined platter or a rack set over a baking sheet next to the stove. Whisk the blini batter briefly. In a medium nonstick skillet, melt 1⁄2 tablespoon butter over medium-high heat. Drop scoops of the batter by the tablespoon into the pan, leaving room between the blini; cook, turning once, until golden, about 3 minutes per side. Transfer to the rack or paper towel-lined platter and repeat with the remaining butter and batter (work quickly to avoid burning the butter).
Step 6
To serve, spread the pâté on blini and top with grapes.