Recipes
Cilantro Salad with Olives, Avocado, and Limes
86 the iceberg: Fresh and aromatic herbs take the place of lettuce in this zippy Middle Eastern side.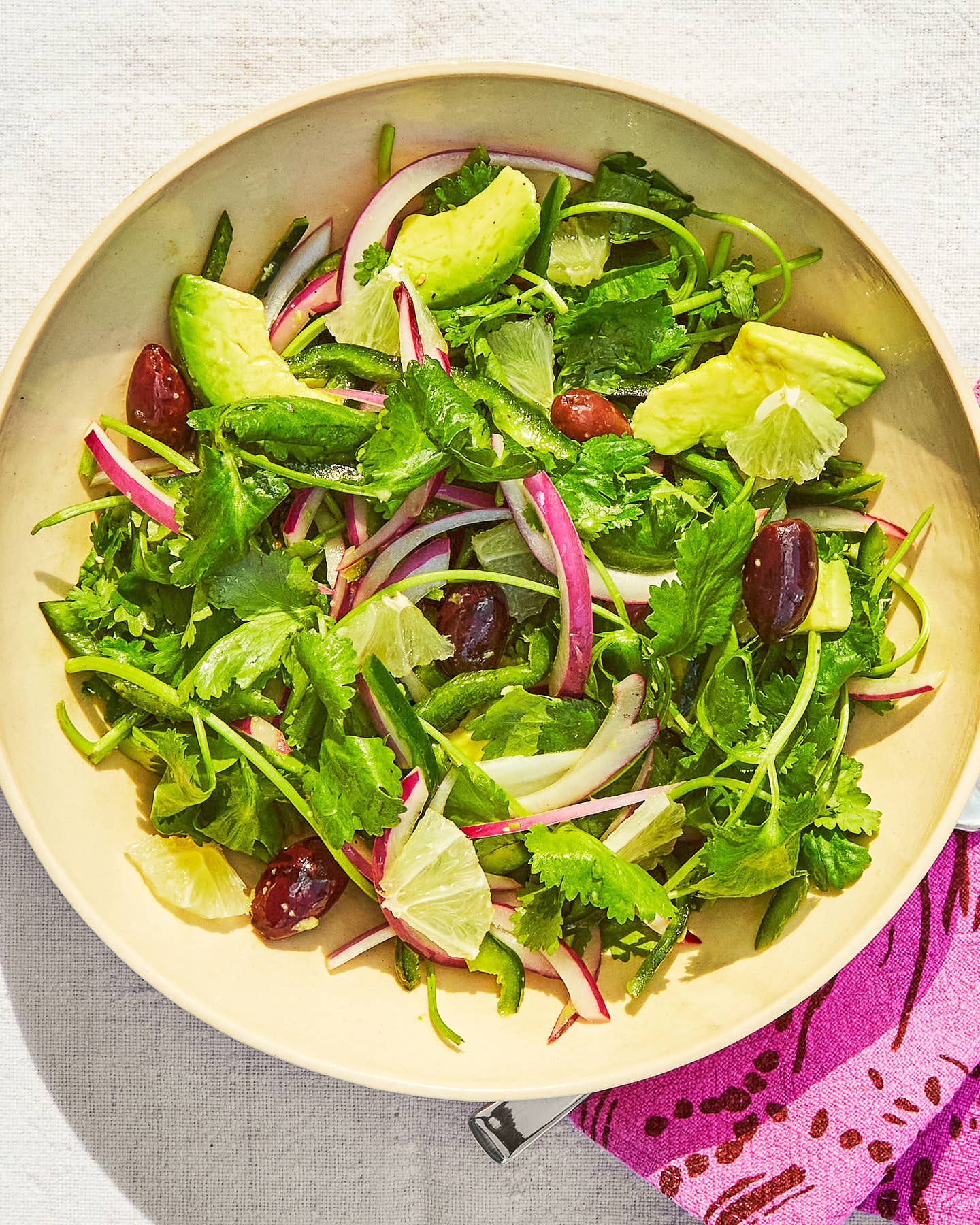 Rawia Bishara, the Galilee-born chef behind Brooklyn's Tanoreen, uses this crisp, bright salad as a side dish or as a fresh and herbal condiment atop fried fish or grilled meat. "No matter where you fall on the cilantro spectrum," says Bishara, "I urge you to try it." For more classics from Egypt to Iran, check out all of our Middle Eastern recipes.
Ingredients
4 packed cups cilantro leaves, coarsely chopped
2 poblano chiles, stemmed, seeded, and thinly sliced (2 cups)
2 cups red onion, quartered and thinly sliced
1 medium lime, peel and pith removed, flesh quartered and thinly sliced
¼ cups fresh lemon juice
1⁄3 cups extra-virgin olive oil
1 tsp. kosher salt
1⁄2 tsp. freshly ground black pepper
10 pitted kalamata olives
1 firm-ripe avocado, thinly sliced
Instructions
Step 1
In a large bowl, combine the cilantro, chiles, onion, and lime.
Step 2
In a small bowl, whisk lemon juice, oil, salt, and pepper to combine.
Step 3
Pour the dressing over the salad, and toss gently to avoid bruising the delicate leaves. Garnish with the olives and avocado slices, and serve immediately.