Our Best Salad Recipes to Take Weekday Lunch to the Next Level
Eating your greens has never been easier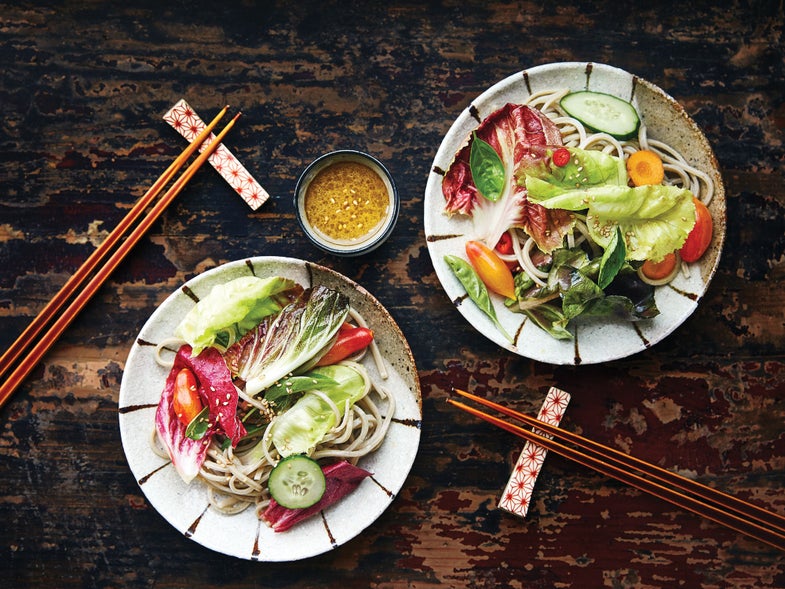 Tired of your #saddesklunch? Mix up some next-level greens with these not-basic salad recipes. We've rounded up our favorite fun and fancy salads to make weekday lunch a little brighter.
If you're a fan of straight veggie salads, try collard greens with potatoes or a three-beat salad with an orange vinaigrette. Asian salads also offer a chance to mix things up, whether that's a cilantro-peanut mix or a cold soba salad.
Upgrading your proteins also makes for better salads: toss some sardines or chicken in with the produce for some more bite. From eggplant to pickled greens, here are our best salad recipes to upgrade your work lunch game.
"We would go octopus fishing when I was a kid," says chef Ash Heeger, who grew up in Transkei, a rural area in eastern South Africa. When making octopus for a crowd, she tosses grilled pieces with greens, loads of fennel fronds, and pickled lemons whose rinds are tender enough to eat and add citrusy punch. Get the recipe for Octopus Salad with Pickled Lemons »
Due to its long, cold winters and hot, dry summers, Xinjiang is not renowned for its vegetable dishes, but fast-growing produce like spinach and cilantro often make it to the table during the brief respites between seasons. This refreshing salad is a perfect to accompaniment to fatty grilled meats. Use the most delicate cilantro you can find, so the stems can be eaten along with the leaves. Get the recipe for Cilantro and Peanut Salad (Huāshēngmĭ bàn xiāngcài) »
Sausage is the pride of Lyon, and here, instead of being served piping hot, it gets the cold treatment—tossed with a bright vinaigrette and chervil. "It's the perfect way to eat sausage along with other salads," says chef Daniel Boulud. Get the recipe for Lyonnaise Salad with Sausage and Walnuts »
In this simple Japan-meets-California salad, radishes are tossed with cilantro and a fragrant rice vinegar and soy sauce vinaigrette before topped with goat cheese. Get the recipe for Radish and Cilantro Salad with Goat Cheese »
This refreshing salad of soba noodles tossed with winter greens and mixed vegetables is brought together by a tart dressing of miso, ginger juice, and lemon. Get the recipe for Soba Salad with Lemon-Miso Vinaigrette »
Sprouted lentils, mung beans, and sunflower seeds add lightness and nutrient density to a hearty salad of beets and kohlrabi over an herbed dressing. Get the recipe for Sprouts, Kohlrabi, and Beet Salad with Herbed Crème Fraîche Dressing »
In this bold salad, roasted, pickled, and raw beets tangle with a creamy orange–yogurt dressing. Get the recipe for Three-Beet Salad with Orange-Yogurt Dressing »
The zest and segments of four types of citrus enliven shaved fennel and charred squid in this winter salad. Get the recipe for Fennel and Citrus Salad with Charred Squid »
The flavor of raw collard greens combines perfectly with tender roasted sweet potatoes and tangy, rich goat cheese in this hearty starter. Get the recipe for Shredded Collard Green Salad with Roasted Sweet Potatoes and Cashews »
Brighten up any day with this simple roast chicken and fresh eggplant and herb salad. Get the recipe for Rainy Day Chicken with Eggplant Salad »
Crunchy cashews coated with maple syrup and sesame seeds, and a boldly piquant dressing of Shanxi vinegar, add texture and verve to the classic kale salad from chef Cara Stadler of Tao Yuan in Brunswick, Maine. This vinaigrette is sharper than most, so if you prefer less acidity, add up to 1/4 cup more vegetable oil. Get the recipe for Apple and Kale Salad with Black-Sesame–Maple Cashews »
Pomegranate seeds add a pop of tart juice to each bite of this buttery sautéed corn salad with crunchy cucumbers and a toasty sesame oil vinaigrette. Get the recipe for Cucumber and Corn Salad with Pomegranate and Poppy Seeds »
Ideally, you want unripe green wine grapes for this recipe by cookbook author Amy Thielen, but grocery store green grapes will also work. The caramel-coated pumpkin seeds lend a bittersweet crunch to the bright, crisp turnips and peppery arugula. Get the recipe for Turnip Salad with Green Grape Vinaigrette »
Bacon and eggs get the salad treatment complete with a zingy espresso vinaigrette and toasty croutons for crunch. Get the recipe for Breakfast Salad »
Combining sardines with Thai spices moves the flavor away from purely fishy in this sweet and spicy salad. Get the recipe for Sardine and Lemongrass Salad »