Recipes
Clams and Mussels with Spicy Pork Sausage Broth
Classic New England clambake, no sand required.
Serves

serves 4

Cook

40 minutes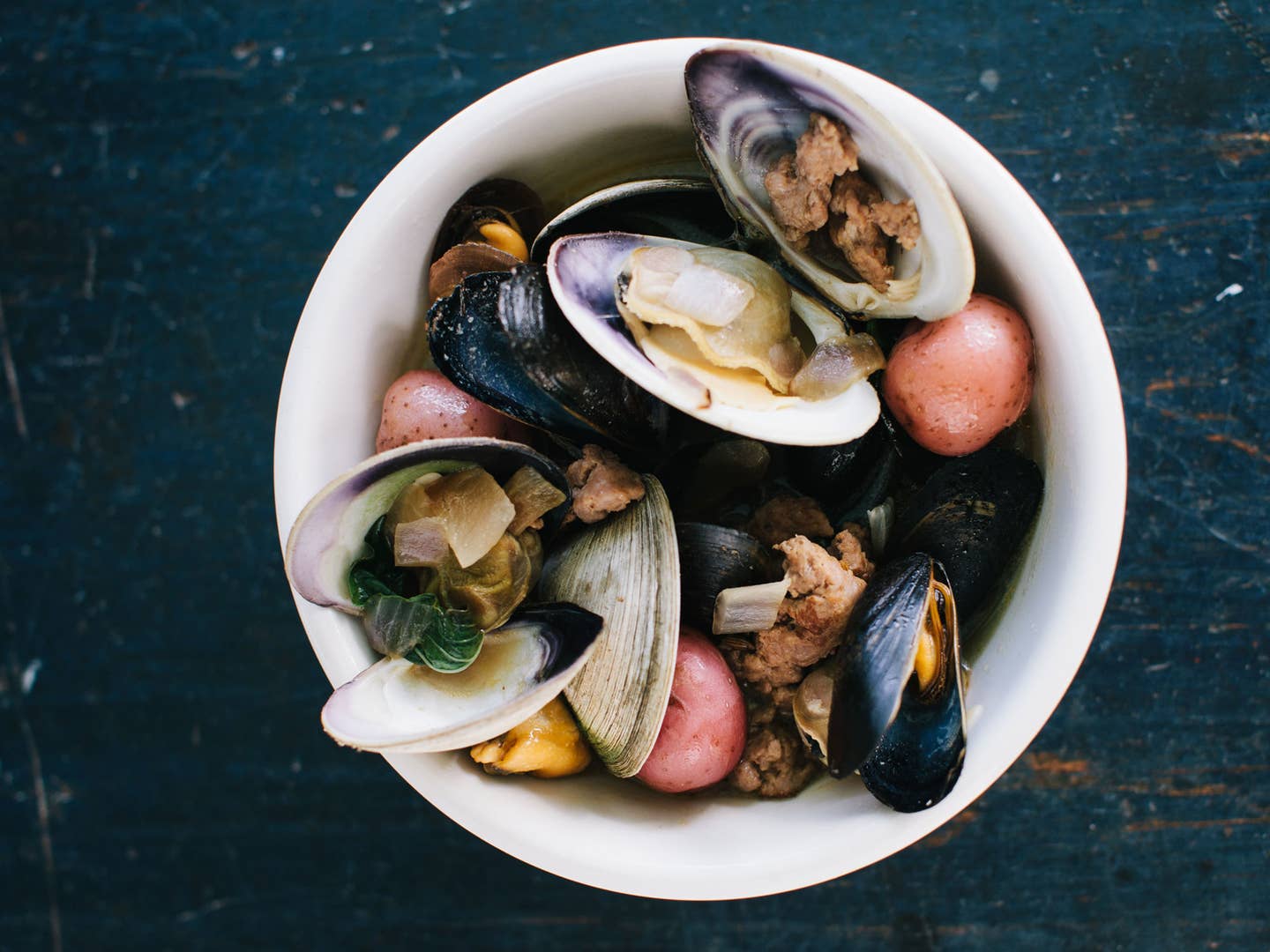 American chef Chris Fischer makes this version of a New England clambake on a stovetop, no sand required. Use quahog (hard-shell) clams like topneck or cherrystone: they're larger and have more liquor—the brine inside shellfish—to flavor the broth.
Ingredients
1 lb. small new potatoes
Kosher salt
2 tbsp. olive oil
1 medium yellow onion, coarsely chopped
8 oz. hot Italian sausage, casings removed
2 lb. topneck clams, scrubbed
2 lb. mussels, debearded and scrubbed
3 cups loosely packed basil leaves
Grilled or crusty bread, for serving
Instructions
Step 1
To a microwave-safe bowl, add the potatoes and ¼ cup of water. Cover tightly and microwave on high until tender when pierced with a fork, about 5 minutes. Drain, keep covered, and set aside.
Step 2
To a large Dutch oven set over medium-high heat, add the oil and onion and cook, stirring frequently, until translucent, about 3 minutes. Turn the heat to high, add the sausage, and cook, stirring to break up the meat, until lightly browned and no pink remains, about 3 minutes. Add the clams and 2 cups of water, then cover and cook until about half of the clams have opened, 2–3 minutes. Stir in the mussels and the reserved potatoes, cover, and cook until all of the clams and mussels have opened and the potatoes are heated through, about 3 minutes. Remove the pot from the heat and discard any clams or mussels that remain shut. Stir in the basil, then serve directly from the pot, with grilled or crusty bread for dipping.