Coconut Curry with Fish and Noodles (Khanom Jeen Naam Yaa Plaa)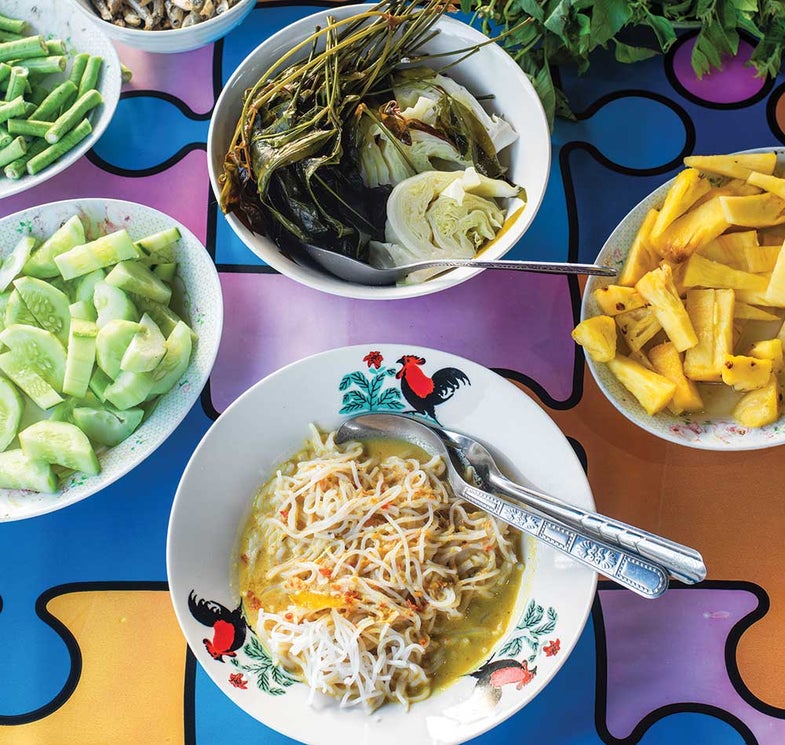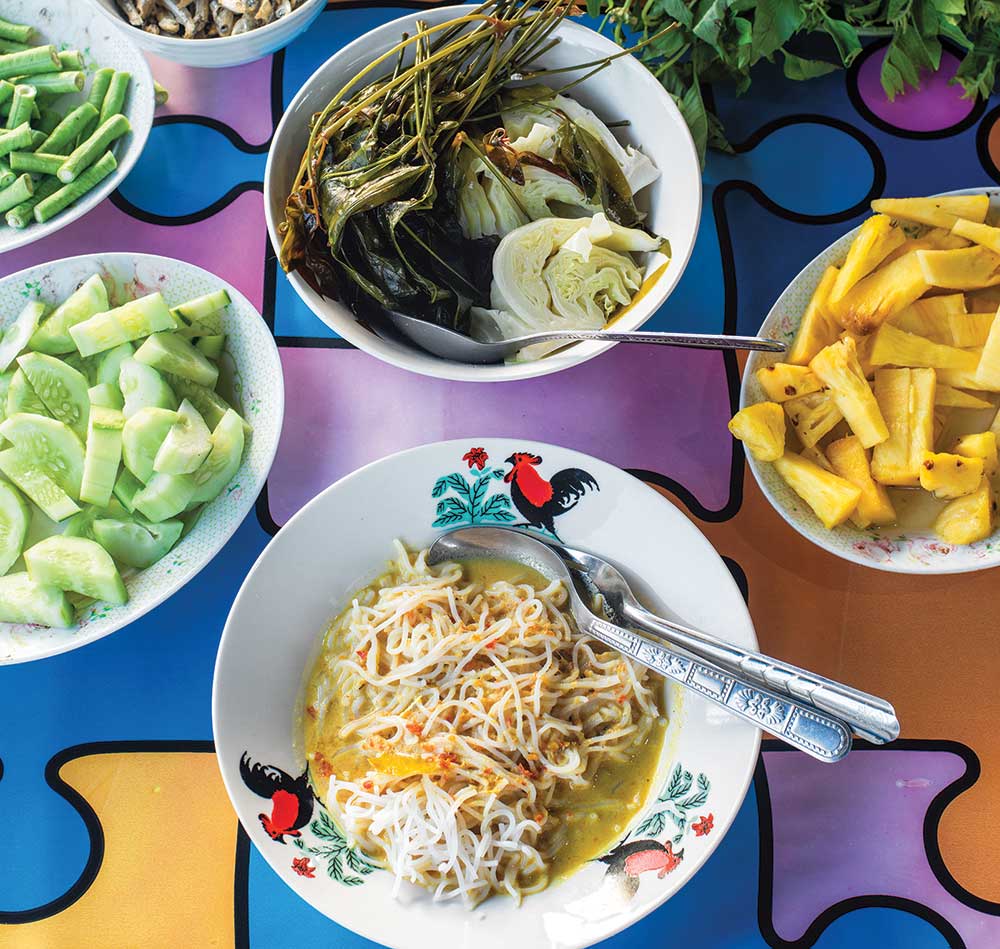 This thin curry is often served with fresh vegetables and toppings such as preserved cucumbers, radishes, eggs, and dried fish. Khanom jeen noodles might be hard to find; substitute thin dried bún, Vietnamese rice noodles, prepared according to the package directions.
What You Will Need
Coconut Curry with Fish and Noodles (Khanom Jeen Naam Yaa Plaa)
This thin, coconut curry combines a beautiful mix of white fish, Thai chiles, lemongrass, and Khanom jeen noodles, often topped with fresh vegetables, preserved delicacies, and dried fish.
Time: 1 hour, 30 minutes
Ingredients
3 lb. white-fleshed sea fish (such as threadfin, bream, fluke, or sea bass), scaled and gutted
1 tsp. Thai thin soy sauce
1⁄2 tsp. fine sea salt
15-18 dried Thai chiles (¼ oz.), stemmed
2 tsp. whole black peppercorns
6 garlic cloves, peeled and sliced (¼ cup)
3 lemongrass stalks, green tops trimmed, tough outer layers discarded, thinly sliced (½ cup)
1 tbsp. sliced fresh turmeric
1 tbsp. Thai shrimp paste
2 cups fresh or thawed frozen shredded coconut
12 kaffir lime leaves
1 tsp. sugar (optional)
1⁄2 tsp. Thai chicken bouillon powder (optional)
Fish sauce (optional)
4 cups cooked khanom jeen or bún noodles
Pineapple slices, Thai eggplants, hard-boiled eggs, thinly sliced long beans, or Thai basil, for garnish
Instructions
In a large pot, add the fish, soy sauce, and 3 cups water; bring to a boil, then lower the heat and simmer until the fish is cooked, 8–10 minutes. Transfer the fish to a plate to cool.
Strain the stock and discard any solids. ­Measure 2 cups liquid, then reserve the rest for another use. Clean out the pot.
Flake the meat from the cooled fish. Reserve 1 cup and save the rest for another use.
In a mortar and pestle, pound the salt and chiles to a coarse powder. Add the peppercorns and repeat. Add the garlic, lemongrass, and turmeric, and pound and grind to a coarse paste. Pound in the shrimp paste. Set aside.
Make the coconut cream and milk: In a large bowl, add the coconut and 2 cups of water. Mix until totally saturated, then squeeze and strain the meat, reserving the liquid. (This is the coconut cream.) Add the meat back to the bowl, along with 4 more cups of water. Mix until saturated, then strain the liquid into the stock pot. (This is the coconut milk.)
In a blender, purée the fish, curry paste, stock, and half of the prepared coconut cream, then add to the stockpot. Bring to a simmer over medium-low heat. Add the kaffir lime leaves, the remaining coconut cream, and the sugar and bouillon powder if using. Return to a low simmer for 18–20 minutes; do not boil. Taste and adjust the seasoning with fish sauce as needed.
To serve, top ½ cup of noodles in a shallow bowl with about 1⅓ cups of the curry. Serve with the toppings on the side.