Drinks
How to Add Coffee to Your Cocktails
Caffeinated cocktails are no longer just after-dinner fare—read on for the barista-approved products and techniques that make coffee drinks an anytime treat.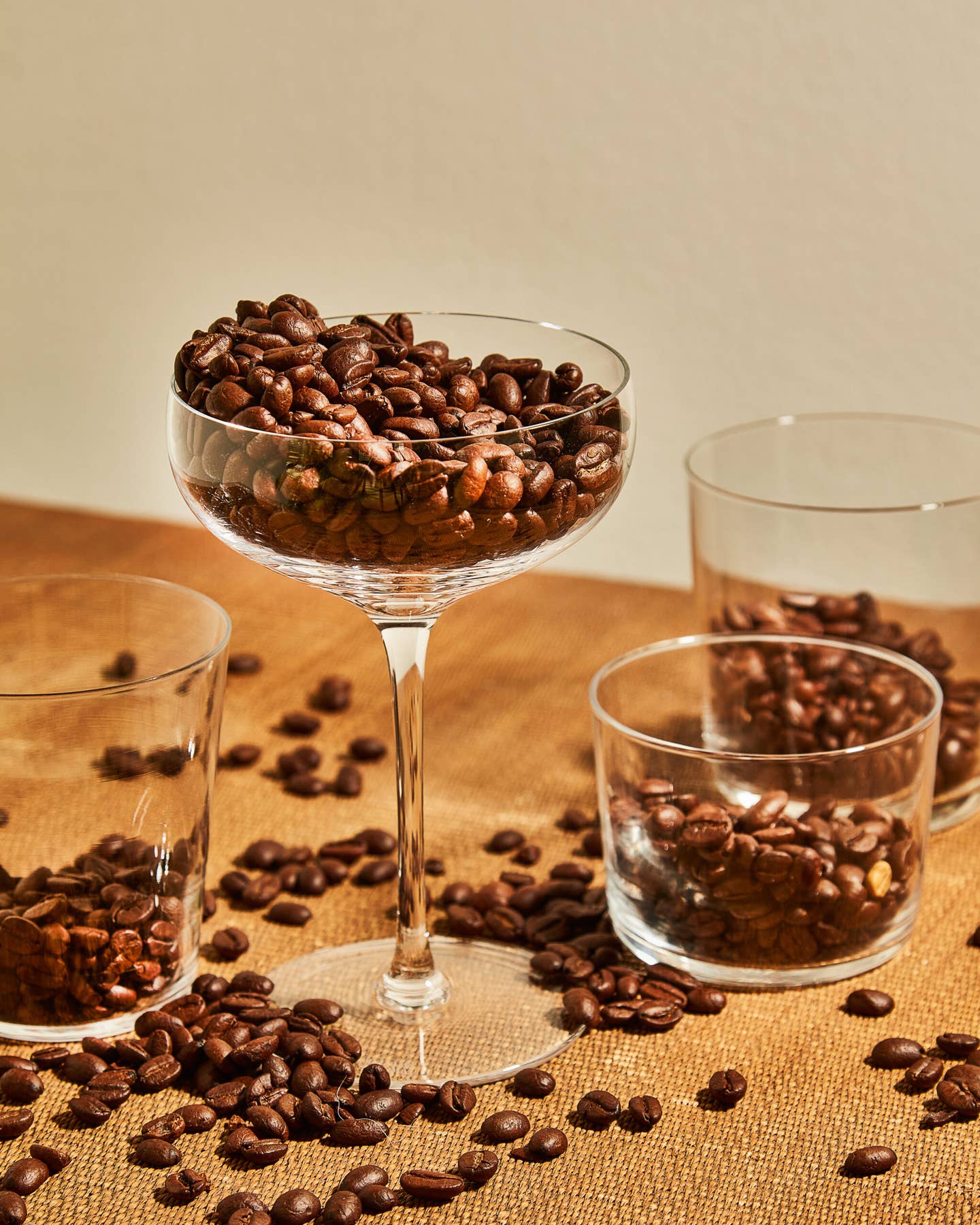 Coffee cocktails are nothing new. Recipes featuring the invigorating brew date back to the late 19th century. In the early days, at least one of the first to appear in print contained no coffee at all: Jerry Thomas's Bartending Guide (1867) included a "Coffee Cocktail" recipe which was a rich, flip-like combination of brandy, port, egg, and nutmeg meant to be consumed after dinner as an alternative or accompaniment to coffee or tea. In Mexico, coffee mixed with tequila and Licor 43 has been a bar mainstay since the 1940s. The Irish Coffee was invented at around the same time by chef Joe Sheridan at Foyne's Flying Boat, an airport bar in Ireland. A short time later, American travel writer Stanton Delaplane introduced the Irish Coffee to the U.S. by getting it put on the menu at San Francisco's Buena Vista Cafe.
You'll notice that most early coffee cocktails were quite sweet, heavy, and often hot, tending to fall into the after-dinner category. This all changed in the early 1980s when acclaimed London bartender Dick Bardsell put a drink he called the Vodka Espresso on the menu at Soho Brasserie. Over the course of the following two decades, the drink would eventually become the worldwide sensation known as the espresso martini.
The espresso martini lost a bit of steam at the end of the 20th century as classic clear martinis came back into vogue. It's worth noting that at this time, palates began to skew drier, brighter, and more citrus- or spirit-forward. Until recently, the bulk of coffee liqueurs that were widely available were unfashionably sugary and coffee drinks were, once again, largely confined to the dessert course.
Simultaneously, though, craft coffee was becoming a part of everyday American life. Premium chains like Pete's and Starbucks, and later more boutique "Third Wave coffee" shops like La Colombe and Blue Bottle helped to usher great coffee into the mainstream. A variety of new, niche brewing methods—from cold brew to pour over to nitro—introduced a wider range of flavors and coffee styles to the consumer, be it at a cafe or at home.
Do a casual poll and you may be surprised to learn that many bartenders—myself included—are former baristas. In the late aughts and early 2010s, I started noticing that many of my bartending peers were tinkering with coffee again. Some infused spirits with whole or ground beans; others swapped out the Guinness for nitro-brewed iced coffee to achieve a caffeinated and lower-ABV boilermaker. Even a few old classics started to come back: Since opening in 2016, New York City's famed Irish cocktail bar, The Dead Rabbit, has sold hundreds of Irish Coffees each week.
The spirits industry, too, has caught onto this reemerging trend: Brands like Mr. Black, J Rieger, and Jagermeister now offer coffee liqueurs and amaros that embrace the bitter end of the flavor spectrum, an about-face from the sugary likes of Tia Maria and Kahlua. In 2018, coffee cocktail culture went further mainstream when Starbucks began serving coffee and tea-infused cocktails at its Reserve Roastery in Milan. Starbucks' bar concept is largely inspired by Italian cafe culture, where coffee, aperitivo, wine, beer, and spirits are all enjoyed at the same establishment. Soon after the Milan launch, the global coffee brand rolled out bar programs in its New York and Chicago flagships too.
Then came the COVID-19 pandemic. As bars, restaurants, and mom-and-pop cafes shut down, a curious trend emerged: over-the-top coffee drink orders started going viral on Tik Tok, sparking debate amongst baristas around what was "too much." My theory is that patrons, unable to go to their local bar and order a cocktail, started relying on their coffee orders to scratch the itch for custom-made drinks. Lo and behold, when bars began to open up again, everyone and their mother seemed to want an espresso martini.
What initially appeared to be an anomaly eventually proved to be a bona fide example of a pop culture-driven drink trend: Seemingly out of nowhere, espresso martinis became the "It" drink, reminiscent of the cosmo in the '90s, the martini in the '60s, and the mint julep in the 1860s. Bartenders are now upgrading the original, taking advantage of the new coffee spirits, and offering their own riffs on classic coffee cocktail recipes. Even the ready-to-drink contingent is getting in on the trend, as top-quality canned and bottled espresso martinis are coming to market at a rapid clip. I'm partial to the one from On The Rocks—if you don't have an espresso maker at home, this premixed drink rivals some of the best you can get from a bar or restaurant.
A simple coffee cocktail can deliver a familiar and comforting taste experience, while still leaving open the door for plenty of personalization. In an espresso martini (which may very well prove itself to be the cocktail of the decade) try swapping out the usual vodka with a rum or an agave spirit. Replace the Irish whiskey in your after-dinner Irish coffee with your favorite bourbon or Scotch. Use a coffee-based amaro in—or even tip a freshly brewed shot of espresso into—a Negroni riff. The possibilities are endless.
Check out three of my favorite coffee cocktail recipes below.