Recipes
Mint Julep
Don't wait for the Derby to indulge in Kentucky's sweet and refreshing cocktail.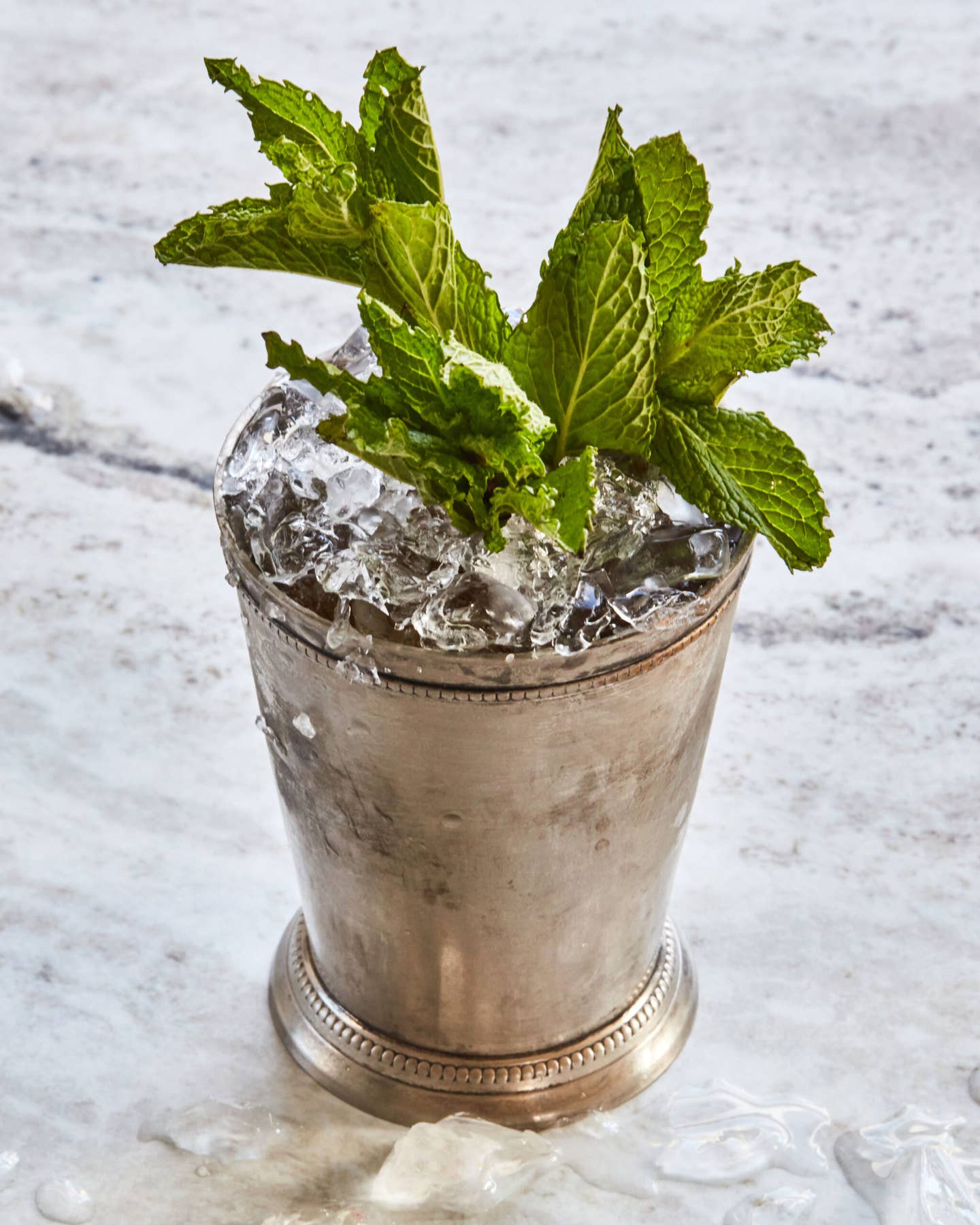 This version of the iconic Southern cocktail—which combines three parts bourbon to one part simple syrup, bracingly infused with fresh spearmint—is sanctioned by the Kentucky Derby as its official mint julep recipe. The mint simple syrup is courtesy of Steve Kemper, SAVEUR contributor Benjamin Kemper's father, a Louisville native who makes it by the gallon to brighten cocktails, lemonade, and iced tea all summer long. Kemper recommends snipping a straw in half and nestling it in the glass directly beside the garnish for (literal) in-your-face mintiness.
Ingredients
For the mint syrup:
1 cup sugar
2 cups loosely packed spearmint leaves
For the julep:
Crushed ice
2 tbsp. mint simple syrup
3 oz. bourbon, such Woodford Reserve
1 spearmint sprig, for garnish
Confectioners' sugar, for garnish (optional)
Instructions
Step 1
Make the mint syrup: To a small pot set over medium-high heat, add the sugar and 1 cup of water and cook until the sugar is dissolved, 5–10 minutes; set aside to cool to room temperature, about 1 hour, then stir in the mint. Cover with plastic wrap and refrigerate for 8 hours (or up to 48) to infuse.
Step 2
Set a fine-mesh sieve over a small pitcher and strain, pressing on the mint to extract as much syrup as possible; discard the mint. (The syrup will keep, refrigerated, for up to 1 month.)
Step 3
Make the julep: Fill a julep cup or highball glass with crushed ice. Pour in the syrup, then the bourbon, and stir gently to combine. Mound with more crushed ice, then garnish with a mint sprig and dust with powdered sugar, if desired.