Recipes
Dal Dhokli (Indian Roti and Lentil Stew)
Serves

serves 4-6 People

Cook

40 minutes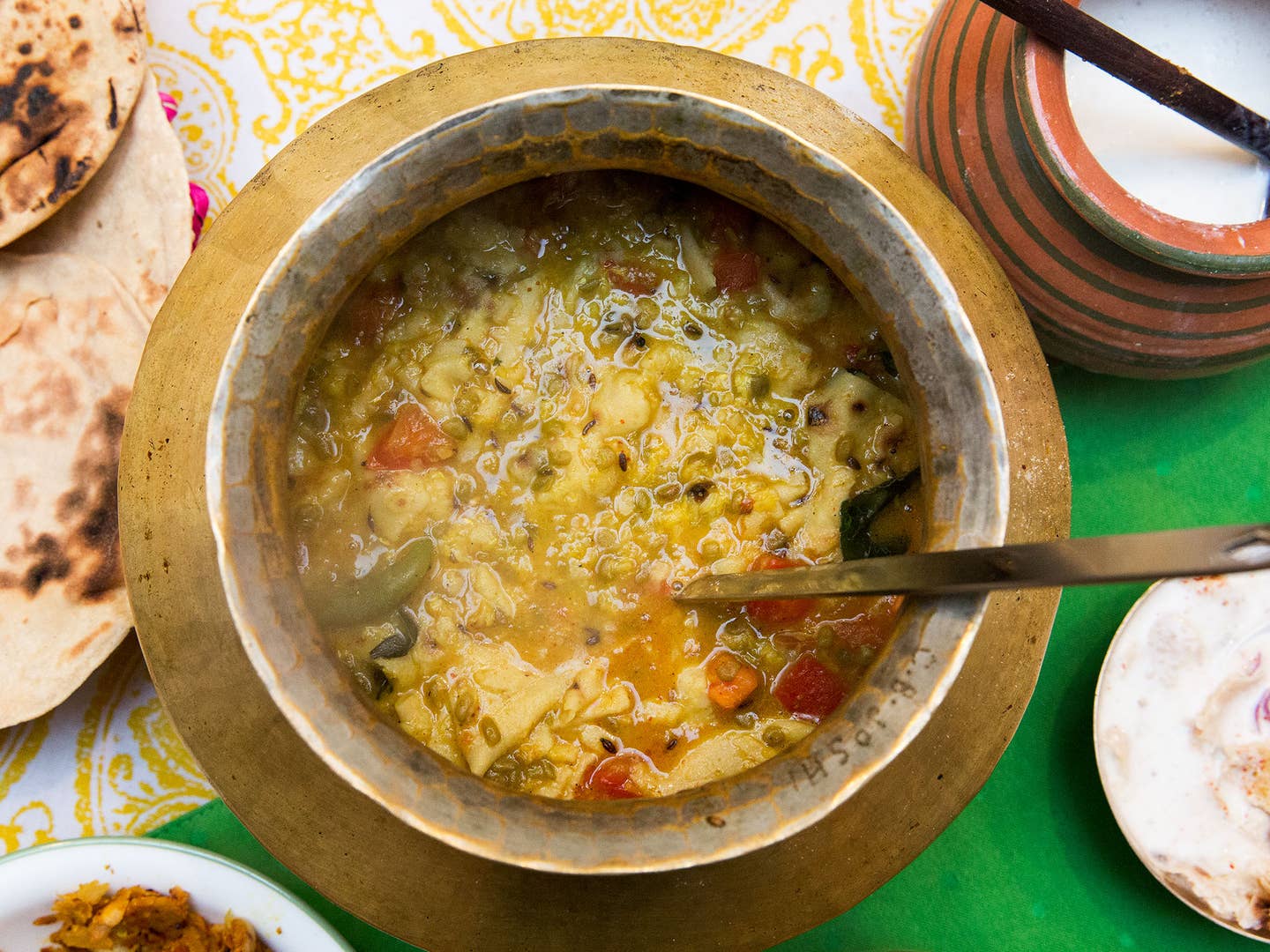 Yamini Joshi of the League of Kitchens suggests this quick lentil stew as a way to use up leftover roti. The flatbread is sliced into noodle-like pieces, then simmered in the broth until tender. Freshly ground spices, spicy chiles, and tomatoes toasted in ghee make up a "tarka"—a savory finishing touch to spoon over the stew at the table.
When cooking for her own family, Joshi minces the fresh chiles finely. When she is catering or teaching one of her classes at the League of Kitchens, she leaves them in larger pieces for anyone who might prefer to pick the spicy bits out.
Ingredients
1⁄2 cup (4 oz.) moong dal (split mung beans), rinsed and drained
2 tbsp. (1 oz.) ghee
1 tbsp. kosher salt
1 tbsp. ground coriander
1 tsp. ground cumin
1⁄2 tsp. ground turmeric
2 pinches asafetida (hing)
2 fresh green Indian or Thai chiles, cut crosswise in 3 pieces each
6 6-inch roti, cut in rough 1 1/2-inch squares
Instructions
Step 1
In a medium pot, combine the dal and 5 cups cold water; bring to a boil over high heat. Add the ghee, salt, coriander, cumin, turmeric, asafetida, and chiles. Lower the heat to a simmer; cover and cook until the dal are tender and beginning to break down, about 12 minutes.
Step 2
Meanwhile, make the tarka: In a medium skillet, heat the ghee over medium high heat until it begins to smoke. Add the cumin, curry leaves, garlic, chiles, coriander, and turmeric and cook, stirring frequently, until the mixture is very fragrant and the leaves turn bright, glossy green, but the garlic is not yet browned, 30-60 seconds. Stir in the tomatoes and cook until the juices are slightly reduced, 2 minutes. Season with salt and set aside.
Step 3
When the dal is tender, uncover the pot, raise the heat to medium-high heat and bring the mixture to a boil. Add the roti pieces and cook until the roti is hydrated, slippery, and tender like noodles, 5-6 minutes. Ladle into bowls, top with the tarka and serve immediately.