Dinner Rolls with Shallots, Preserved Lemon, and Black Pepper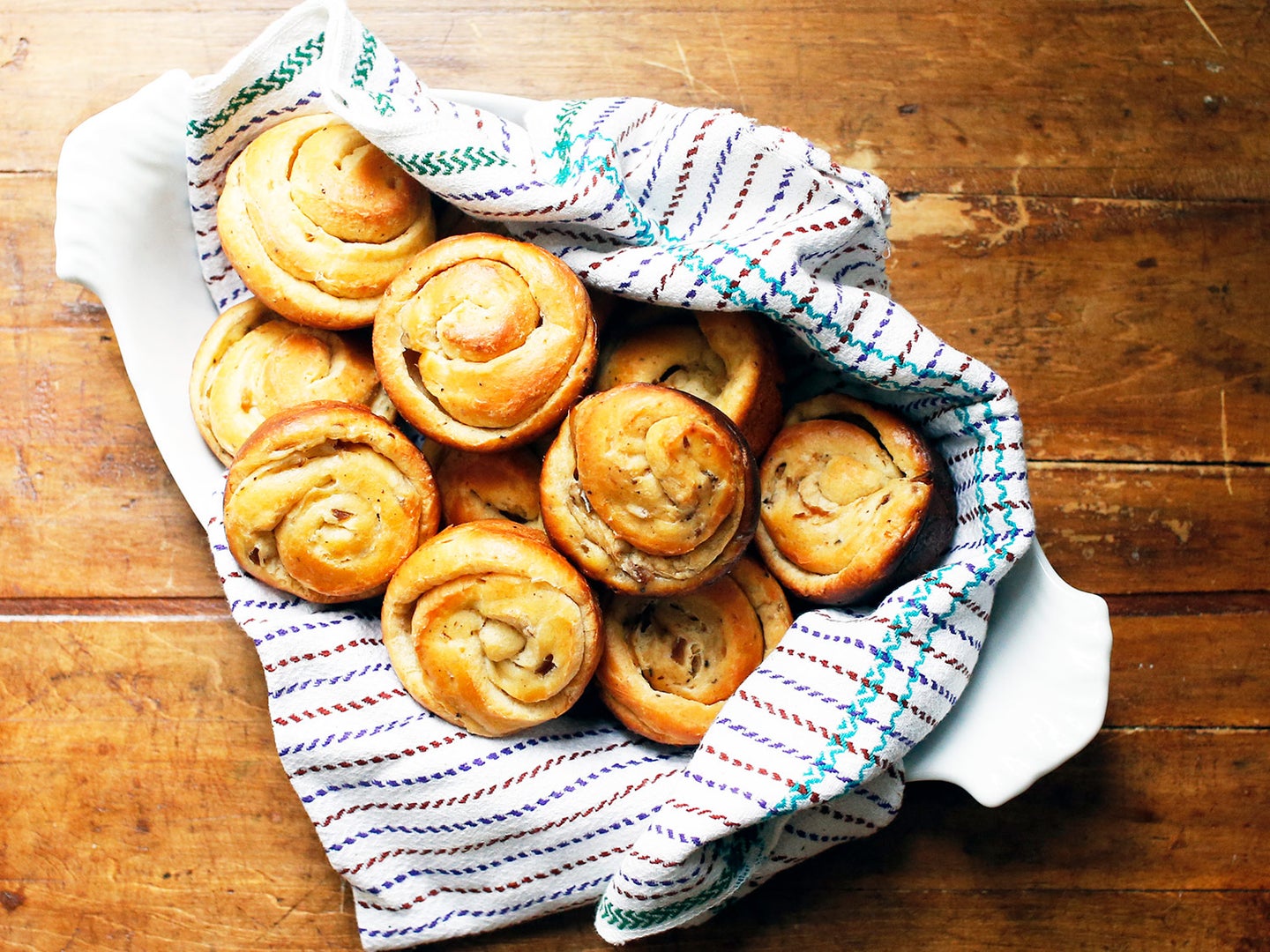 Aromatic shallots, tart preserved lemon, and plenty of freshly ground black pepper turn classic cake-like brioche savory in these festive, flavor-packed buns.
Featured in: I Used to Be a Baker, and This Is the Only Bread I Miss Baking
What You Will Need
Dinner Rolls with Shallots, Preserved Lemon, and Black Pepper
Delicate shallots, tart preserved lemon, and fresh black pepper add intrigue to a batch of fluffy, buttery brioche buns.
Time: 8 hours
Ingredients
2 Tbsp. extra-virgin olive oil
1½ cups thinly sliced shallots (4½ oz.)
½ cups preserved lemon, finely chopped
1 Tbsp. freshly ground black pepper
⅓ cups (2½ oz.) whole milk
2 large eggs
1⅔ cups (10 oz.) bread flour, plus more for dusting
2 Tbsp. (½ oz) sugar
1½ tsp. fresh yeast
1¾ tsp. kosher salt
1 stick plus 1 Tbsp. (4½ oz.) unsalted butter, room temperature, diced
4 Tbsp. (2 oz.) melted unsalted butter, cooled to room temperature, for brushing
Nonstick cooking spray or canola oil
Instructions
In a large skillet set over medium heat, add the oil. When the oil is hot, add the shallots and cook, stirring occasionally, until soft and fragrant, 5–6 minutes. Stir in the preserved lemon and pepper, then remove the pan from the heat. Set aside and let cool to room temperature.
In a stand mixer fitted with the paddle attachment, add the milk, eggs, flour, sugar, yeast, and salt. Mix on low speed until the dry ingredients are completely moistened, about 2 minutes. Increase the speed to medium and continue mixing, scraping down the sides of the bowl as needed, until a glossy dough forms and pulls away from the sides, 9–11 minutes. Scrape the dough off the paddle, add the diced butter, and mix on low speed for 1 minute. Increase the speed to medium and continue mixing, scraping down the sides and bottom of the bowl as needed, until the butter is incorporated, and the dough is very silky, shiny, and completely homogenous, 5–6 minutes. Mix in the shallot mixture until completely incorporated, 2–3 minutes more.
Lightly grease a large bowl with cooking spray, then transfer the dough to the bowl. Cover with a lid or plastic wrap and refrigerate for at least 6 hours or overnight.
Turn the dough out onto a lightly floured work surface. Using a lightly floured rolling pin, roll the dough out into a 12-inch square. Brush the surface with the melted butter, then roll the square into a tight cylinder. Transfer to a large plate or baking sheet and refrigerate until very firm, at least 20 minutes; alternatively, wrap tightly in plastic and freeze for up to 2 weeks.
Grease two 12-cup muffin tins with cooking spray. Retrieve the dough and transfer to a clean work surface. Slice into 24 pieces, each about ½ inch thick. Transfer the slices to the prepared tins (1 slice per cup) and loosely cover with plastic wrap. Set aside at room temperature until the rolls are very gassy, puffed, just slightly more than doubled in size, and not quite flush with the rims of the cups, about 2 hours.
Preheat the oven to 350°F, with a rack in the center. Bake, rotating the tins 180° once halfway through, until the rolls are evenly golden brown and cooked through, 25–30 minutes. Remove from the oven and let cool slightly, 2–3 minutes. Unmold the rolls and serve warm.