Recipes
Duck and Andouille Gumbo
Serves

serves 8-10

Cook

4 hours 20 minutes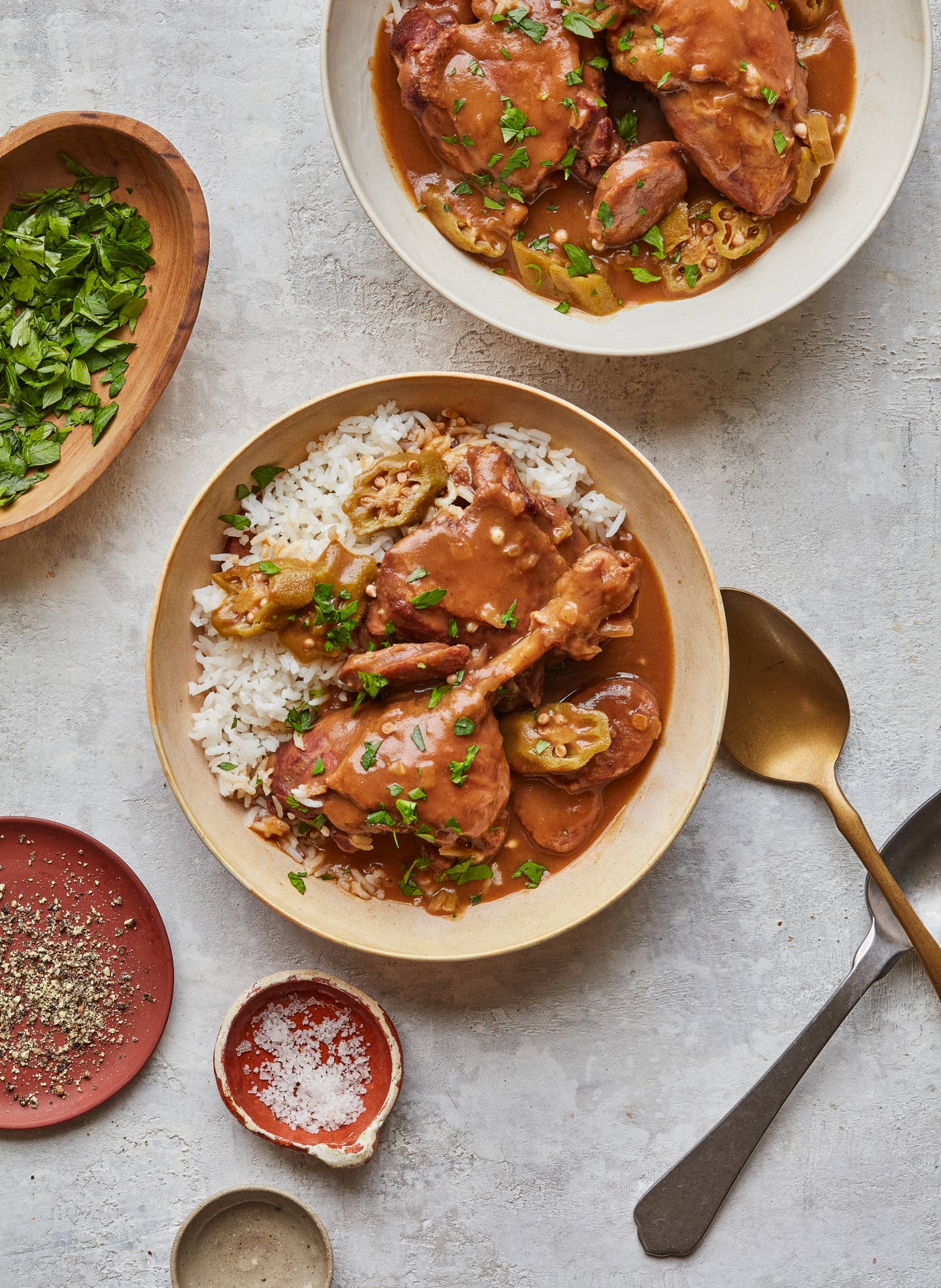 For his take on Cajun gumbo, chef Justin Devillier of La Petite Grocery in New Orleans uses rendered duck fat in the roux instead of butter and quartered ducks in lieu of the classic chicken. In this recipe, we've called for only duck legs, which stay tender during a low-and-slow cooking process and won't run the risk of drying out like breast meat.
Ingredients
8 duck legs, fat trimmed, thighs and drumsticks separated
1 large yellow onion, finely chopped
3 cloves garlic, finely chopped
12 sprigs thyme
1 sprig sage
1 cup plus 2 tbsp. (5 oz.) all-purpose flour
2 tbsp. hot sauce
2 tbsp. sweet paprika
1 tbsp. cayenne
1 tbsp. Worcestershire sauce
1 lb. andouille sausage, cut crosswise into 1/4-inch-thick coins
1 lb. okra, cut crosswise into 1/3-inch-thick coins
Kosher salt and freshly ground black pepper
Cooked white rice, for serving
Instructions
Step 1
In a 12-inch skillet, place the duck thighs skin-side-down in a single layer and then place the skillet over medium heat. Cook the thighs until golden brown on the bottom, about 40 minutes. Flip the thighs and cook until browned on the opposite side, 5 minutes more. Transfer the thighs to a plate and cook the drumsticks in the skillet, skin side down, until golden brown, 20 minutes. Flip the drumsticks and cook until browned on the other side, 5 minutes. Transfer all the duck pieces to a plate and pour the duck fat into a measuring cup. Set 1 cup fat aside to make the roux and save the remaining fat for another use or discard.
Step 2
Return the skillet to medium heat, add the onion and garlic and cook, stirring to scrape up the browned bits from the bottom of the pan, until the onions are soft and beginning to caramelize, about 5 minutes. Remove the skillet from the heat and let cool. Meanwhile, tie the thyme and sage sprigs together with kitchen twine.
Step 3
In a large saucepan, heat the 1 cup reserved duck fat over medium-low. Add the flour and cook, stirring constantly, until the roux turns dark brown and smells toasty, about 50 minutes. Scrape the cooled onions into the roux along with the hot sauce, paprika, cayenne, and Worcestershire and stir until evenly coated. Add the duck pieces and tied herbs to the pan along with the andouille, okra, and 10 cups water and bring to a boil. Reduce the heat to maintain a simmer and cook, stirring occasionally, until the duck meat is falling off the bone, about 2 hours. To serve, season the gumbo with salt and pepper and serve in bowls with rice.