Recipes
This Elote-Inspired Soup Is Summer Corn at Its Best
A beloved Mexican street snack is reimagined as a hearty summer supper
Serves

serves 6

Cook

1 hour 30 minutes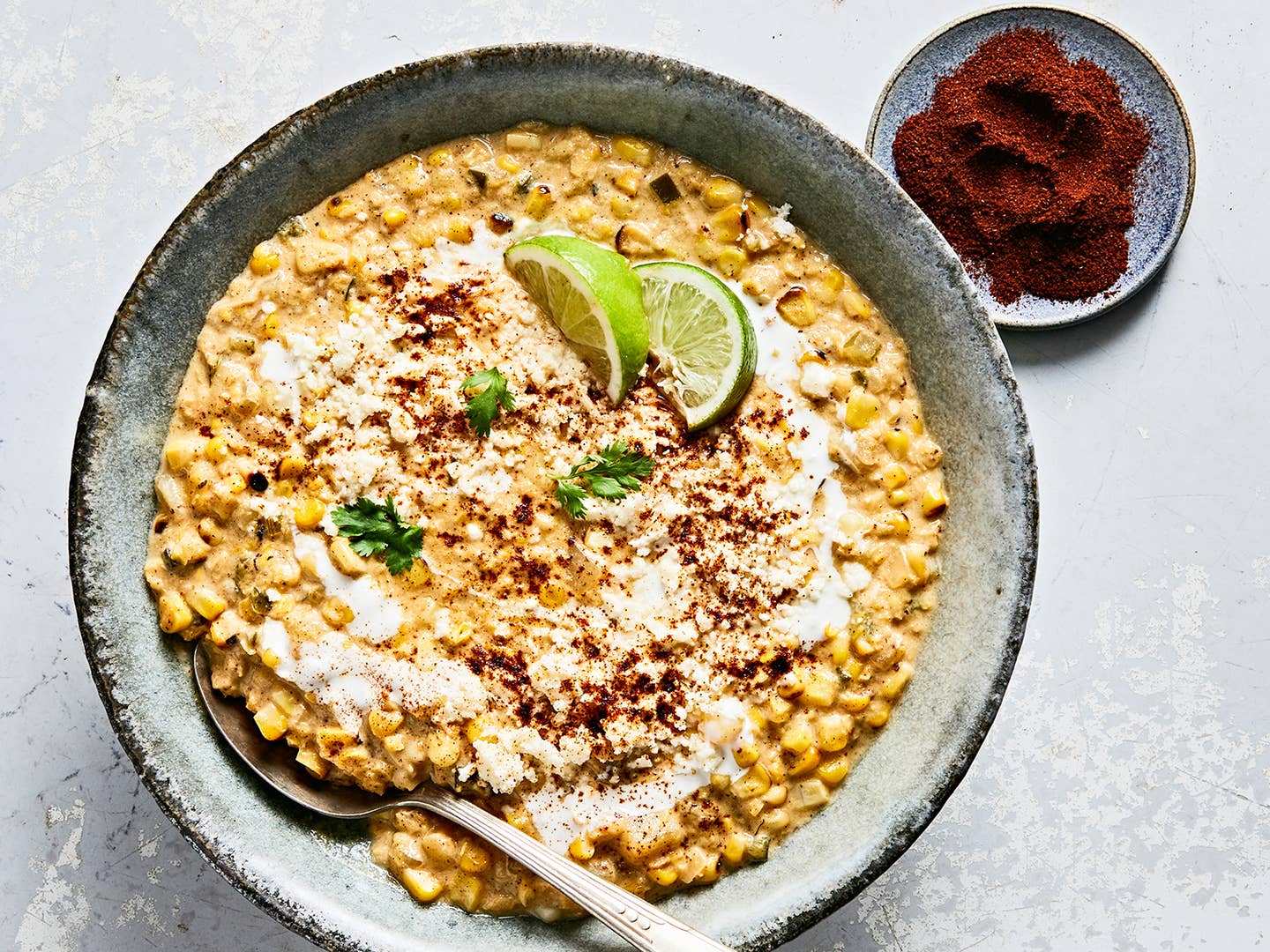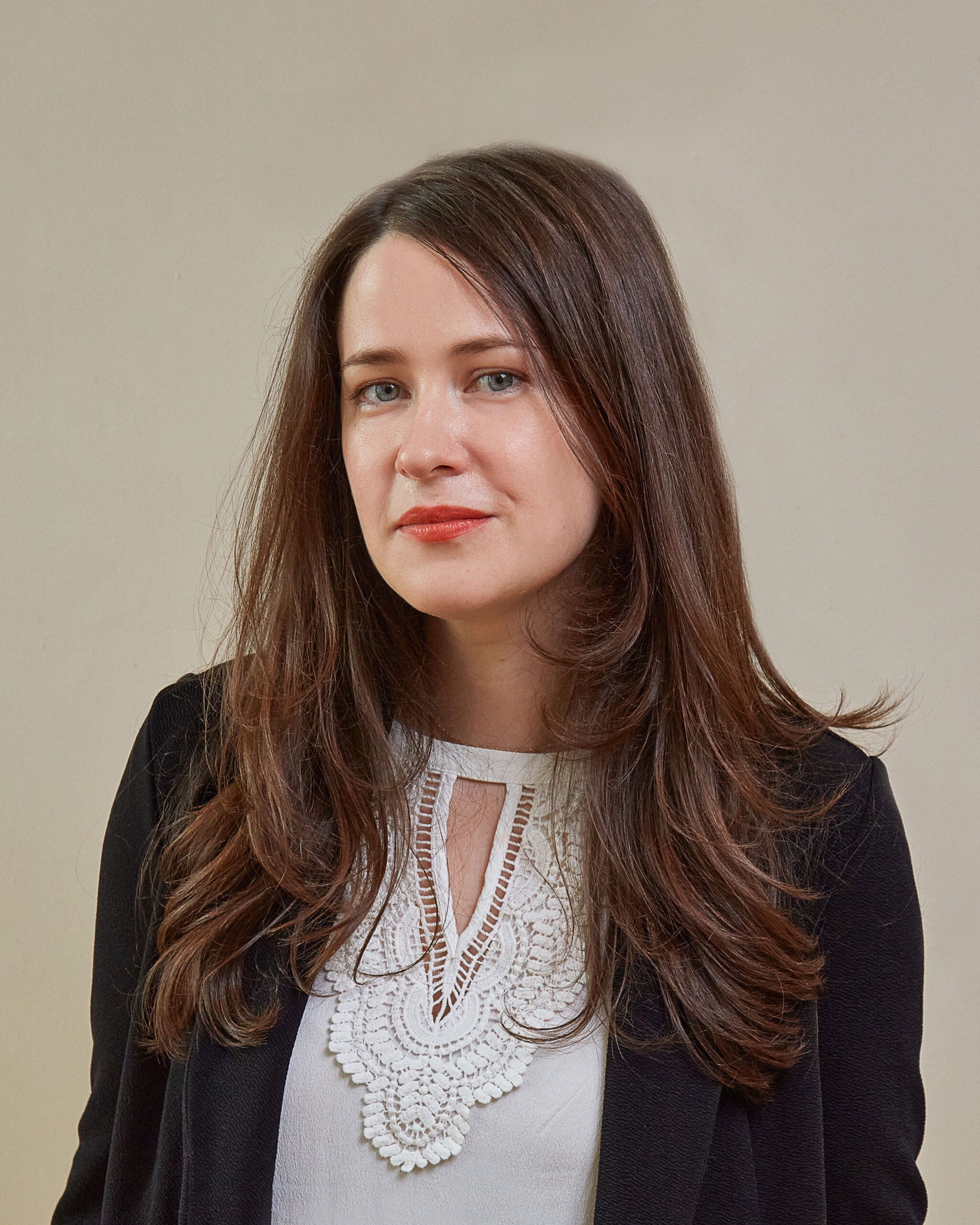 ---
It's street fair season in New York, which means that churches, neighborhood business associations, and other community organizations will be roping off stretches of the city to do something New Yorkers don't do a whole lot of: casually meander in the sunshine. While most of the food vendors at these events vary depending on the host—think torrone, gelato, and cannoli at Little Italy's San Gennaro Festival, bubble tea and pork bao at the Passport to Taiwan Festival in Union Square, or pierogies and kovbasa at the Saint George Ukrainian Festival in the East Village—there a few you can always count on seeing: halal carts, Italian sausage vendors, and the widely beloved elote guys.
Elote is a popular Mexican street food that consists of grilled corn on the cob embellished with a creamy sauce (typically crema, mayonnaise, or a mixture of the two), cotija cheese, chile powder, and lime. It's no wonder why the dish made its way up north—the combination of sweet, smoky kernels and rich, cheesy toppings is positively habit-forming. Often pressed through with a stick, elote is meant to be enjoyed on the go—say at a slow amble as you wander through a street fair—and deserves to be up there with hot dogs, pizza, shawarma, and knishes in New York City's pantheon of great street foods.
In the interest of taking this summer treat indoors—and in order to take it out of "snack" territory and treat it as an entrée—I riffed off a classic corn chowder recipe from the SAVEUR archives to create an elote-inspired soup. During cookout season, it's an excellent way to use up leftover grilled corn, but you can also start from scratch and make the whole thing in one go. Here's how to do it.
Shuck the Corn Before Grilling
While grilling ears of corn in their husks is a great way to prevent the kernels from drying out, it's far more time-consuming than plopping the shucked cobs right on the grill (or grill pan). Since this corn is destined for a soup, a little bit of drying is a non-issue. Remove the husks and silk from the cobs, then place directly onto an oiled grill or well-seasoned cast-iron grill pan or skillet—the goal here is lots of mottled caramelization and light char all over.
Separate the Kernels from the Cobs
When the grilled corn is cool enough to handle, use a sharp chef's knife and a large cutting board to slice the kernels off the cobs. Once all the kernels have been removed, scrape each cob with your knife to make sure you got all the flavorful juices. And don't throw those cobs out—you'll need them later.
Enrich with Milk and Cream
To make the base for this creamy soup, finish cooking the vegetables directly in a mixture of whole milk and heavy cream. I like the richness provided by a bit of cream, but for a lighter soup, substitute half-and-half or even all whole milk. Starch from the potatoes and corn will give the milky broth plenty of body, so your choice of dairy is really a matter of personal preference.
Choose a waxy potato like Yukon gold or red bliss, which will retain its shape better than the more powdery russet. Poblano peppers lend a mild, grassy heat to the soup, while Mexican oregano—which is sweeter and brighter than more peppery European varieties—pairs nicely with smoky ingredients like the charred corn and ancho chile powder.
Add the Cobs for Bonus Corn Flavor
Remember those reserved corn cobs? Split them in half crosswise, then add a few to the soup as it cooks. They may be too tough to eat, but they have plenty of sweetness to lend to your stocks, soups, and chowders. Throw any extras into a resealable plastic bag and store in the freezer for your next batch of vegetable stock.
Only Purée Some of the Soup
Once the vegetables are tender, remove and discard the cobs. Purée a small amount of the chowder in the blender, then stir the purée back into the pot. The potatoes and corn will release their starches, thickening and emulsifying the rich, creamy broth. If you don't have a jug blender or would rather not dirty one, you can also use an immersion blender: submerge it in the soup, then pulse briefly to break up some of the vegetables.
Once the porridge-like chowder is finished cooking, you can really give a nod to its street-corn roots. Add a generous drizzle of Mexican crema, a sprinkling of ancho chile powder, and plenty of cotija—a crumbly, salty cow's milk cheese. We like ancho chile powder here, but you can also chile de árbol or any chile powder with some heat and smoke. Finally, finish with cilantro leaves and a squeeze of lime for freshness. Serve with more chile powder and lime wedges on the side in case anyone wants more heat or acid.
Ingredients
8 medium ears corn (3 lb. 12 oz.), shucked
4 Tbsp. (2 oz.) unsalted butter
1 medium yellow onion, finely chopped (1½ cups)
1 rib celery, finely chopped (½ cup)
1 medium poblano pepper, seeded, stemmed, and finely chopped (½ cup)
4 cloves garlic, finely chopped (1 Tbsp. plus 1 tsp.)
1 tsp. dried Mexican oregano
1 fresh bay leaf
3½ cups whole milk
3 medium yellow potatoes (about 1½ lb.), peeled and cut into ½-inch pieces
1 cup heavy cream
Kosher salt
1 Tbsp. ancho chile powder, plus more for topping
¼ cup thinly sliced cilantro
½ cup Mexican crema or sour cream
½ cup crumbled cotija cheese
Lime wedges, for serving
Instructions
Step 1
On a medium-hot grill or hot grill pan, char the corn all over, 15–20 minutes. Transfer to a platter and set aside until cool enough to handle.
Step 2
Working over a large bowl, slice the corn kernels off each cob, scraping the cob with the knife to extract the flavorful juices. Halve 5 of the bare corn cobs crosswise, discarding the rest. Set the kernels and cobs aside.
Step 3
In a medium pot over medium heat, melt the butter. When the foam begins to subside, add the onion, celery, poblano, garlic, oregano, and bay leaf. Cover and cook, stirring occasionally, until the onion softens, 7–8 minutes. Add the reserved corn kernels and cobs, milk, potatoes, and cream. Bring to a boil, cover, and lower the heat to maintain a simmer. Cook, stirring occasionally, until the potatoes are tender, about 25 minutes. Remove and discard the cobs and bay leaf. Transfer 1½ cups of the soup to a blender and purée until smooth. Stir the puréed soup back into the pot of remaining soup to thicken. Season with salt and the ancho chile powder, then ladle into wide soup bowls and garnish with the cilantro, crema, cotija, and additional ancho chile powder. Serve with lime wedges.