Recipes
Filipino Pork Noodle Soup with Shrimp Paste (La Paz Batchoy)
Serves

serves 6 people

Cook

3 hours 30 minutes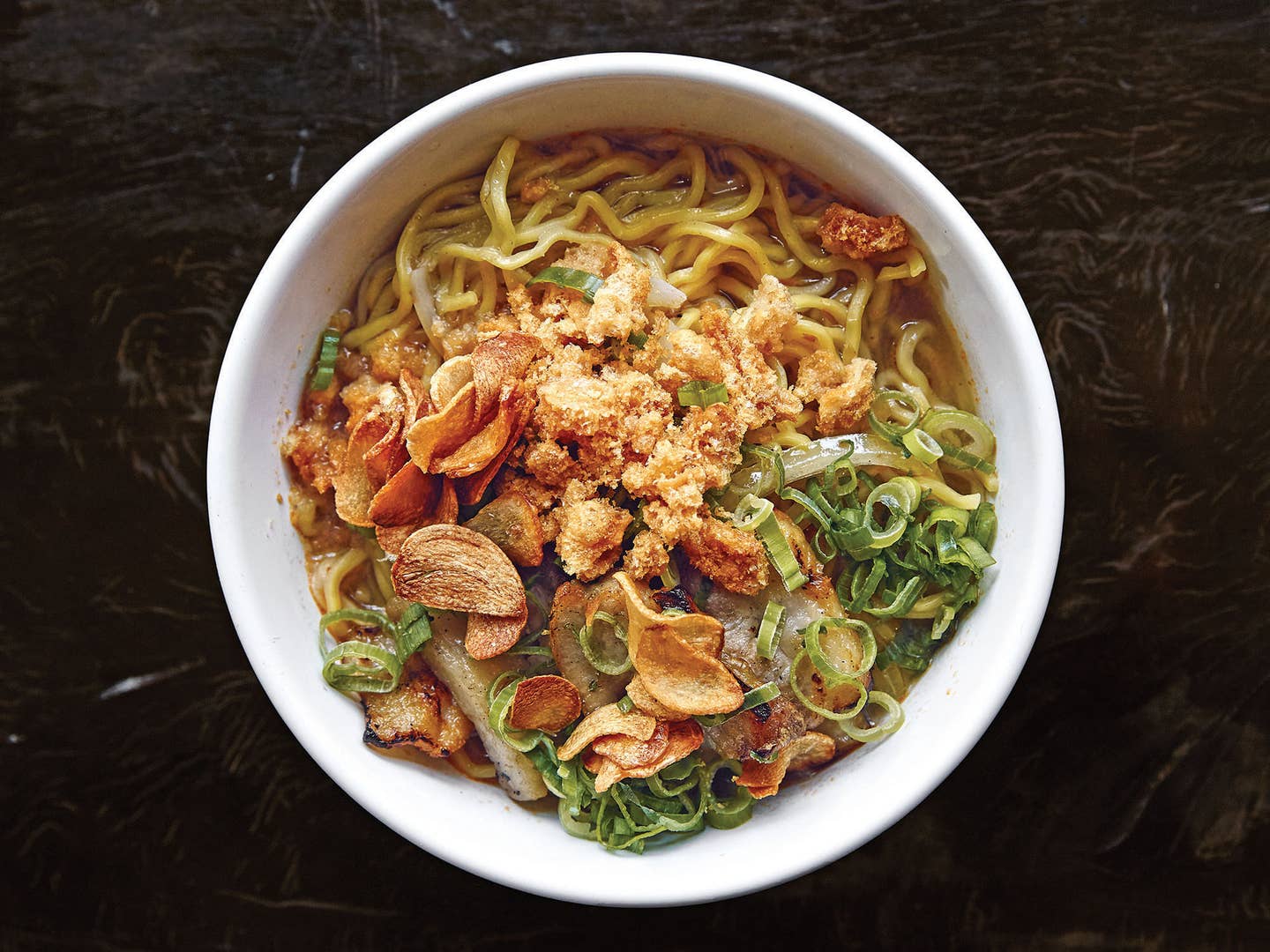 A regional soup packed with egg noodles and pig parts, La Paz batchoy was born in the La Paz district of Iloilo city, in the province where chef Dale Talde's mother was born. Talde's version streamlines the traditional recipe, keeps the liver and intestines optional, and applies just enough shrimp paste to keep things funky.
Ingredients
3⁄4 cup vegetable oil
1 tbsp. shrimp paste
1 tbsp. sugar
11 garlic cloves (4 minced, 7 thinly sliced)
1 medium yellow onion, sliced
2 lb. pork butt
3 tbsp. kosher salt
1 lb. miki noodles
Thinly sliced scallions and pork cracklings, for garnish
Instructions
Step 1
Heat 1 tablespoon of oil in a 4-quart saucepan over medium-high. Add shrimp paste, sugar, minced garlic, and onion and cook 4–5 minutes. Add pork, salt, and 7 cups water; boil. Reduce heat to a simmer, cover, and cook until pork is tender, 2 1⁄2 hours.
Step 2
Remove pork from broth and cool slightly. Transfer to a cutting board and slice. Strain broth and return to saucepan over medium-high; add noodles and cook 5 minutes.
Step 3
Meanwhile, heat remaining oil and the sliced garlic in a 1-quart saucepan over medium; cook until garlic is golden, 4–6 minutes. Using a slotted spoon, transfer garlic chips to paper towels to drain. Reserve oil for another use, if you like.
Step 4
Divide noodles and broth between bowls. Top with sliced pork, garlic chips, scallions, and pork cracklings.