Recipes
Roasted Chicken, Corn, and Saffron Soup
Serves

serves 8-10

Cook

2 hours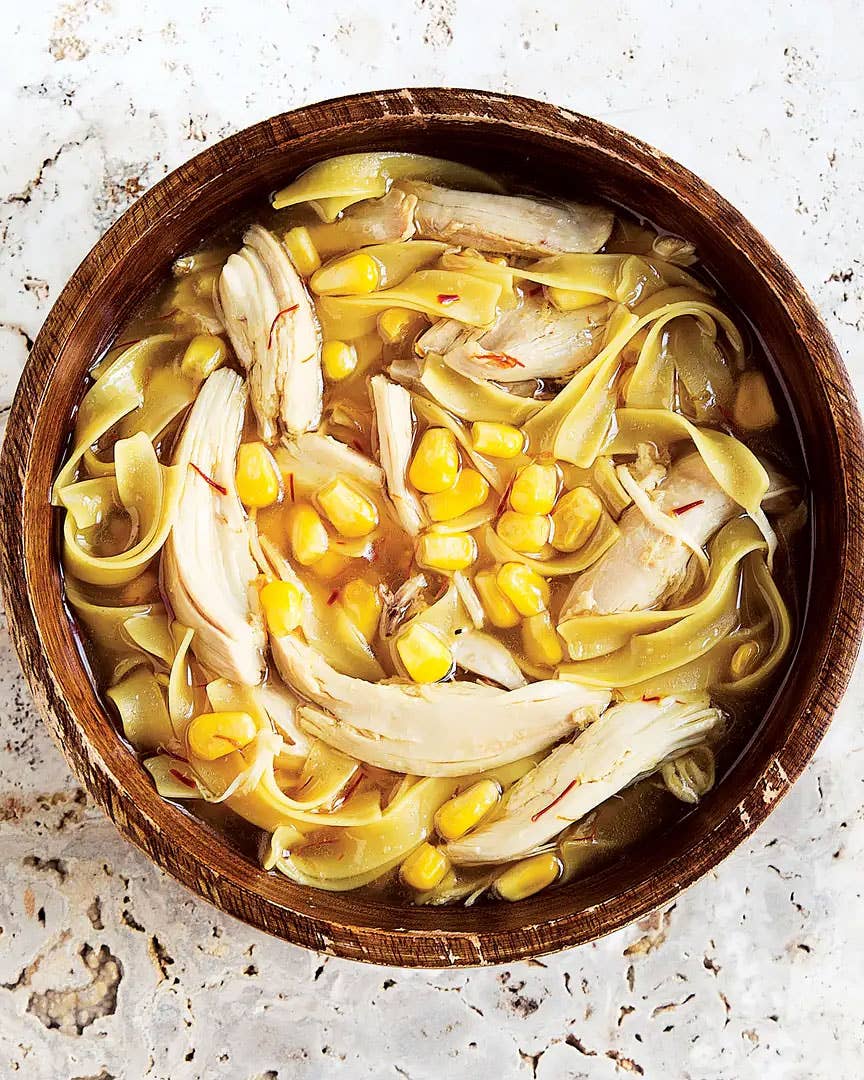 Lancaster County local Justin Hulshizer likes to add a hefty dose of saffron to perfume this chicken noodle soup, sweetened lightly with corn. You can start with 1/4 teaspoon and add more as you wish. Saffron is widely cultivated in Spain and Iran, but some chefs prefer the domestic variety because they can receive it closer to the harvest, when its signature flavor and color are at their most vibrant. Check pageneralstore.com, which sources and ships Lancaster County saffron when available.
Ingredients
1 (3–4-lb.) whole chicken
2 tbsp. olive oil
Kosher salt and freshly ground black pepper
12 cups chicken stock
4 cups frozen corn kernels, thawed
3⁄4 tsp. crushed saffron threads
12 oz. egg noodles
Crusty white bread, for serving
Instructions
Step 1
Heat the oven to 400°. In a 9-by-13-inch baking dish, rub the chicken with the olive oil and then liberally season the outside with salt and pepper. Roast the chicken until golden brown and very tender, about 1 hour and 15 minutes. Transfer the dish to a rack, lift the chicken from the dish, and place the chicken on a cutting board. Let the chicken stand until cool enough to handle and then pick the meat from the chicken, discarding the skin and bones. Roughly chop the meat and transfer to a large saucepan.
Step 2
Pour 2 cups chicken stock into the baking dish and scrape the dish with a wooden spoon to deglaze the bottom. Pour the stock from the dish into the saucepan with the chicken along with the remaining 10 cups stock. Add the corn and saffron to the broth and bring to a boil. Reduce the heat to maintain a simmer and cook until the stock is slightly reduced, about 15 minutes.
Step 3
Add the egg noodles and cook, stirring, until al dente, about 8 minutes. Season the soup with salt and pepper and serve with crusty bread on the side for soaking up the flavorful broth.