Recipes
Spaghettoni with Jasmine, Saffron, and Chamomile
Serves

serves 4-6

Cook

1 hour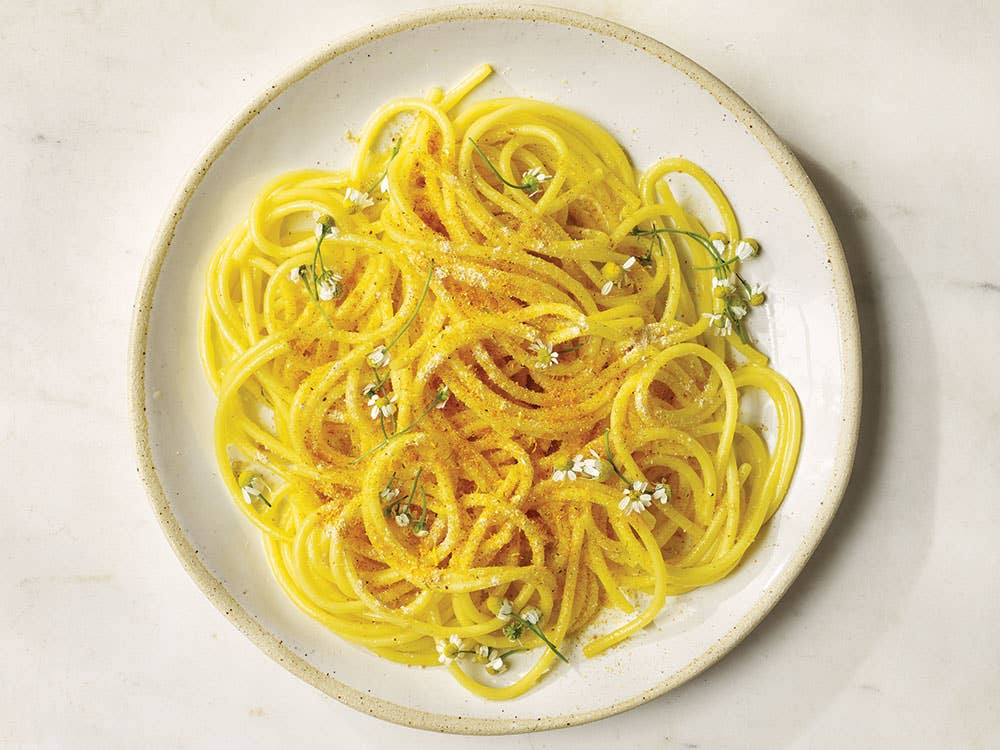 These floral, buttery noodles from chef Antonia Klugmann at L'Argine a Vencò can be infused using either fresh or dried flowers. Steep the flowers in the butter and pasta cooking water in advance if desired, and reheat when ready to use. Any tubular pasta like bucatini or spaghetti, cooked al dente, will work.
Ingredients
1 tbsp. dried jasmine buds
1 tsp. honey
2 generous pinches saffron (about 60 strands), or more as needed
Kosher salt
2 sticks unsalted butter
1 tbsp. plus 1 tsp. dried chamomile flowers, plus fresh flowers for garnish if desired
2 tbsp. yellow cornmeal (fine polenta)
1 lb. spaghettoni
2 tsp. ground dried calendula
Instructions
Step 1
Make the jasmine broth: In a medium saucepan, bring 1 3⁄4 cups water to boil. Add the jasmine; let steep 10 minutes. Strain out the jasmine, then stir in the honey, saffron, and a pinch salt. (It should be a saturated yellow; add more saffron as needed.)
Step 2
Make the chamomile butter: In a small saucepan over low heat, add the butter and cook until melted but not simmering (about 130°), 10 minutes. Add the dried chamomile and steep 10 minutes; strain.
Step 3
Meanwhile, in a dry medium skillet over medium heat, add the cornmeal and 1⁄2 teaspoon salt. Cook, stirring, until toasted, 11–13 minutes. Transfer to a bowl and reserve.
Step 4
Bring a large pot of salted water to boil. Add the jasmine water to a large skillet over medium heat. Cook the pasta in the boiling water until softened slightly, 4 minutes. Using tongs, transfer the pasta to the jasmine broth; cook, tossing and adding pasta water as needed, until al dente, 3–5 minutes.
Step 5
Remove the pasta to a platter and add three-quarters of the chamomile butter; season with salt to taste and toss to coat. Dust with the cornmeal, top with the remaining butter, and sprinkle with the calendula powder and chamomile flowers.