Recipes
Moroccan-Style Honey-Braised Lamb Shanks
Give those legs the Mediterranean treatment with a sweet, nutty, sauce.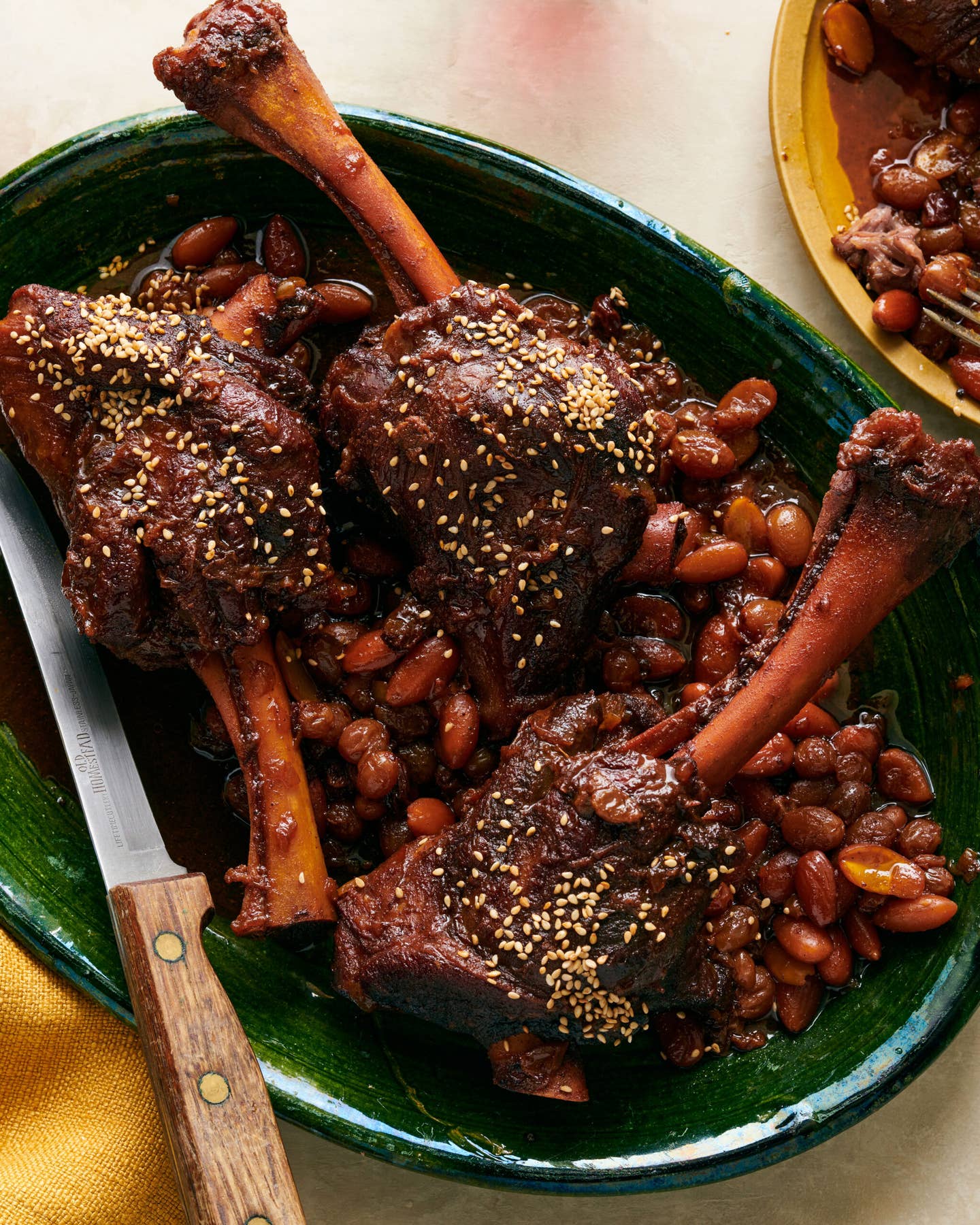 Lamb shanks are braised for hours with a sweet sauce of honey, almonds, and raisins in this centuries-old Moroccan dish served at Mansouria in Paris. For a more aesthetic presentation, french-cut the shanks. (Frenching is the culinary term for removing meat, fat, and sinew to reveal the clean bone.) The North African spice blend ras el hanout is available at most supermarkets.
Ingredients
¼ cups olive oil
3 tbsp. unsalted butter
4 lamb shanks, frenched, if desired
Kosher salt and freshly ground black pepper, to taste
1 large white onion, finely chopped
1 cup golden raisins
2 tbsp. ras el hanout (available at The Spice House, or make your own)
¼ tsp. crushed saffron threads
1 stick cinnamon
1 cup blanched whole almonds
⅔ cups honey
Toasted sesame seeds, for garnish
Instructions
Step 1
To a large Dutch oven set over medium-high heat, add the oil and butter. Season the lamb all over with salt and black pepper. When the fat is hot and shimmering, add the lamb and cook, turning occasionally, until the meat is well browned on all sides, about 12 minutes. Transfer to a plate and set aside.
Step 2
To the empty Dutch oven, add the onion and cook, stirring occasionally, until beginning to brown, about 5 minutes. Stir in the raisins, ras el hanout, saffron, and cinnamon stick, and cook, stirring frequently, until fragrant, about 1 minute. Add the almonds, honey, 3 cups of water, and the reserved lamb. When the liquid boils, turn the heat to medium and cook, partially covered, until the lamb is very tender, about 3½ hours.
Step 3
To serve, divide the shanks among four plates, ladle over the cooking liquid, and sprinkle each portion with sesame seeds.