Recipes
Almond-Cardamom Baklava (Azeri Pakhlava)
Serves

serves 24

Cook

1 hour 20 minutes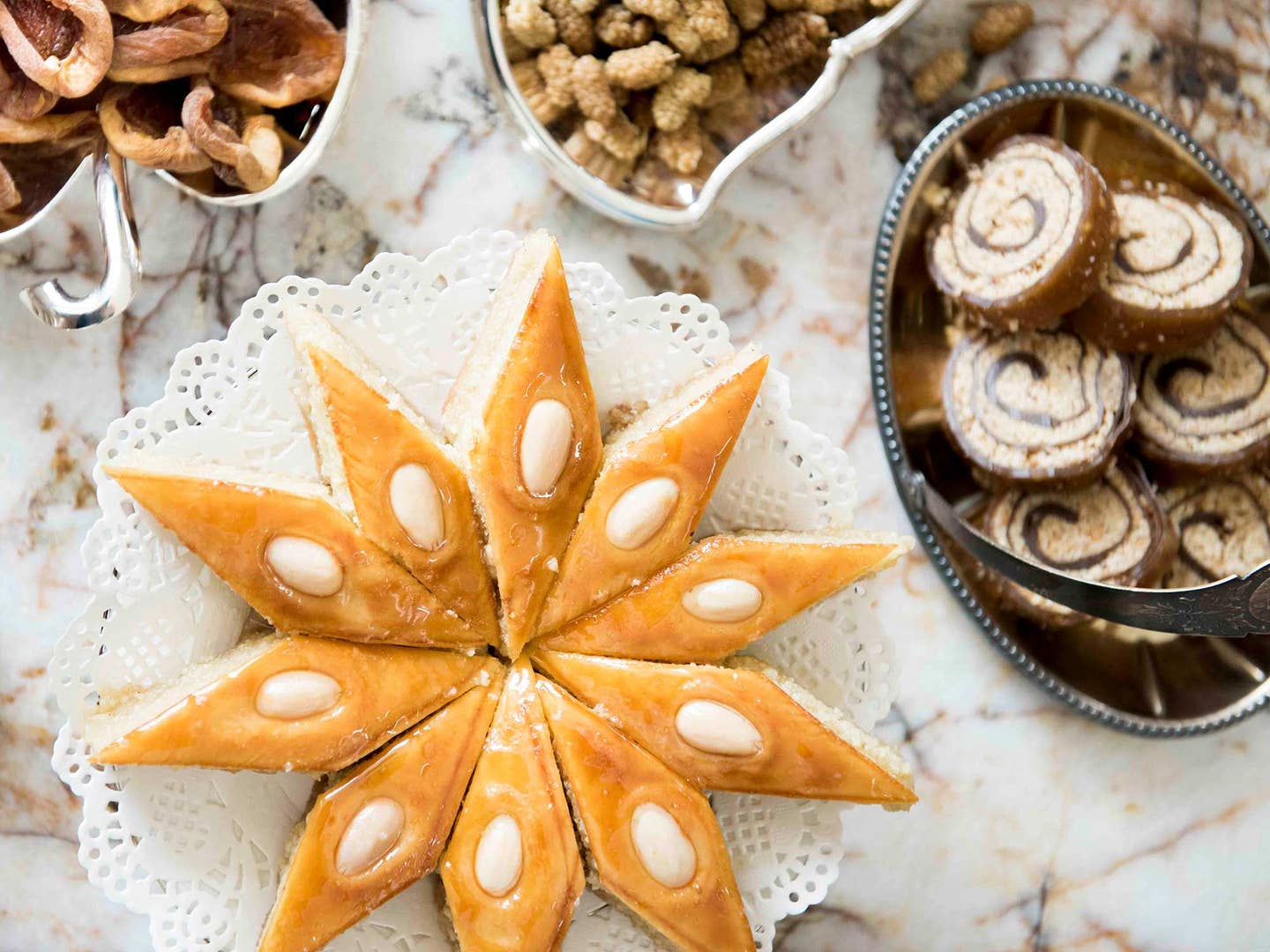 At Zulya Kazimova's bakery in Baku, pakhlava—the Azeri version of baklava, which she cuts into a diamond shape—is made using 14 layers of a dense yeasted dough rolled out so thinly and painstakingly that it becomes translucent. For home cooks, prepared phyllo dough produces a wonderfully crisp, lighter, and flakier version. To defrost frozen phyllo quickly, set it in a microwave (still wrapped in its plastic packaging) on the defrost setting for about 30 seconds, then rotate the package and repeat.
Ingredients
For the syrup
2 cups sugar
1⁄2 tsp. saffron
For the filling and dough
2 1⁄4 cups whole almonds, plus more whole or blanched almonds for decorating
1 tbsp. plus 1/2 tsp. whole cardamom pods
1 1⁄4 cups sugar
1 cup melted clarified butter
One 16-oz. box phyllo dough, thawed overnight in the fridge, sheets cut in half to fit a 9x13-inch baking dish
Instructions
Step 1
Make the syrup: In a medium saucepan, add the sugar, saffron, and 1 cup water. Bring to a boil and cook until the sugar is dissolved, about 2 minutes. Remove and let cool. (Syrup can be made 1 day ahead and stored, covered, at room temperature. Skim away any crystals that form.)
Step 2
Make the filling: In a food processor, pulse the almonds and cardamom until finely ground. Add the sugar and pulse a few times to incorporate evenly.
Step 3
Preheat the oven to 375° and set a rack at its center. Meanwhile, brush a 9x13-inch glass baking dish with some of the melted butter. Place a sheet of dough in the bottom of the dish. Brush the top with melted butter. Repeat 7 times to yield 8 buttered layers. Sprinkle the buttered dough with a third of the prepared almond filling, distributing it evenly. Add another 4 sheets of dough, brushing each with melted butter, then cover the top with half of the remaining filling. Repeat with 4 more sheets of dough, more melted butter, and the remaining filling. Finally, add 8 sheets of dough, brushing each with melted butter. (You will have some leftover dough; freeze and store for another use.) Using a sharp knife and leaving a 1⁄2-inch solid border around the sides of the pan, slice the dough lengthwise into four 1 1⁄2-inch-thick columns. Then make diagonal cuts every 1 1⁄2 inches across the columns to create a pattern of diamond shapes. Brush the top layer generously with melted butter, and top each diamond of dough with a blanched or whole almond. Transfer to the oven and bake 30 minutes.
Step 4
Remove the baking dish from the oven and reduce the heat to 300°. Brush with more melted butter. Bake again until lightly golden, 30–35 minutes more.
Step 5
Remove the dish from the oven. If needed, using a sharp knife, cut along the creases again, then pour 2 cups of the saffron syrup evenly over the pahklava (it will sizzle dramatically). Let cool completely, then cover with plastic wrap and let rest in the baking dish overnight before serving.