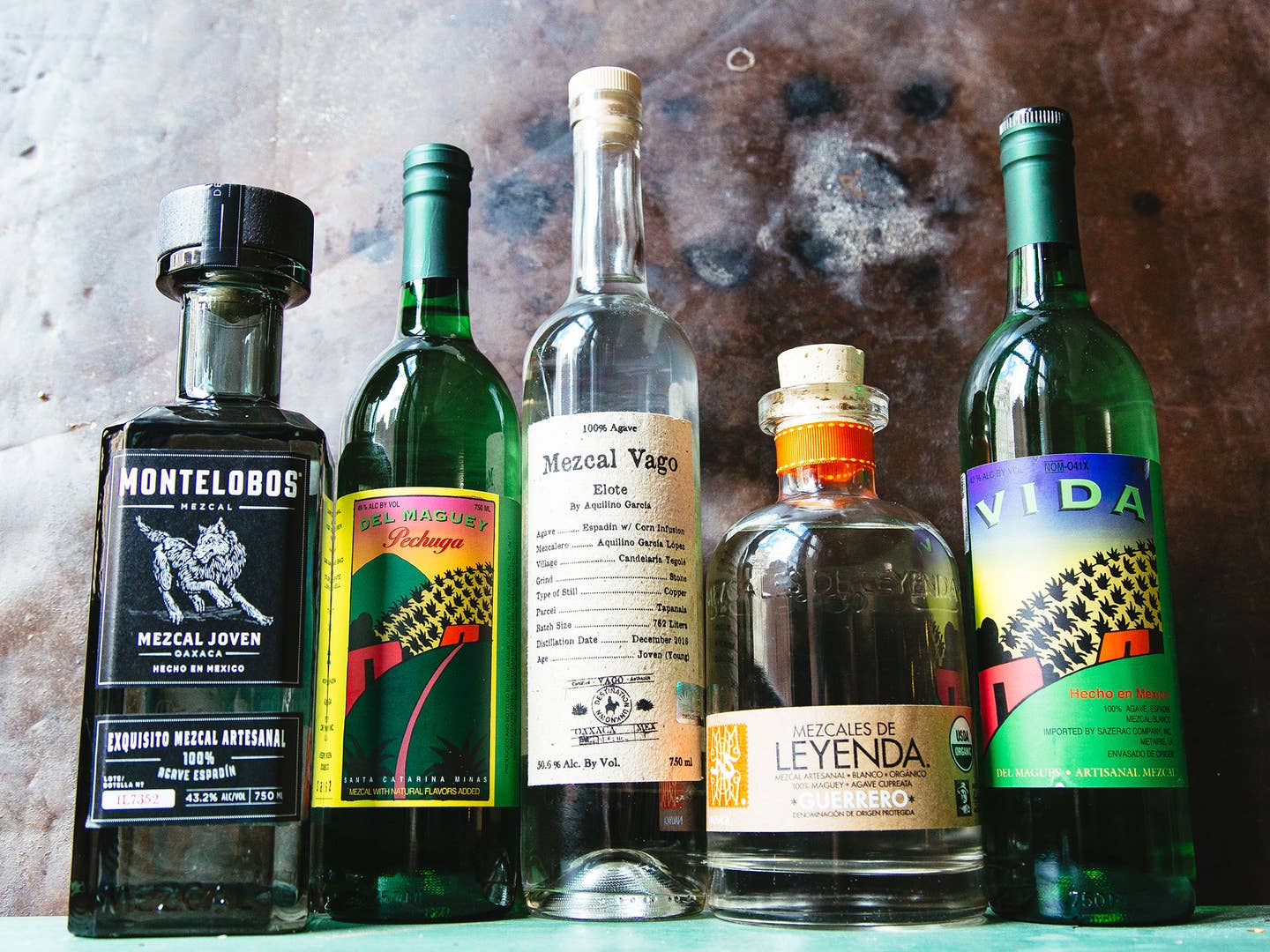 Drinks
Make Your Scallops Sing with a Shot of Mezcal
This savory ancestral spirit lends its smoky complexity to seafood in this refreshing aguachile.
Some of the world's greatest dishes demand a nip of wine or spirits to reach their full potential. Welcome to Splash in the Pan, where writer and drinks expert Tammie Teclemariam teaches you how to bring them to life.
Few spirits are as inspirational as mezcal, whose cryptic flavor permutations are attributable to agave type, terroir, and the mezcalero's training. Grain spirits like whiskey strive for a consistent outcome with each bottling. However, with mezcal, the better you know it, the harder it is to generalize, because at its best, the agave distillate is unexpected. It can be as intricate as wine, something to learn bottle by bottle, and to celebrate the variables on their own terms rather than seeking a paragon of mezcal perfection.
Although mezcal and tequila share the same base material—agave—the former is far more flavorful than its more commercially successful, and industrialized, cousin. Consider that even super-premium tequila is mostly consumed in cocktails or shots, while nice mezcal is almost always sipped neat and with reverence. Often the difference is reduced to "mezcal is smoky, and tequila is not," but even that oversimplification is not always the case. Most tequila has been standardized to a fault, largely due to its decades-long global popularity. In the small but booming mezcal industry, there is an ongoing campaign to preserve the traditional modes of production that keep this beverage special.
Mezcal is also the rare spirit with a strong affinity to food. Where icy sips of vodka function merely as a palate cleanser between oily bites of fish, mezcal resonates with herbs, meat, fruit, and spices, because it has so much complexity of its own. But mezcal is more famously consumed alongside, rather than in food, so I reached out to a couple friends who work with the spirit to see if they knew of any culinary uses: Noah Arenstein, a bartender and restaurant manager in Las Vegas, and Tess Rose Lampert, author of the forthcoming book, Mezcal & Tequila Companion.
Among ideas for marinades, salsa borracha, and stewed fruit, they each suggested aguachile, a chilled Mexican seafood dish from Sinaloa and Sonora. Both states produce agave spirits, but Sinaloa is part of the Mezcal Denomination of Origin. (The comparable spirit produced in Sonora is called bacanora.) Typically, aguachile is raw, fresh fish or shellfish served in an ice-cold broth of blended hot green peppers, cilantro, and lime juice, garnished with cucumber. Since those are all flavors that perform well in cocktails, adding mezcal seemed like a natural fit, especially since a serving of aguachile leaves you with an abundance of juice to drink after eating the cold, marinated fish.
Because I chose to work with scallops, which are delicate and sweet, I left out the serrano or jalapeño, instead letting the liquor bring its own kind of heat. I tried using two different mezcals, both made from espadin-type agave under the Nuestra Soledad label, which offers expressions from six different regions, all of which taste vastly different, from the Santa Maria Zoquitlán—which is evocative of the microclimate where mezcalero Jose Parada Valera plants mango, passion fruit, and watermelon—to the brand's latest, hyper-limited San Balthazar release.
For my aguachile, I tried the version from Ejutla, which is redolent of the green pepper flavor I was looking for, as well as one from San Luis del Rio, where the agave is grown at a particularly high elevation and smoked with rich and savory local mesquite. Both mezcals were delicious and distinct in the dish, showcasing the character of the spirit without overpowering the gentle flavor of the shellfish.
I finished my aguachile with a drizzle of Styrian pumpkin seed oil, which is earthy and roasted—just like the agave used in the mezcal—and a sprinkle of crunchy spiced pumpkin seeds, for a pop of hot chile flavor to help the dish live up to its name.
When drinking mezcal, you're supposed to toast by saying "Stigibeu," a Zapotec word that acknowledges the life force around us. That same vibrant energy is the mystery captured in every good bottle, and why it's impossible to identify a "right" or "wrong" version—in aguachile or in your glass. You just have to embrace each one for what it is.