Recipes
Scallop Aguachile with Mezcal and Pumpkin Seed Oil
Replace traditional green chiles with the peppery heat of agave spirits in this refreshing riff on the coastal Mexican classic.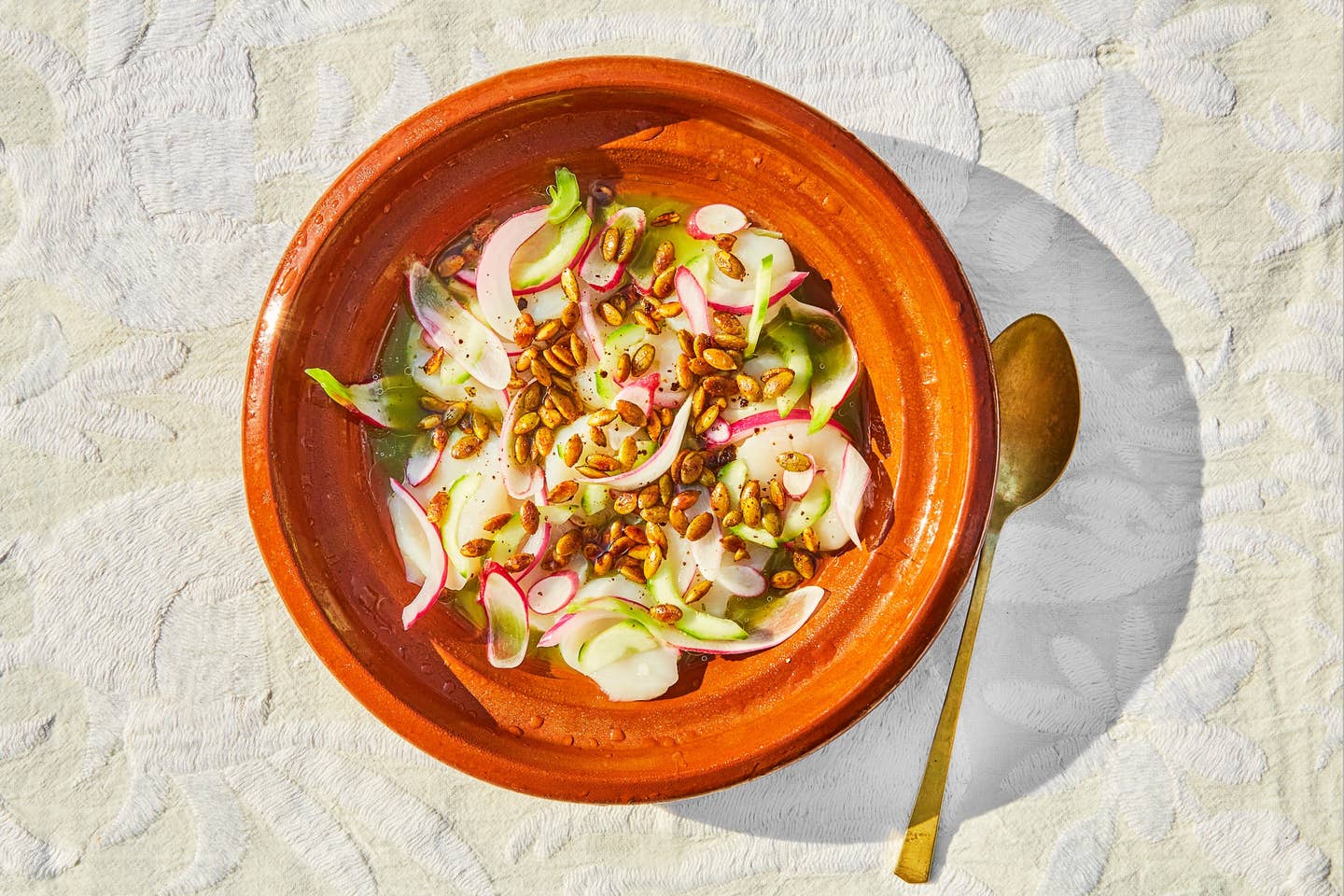 Traditional Mexican aguachile typically includes a chilled serrano- or jalapeño-based sauce—hence the "chile" in name. For this version, wine and spirits expert Tammie Teclemariam replaces that peppery heat with mezcal, whose savory-smoky profile can conjure the effect of a fresh hot chile without overwhelming the sweet, delicate flavor of raw scallops. Pumpkin seed oil and toasted pepitas add richness and an earthy, roasted note, and any leftover spiced seeds make a great snack alongside your favorite mezcal.
Ingredients
For the pickled onions:
½ medium red onion, thinly sliced (¾ cup)
1 tsp. kosher salt
1⁄2 cup white vinegar
For the chile-lime pumpkin seeds:
1 cup hulled raw pumpkin seeds
2 tbsp. pumpkin seed oil
1 tbsp. Tajín
1 tbsp. crushed red chile flakes, such as arbol or péquin
1 tsp. kosher salt
For the aguachile:
1 packed cup cilantro
1 medium English cucumber (1 lb.), peeled and coarsely chopped
1 cup fresh lime juice
1 tsp. kosher salt
¼–½ cups mezcal
To finish:
1 lb. chilled sea scallops, abductor muscles removed
Flaky sea salt
Pumpkin seed oil, for drizzling
5 thinly sliced radishes
1 English cucumber, peeled, seeded, cut into small cubes
Instructions
Step 1
Preheat the oven to 350°F. Line a large rimmed baking sheet with parchment paper or aluminum foil and set aside.
Step 2
Make the pickled onions: To a medium strainer set in the sink, add the onion and rinse well under cold running water. Transfer to a medium bowl, then add the salt and vinegar, toss to combine, and set aside at room temperature to pickle for at least 15 minutes and up to 1 hour. (If pickling for longer than an hour, transfer to the fridge for up to 1 week.)
Step 3
Make the chile-lime pumpkin seeds: Clean and dry the bowl, then add the pumpkin seeds, pumpkin seed oil, Tajín, chile flakes, and salt and toss to combine. Transfer to the lined baking sheet, transfer to the oven, and roast, stirring frequently, until lightly browned, 12–15 minutes. Set aside to cool to room temperature. (If not using immediately, cool completely then transfer to an airtight container and store at room temperature for up to 2 weeks.)
Step 4
Meanwhile, make the aguachile: In a blender or food processor, purée the cilantro, cucumber, lime juice, and salt until smooth. Set a fine mesh strainer over a large bowl and strain the liquid, discarding pulp. (There should be about 2½ cups.) Stir in the mezcal, up to ½ cup, to taste.
Step 5
To serve, thinly slice each scallop crosswise into 3 or 4 thin coins. Arrange the slices on a large, rimmed, chilled platter or 6 chilled serving plates. Sprinkle each slice lightly with flaky sea salt, lightly drizzle with pumpkin seed oil, then pour the aguachile around the scallops. Garnish with some of the reserved pickled onions, radish slices, and cucumber. Sprinkle with a few tablespoons of pumpkin seeds (reserving any extra for another use), and serve immediately.