Recipes
Fried Oyster Po'Boys with Kale and Tartar Sauce
Serves

makes 4

Cook

40 minutes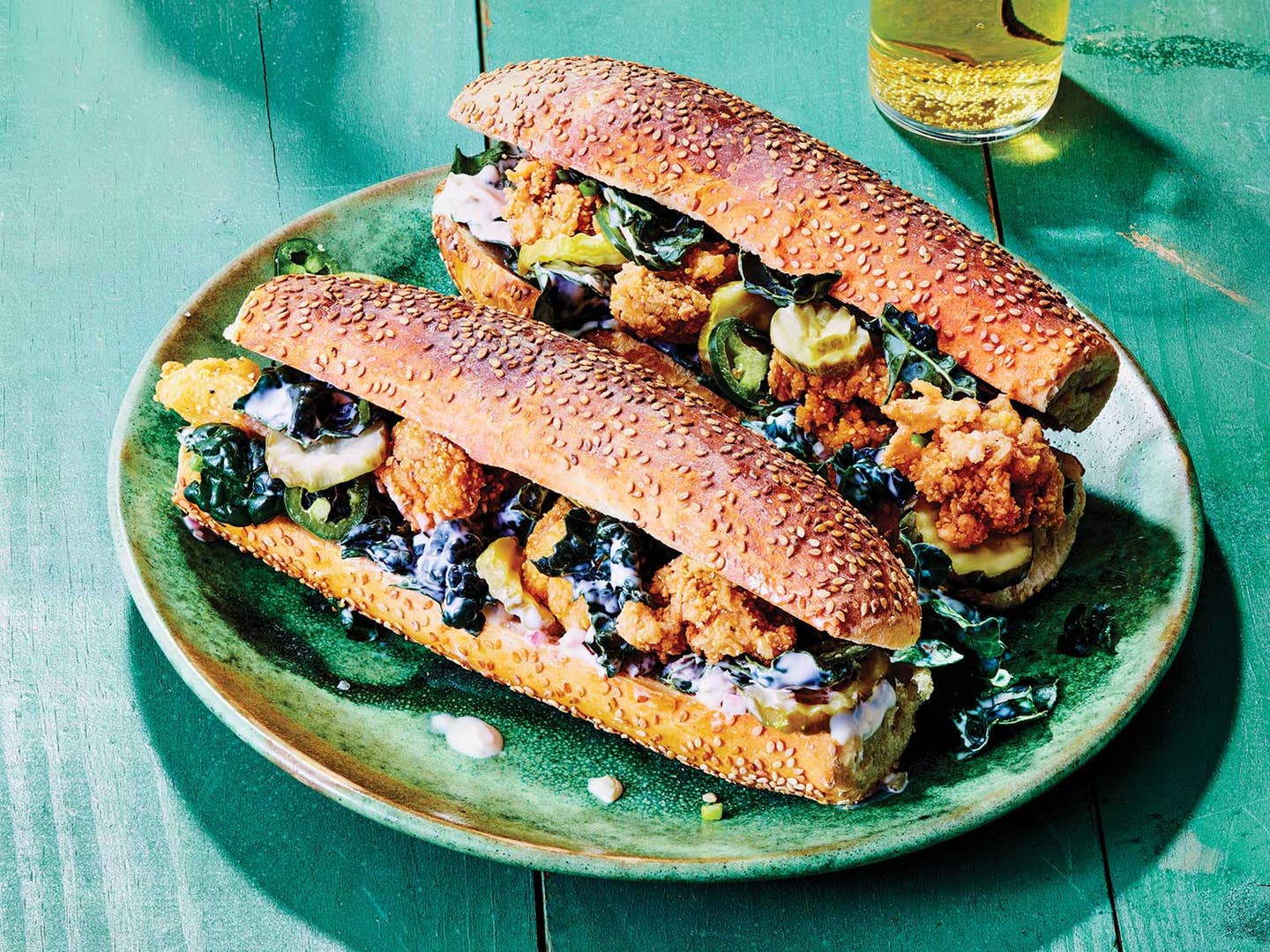 Crispy and crowd-pleasing, these sandwiches are a gateway preparation for oyster neophytes. Feel free to use pre-shucked oysters to save time.
Ingredients
For the tartar sauce:
1⁄2 cup mayonnaise
1 tbsp. plus 2 tsp. fresh lemon juice
1 tbsp. chopped kosher dill pickles
1 tbsp. drained capers
1 tbsp. minced shallot
2 tsp. distilled white vinegar
1⁄2 tsp. Dijon mustard
1⁄4 tsp. finely grated garlic (from about 1 small clove)
For the sandwiches:
2 large eggs
2 tbsp. heavy cream
Kosher salt and freshly ground black pepper
1⁄2 cup all-purpose flour
1⁄2 cup cornmeal
4 8-inch sandwich rolls with sesame seeds
30 medium-large oysters, shucked
1 3⁄4 cups finely chopped Tuscan kale
1 qt. canola oil, for frying
16 kosher dill pickle slices (about 2½ oz.)
2 scallions, thinly sliced, for serving
Thinly sliced fresh jalapeño, for serving
Instructions
Step 1
Make the tartar sauce: In a medium bowl, whisk the ingredients together. Refrigerate until ready to use.
Step 2
Preheat the oven to 375°F. Meanwhile, in a medium bowl, whisk the eggs, heavy cream, and a generous pinch each of salt and pepper. Set aside. In a separate medium bowl, whisk the flour, cornmeal, and a generous pinch each of salt and pepper. Set aside.
Step 3
Slice the rolls in half crosswise and bake cut side up on a baking sheet until lightly crispy, about 5 minutes.
Step 4
Fry the oysters: Prepare a paper-towel-lined plate. In a medium pot, add enough oil to reach 1½ inches up the side of the pan. Heat over high heat until a deep-fry thermometer reads 375°F. Meanwhile, batter about one-third of the oysters, coating them first in the egg wash, then coating fully with the flour mixture. Once the oil is hot, add ⅓ of the prepared oysters and cook, turning occasionally, until golden brown and crispy, about 3 minutes. Remove with a slotted spoon to the prepared plate. Working in two more batches, repeat with the remaining oysters.
Step 5
Add 3 tablespoons of tartar sauce to the chopped kale, and toss to coat.
Step 6
Spread 1 tablespoon of the remaining tartar sauce onto each of the toasted rolls. Divide the kale mixture among the rolls, then add the oysters and pickles. Garnish with any remaining tartar sauce, the scallions, and sliced jalapeños to taste.