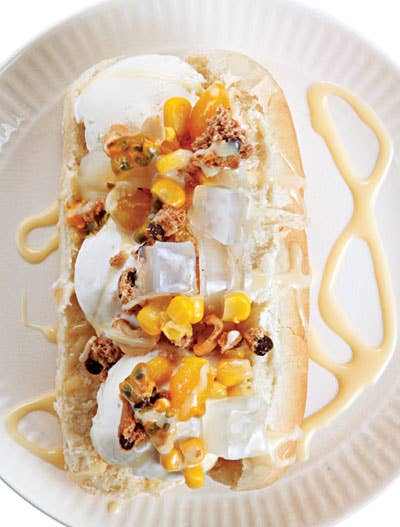 Recipes
Global Ice Cream Recipes
Frozen treats from around the world
Cool and creamy, icy and refreshing—there's no better way to cool off in the summer than a frozen dessert. Every culture seems to have its specialty: bright and fruity Mexican paletas, dense, luscious kulfi from India, the Thai-style coconut ice cream served on a hot dog bun that's known as pok pok. There's a cool treat for every palate and these eight recipes, many of which don't need an ice cream maker, are some of our favorite picks from around the world.
You're probably familiar with ice cream sandwiches, but not like they make them in Thailand. Thai ice cream sandwiches often start with an ice cream flavored with coconut and nutty pandan leaves. It's scooped on a hot dog bun and covered with toppings like canned sweet corn, gingko nuts, and nata de coco—gelatinized coconut water.
Paletas are Mexican ice pops popular as a summer snack. Many are light and fruity, with flavors like pineapple or tamarind or mango kicked up with chile powder. Others can be dairy-based. Try our cinnamon-flecked rice pudding paleta, or channel a classic strawberries and cream dessert with and ice pop made with fresh strawberries, sugar, cream, and a little lemon juice for brightness.
Kulfi is a dense ice cream popsicle from India. A whole milk base is enriched with flavors like cardamom, saffron, and pistachio. A special mold will get you the perfect shape, but it'll taste just as good made in a Dixie cup.
Find all of these desserts and more in our collection of global ice cream recipes.