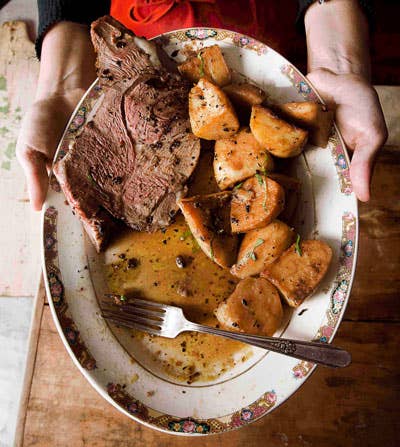 Roasting or braising is a classic preparation for lamb; we love it for both special occasions and everyday cooking. Here are 13 of our favorite lamb roasts and braises, from a leg of lamb simply roasted with rosemary to a Moroccan dish with honey, almonds, and raisins.
Redolent of rosemary, chiles, and balsamic vinegar, this sweet and-sour-dish is based on one shared with us by McGill College student Amanda Garbut.
Belonging to the family of slow, steam-cooked moghul dishes called dum pukht, this lamb is coated in a spice paste made with saffron, coconut, almonds, and yogurt. This pot roast is typically prepared in a South Asian clay pot called a handi. Get the recipe for Indian-Style Lamb Pot Roast
This versatile recipe calls for roasting a leg of lamb with a medley of vegetables, and all ingredients cook in one pan. A few hours later, you have the most succulent roast lamb, and the tomatoes and pan juices become the sauce. Get the recipe for Easy Provençal Lamb
This dish is based on the traditional French preparation of braising lamb for several hours in an aromatic bath of garlic, rosemary, wine, and chicken stock until it becomes meltingly tender. Be sure to serve it with the potatoes and carrots that are cooked in the braise. Get the recipe for Braised Leg of Lamb
Seven-Hour Leg of Lamb
Slow-cooking a leg of lamb in wine with garlic and herbs transforms the meat into an ultra-tender entrée that goes marvelously with stewed white beans. Get the recipe for Seven-Hour Leg of Lamb »
Though Herdwick lamb is not available in this country, a good conventional lamb will do just as well. A light dressing of pan juices and roasted onions complements the tender and juicy lamb shoulder well. Get the recipe for Roast Shoulder of Lamb
A simple combination of extra-virgin olive oil, coarse salt, and ground black pepper combines to make an exceptionally flavorful leg of lamb. This recipe only requires an hour of your time, making for an ideal weeknight meal. Get the recipe for Roast Leg Of Lamb
Chef Tom Valenti of Manhattan's Ouest uses the foreshank, a meatier cut than the hindshank, for this recipe for shanks braised in a stock flavored with wine, aromatics, and anchovies.