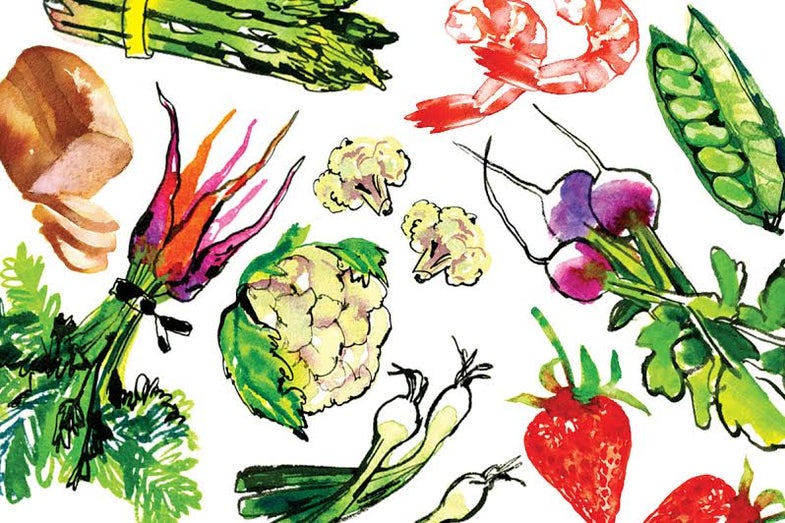 This spiced, berry-studded cakes make a great breakfast stand-in for coffee cake or gingerbread. Serve it as is, or cubed and layered with a duo of custards and sherry-scented syllabub for a decadent English Trifle
Ginger-Lingonberry Cake
This spiced, berry-studded cakes make a great breakfast stand-in for coffee cake or gingerbread.
Yield:
makes One 8"-square cake
Time: 1 hour, 20 minutes
Ingredients
8 tbsp. unsalted butter, plus more for pan
1 3⁄4 cups flour, plus more for pan
3⁄4 cup Lyle's golden syrup or dark corn syrup
1⁄2 cup packed light brown sugar
1⁄4 cup heavy cream
2 eggs
1 Tbsp. ground ginger
1⁄2 tsp. baking soda
1⁄2 tsp. kosher salt
1 cup fresh or frozen lingonberries or halved cranberries
Instructions
Heat oven to 325°. Butter and flour an 8″ square baking pan; set aside. Heat butter, golden syrup, and brown sugar in a 2-qt. saucepan over medium-high heat, stirring occasionally, until butter is melted and mixture is smooth. Remove from heat and let cool slightly. Add cream and eggs and whisk until smooth; set aside. In a medium bowl, whisk together 1½ cups flour, ground ginger, baking soda, and salt; add to syrup mixture and stir until just combined. Toss remaining flour with lingonberries in a small bowl and add to batter; stir to combine. Pour into a baking pan and bake until a toothpick inserted into center of cake comes out clean, 45 to 50 minutes. Transfer to rack and let cool.