Recipes
Goan Sandwich Rolls
Fluffy Parker House-style bread perfect for vada pav.
Serves

makes 12-13 rolls

Cook

3 hours 25 minutes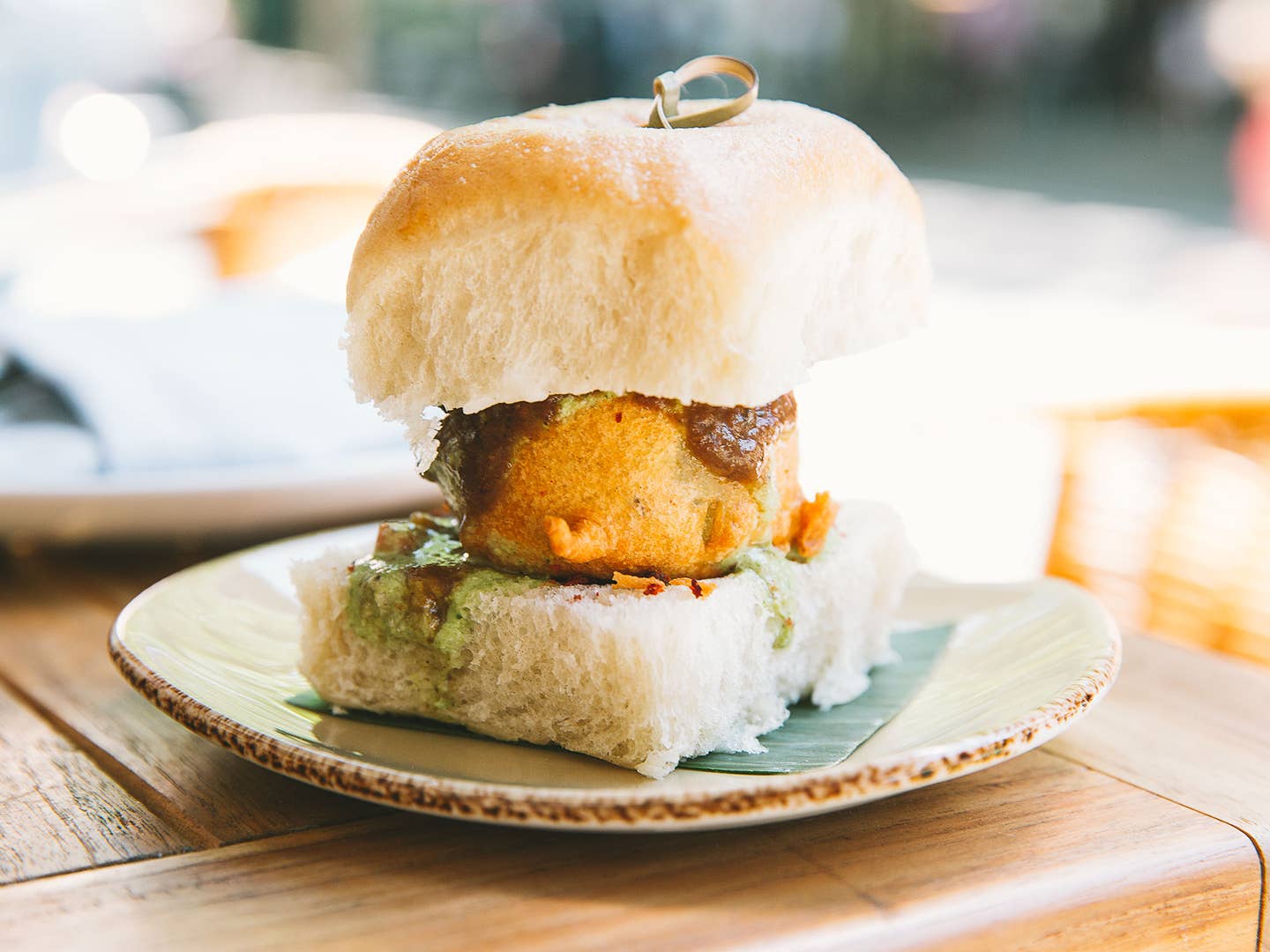 These fluffy Parker House-style rolls from the Portuguese-influenced Indian state of Goa are perfect for burgers and Indian sandwiches like vada pav.
Ingredients
2 tbsp. (1 1/8 oz.) fresh yeast
1 tbsp. sugar
4 1⁄2 cups all-purpose flour, plus more for sprinkling and shaping
1 tbsp. kosher salt
3 tbsp. canola oil, plus more for drizzling
Nonstick spray
Instructions
Step 1
In the bowl of a stand mixer, add 1 ½ cups cold water, the yeast, and the sugar and stir by hand to combine. Add the flour and salt to the bowl, and, using the hook attachment, mix on the lowest speed until the ingredients are mostly combined and a shaggy dough begins to form. Add the oil and continue mixing on the lowest speed until the dough is very smooth, 12-15 minutes.
Step 2
Dust the bottom of a 9x13-inch baking dish lightly with flour. Transfer the dough to the baking dish, and press it into an even layer. Dust the dough lightly with more flour, then cover the baking dish with sheet of plastic wrap and set aside until the dough is gassy and puffed, but not quite doubled in size, 60-75 minutes.
Step 3
Grease a 9x13-inch baking sheet with nonstick spray, then line it with a sheet of parchment paper and lightly grease the parchment as well.
Step 4
Lightly flour a work surface, then transfer the dough out onto it and divide into 12-13 balls, about 2 ½ ounces each. Gently round each piece and space them evenly on the prepared baking sheet (pao are meant to grow and press into each other as the dough rises and bakes, so don't be alarmed that they seem close together). Cover loosely with plastic wrap and set aside to rest until the rolls have puffed and are touching each other, and the dough springs back slowly when lightly pressed with a finger, 50-70 minutes.
Step 5
Meanwhile, preheat the oven to 400°. Uncover the rolls and bake, rotating the pan once during baking, until golden brown, 20-22 minutes. Immediately after they come out of the oven, lightly brush the pao with additional canola oil. Let cool completely in the pan before breaking apart and serving.