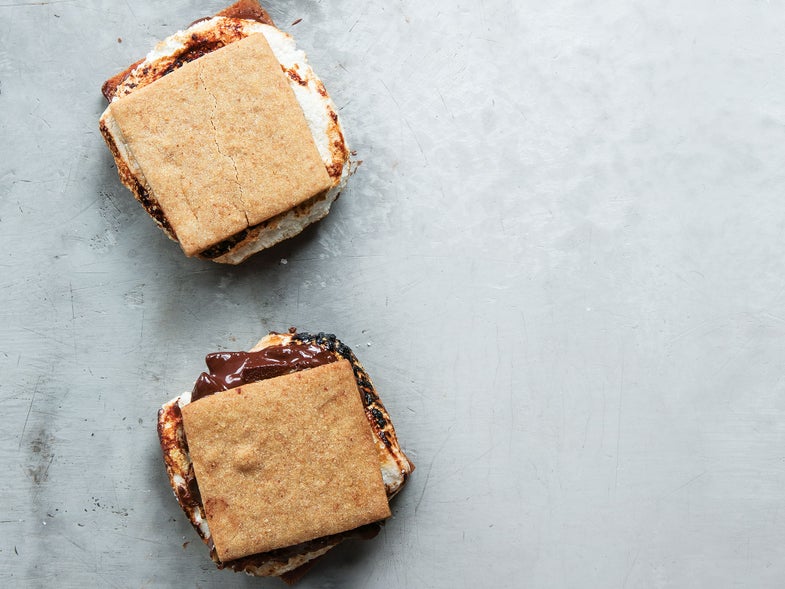 Mindy Segal developed this recipe for her unparalleled Smoked Almond S'mores with Whiskey Marshmallows, but it also works as a pie crust or an anytime snack to enjoy with tea.
Yield: makes Sixty 2-inch-square Shortbreads
Ingredients
20 tbsp. unsalted butter
2 cups graham cracker crumbs
1 cup all-purpose flour, plus more for dusting
1 cup cake flour
1 tsp. Maldon flake sea salt
1 tsp. kosher salt
3⁄4 cup brown sugar
2 eggs
1 tsp. vanilla extact
Instructions
Melt butter over medium; cook, stirring, until deep golden brown, 8–10 minutes. Pour into a heatproof bowl and refrigerate until solid. Bring butter to room temperature. Whisk graham cracker crumbs, flours, and salts in a bowl. Combine butter and brown sugar in a large bowl; beat on medium-high speed with a hand mixer until smooth and fluffy, about 3 minutes. Add eggs, one at a time, beating well after each addition. Add dry ingredients and vanilla; beat on low speed until just combined. Divide dough in half and wrap in plastic wrap; refrigerate for 2 hours. Heat oven to 350°. On a lightly floured surface, roll dough into an 11 x 13-inch rectangle, about 1⁄6-inch thick. Cut dough into 2-inch squares and bake on a parchment paper-lined baking sheet, rotating halfway, until golden, 15 minutes. Cool.