Green Chile Grits
Slow-cook your way to the creamiest porridge.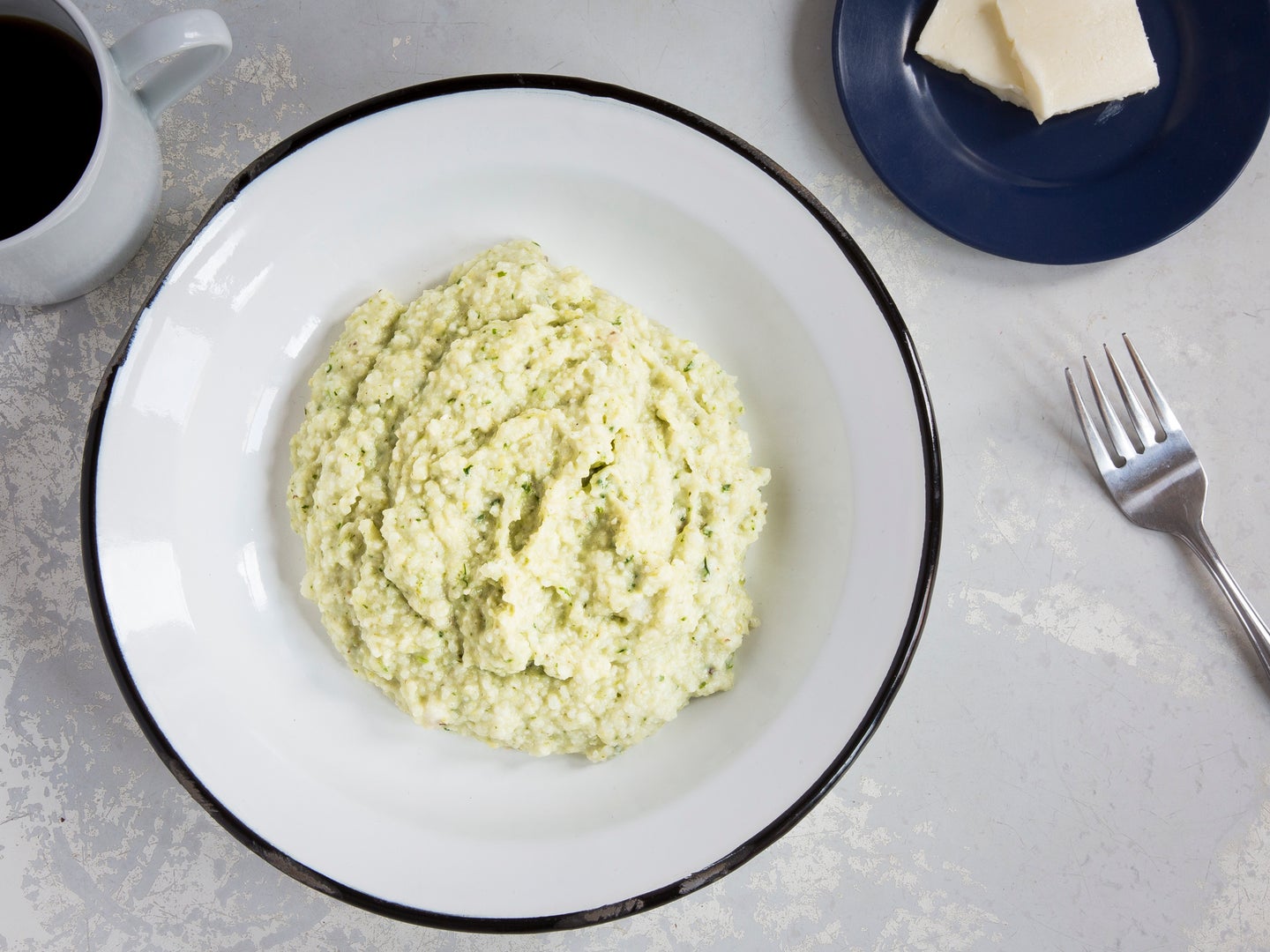 For soft, creamy, and flavorful grits, chef Harold Marmulstein of Austin's Salty Sow cooks his low and slow, then adds a tangy purée of chiles and cilantro, which retains its bright green color from blanching in boiling water. For more, check out all of our best creamy grits and polenta recipes.
Featured in: "How to Make Green Chile Grits."
What You Will Need
Green Chile Grits
These soft, creamy, flavorful grits are cooked tried-and-true low-and-slow; then receive an eye-opening punch from spicy, bright-green chile-cilantro purée.
Time: 2 hours, 40 minutes
Ingredients
4 cups stone ground white corn grits, soaked overnight
4 cups whole milk
3 poblano peppers
1 bunch cilantro, leaves and tender stems (about 1 cup packed)
2 sticks unsalted butter
Kosher salt
Instructions
Drain and rinse the grits in a large sieve, and then place them in an 8-qt. saucepan or Dutch oven and stir in the milk and 4 cups water. Bring the grits to a boil, and then reduce the heat to medium-low, and cook, stirring frequently, until tender, about 2 hours.
Meanwhile, heat the broiler. Place the poblanos on a foil-lined baking sheet, and broil, turning as needed, until blackened on all sides, about 20 minutes. Place the peppers in a bowl, and cover with plastic wrap. Let the peppers stand for 10 minutes to steam, and then peel and discard their skins, stems, and seeds.
In a small pot of boiling water, add the cilantro, and cook until bright green, 1 minute. Drain and transfer to a bowl of ice water. Drain the cilantro and spread it on paper towels to dry. Scrape the cilantro into a food processor along with the peppers, and purée until smooth.
Remove the grits from heat, and stir in the poblano puree along with the butter. Season the grits with salt before serving.
Watch How to Make Green Chile Grits