Recipes
Nova Scotian Griddled Fish Cakes
Haddock and golden potatoes make up the base for this crispy Canadian starter.
Serves

8

Cook

1 hour 40 minutes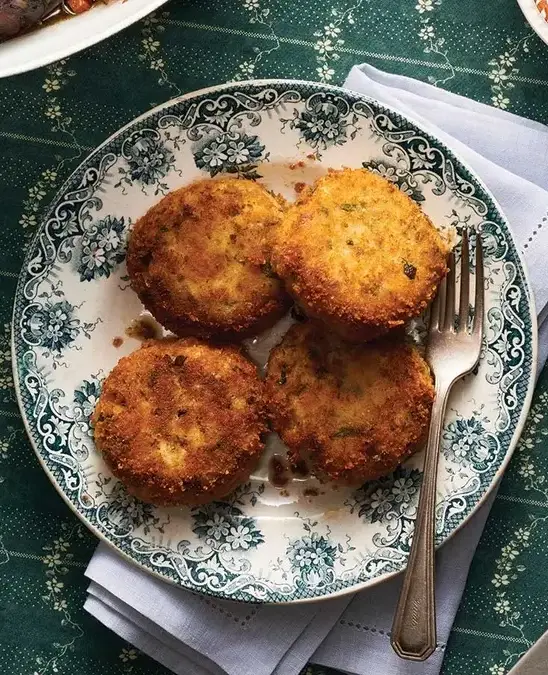 Haddock is often used for these Canadian fish cakes, though any firm white fish will do. This recipe, which has been adapted from Nova Scotia Cookery, Then and Now, creates tender cakes with golden edges. If you like, the mixture may be shaped into patties a day ahead of time and refrigerated, but for the best texture don't roll the cakes in bread crumbs until just before frying. Green tomato chow-chow is an excellent accompaniment; find the recipe here.
Ingredients
1 small Yukon Gold potato (5 oz.), peeled
2 lb. firm white fish fillets (haddock, cod, or hake)
1 1⁄2 cup bread crumbs
1⁄4 cup finely chopped parsley
1⁄4 cup finely chopped scallion
1⁄4 cup sour cream
1⁄4 tsp. cayenne pepper
Fresh lemon juice
Kosher salt
Freshly ground black pepper
1 cup extra-virgin olive oil
Green tomato chow-chow, for serving (optional)
Instructions
Step 1
Preheat the oven to 350°F. Line a baking sheet with parchment paper and set aside.
Step 2
To a small pot, add the potato and enough cold water to cover; bring to a boil over high heat and cook until the potato is tender when pierced with a knife, 13–15 minutes. Drain, and let cool. When the potato is cool enough to touch, coarsely mash with a fork and set aside.
Step 3
Meanwhile, cook the fish: Set the fillets on the baking sheet, transfer to the oven, and roast until the fish flakes easily, about 15 minutes.
Step 4
Pour the bread crumbs onto a plate and set aside. Remove the fish from the oven and cool slightly. In a large bowl, break the fish into chunks. Add the mashed potato, parsley, scallion, sour cream, and cayenne; mix well, then season to taste with fresh lemon juice, kosher salt, and black pepper. Form the mixture into eight patties, then roll each in bread crumbs.
Step 5
Line a platter with paper towels and set by the stove. To a heavy skillet over medium-high heat, add the oil. Once hot, add the fish cakes in batches and cook, turning once, until golden brown and heated through, 3–4 minutes per side. Transfer the cakes to the platter and serve hot, with green tomato chow-chow, if desired.